Newly Discovered Alan Turing Notebook Tops Bonhams Fine Books and Manuscripts Sale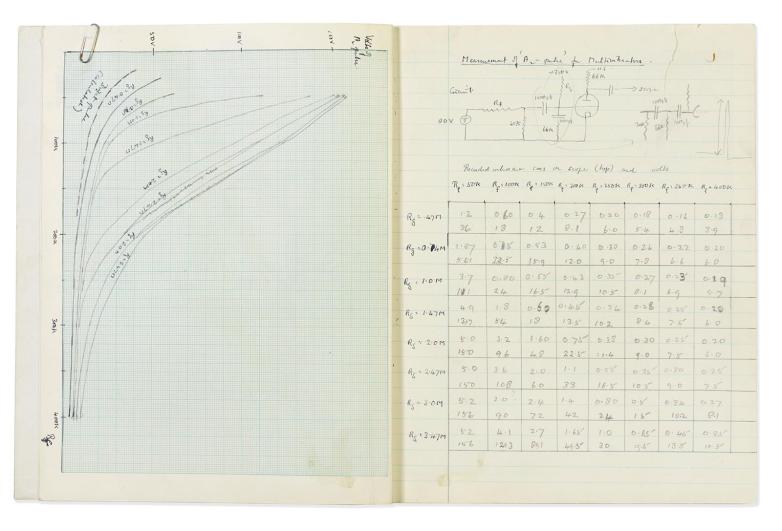 Bonhams
One of the most important and extensive collections of Alan Turing's autograph material has been sold at Bonhams for £381,400. Among the papers of Turing and his collaborator Donald Bayley (1921-2020) are more than 40 pages of working notes and mathematics relating to the Delilah project, a wartime collaboration seeking to develop a portable encryption system or voice scrambler.
"Alan Turing was one of Britain's greatest minds and these papers relating to the Delilah project were of immense importance," said Matthew Haley, Managing Director of Bonhams Knightsbridge and Head of Bonhams UK Books & Manuscripts Department. "After dinner at Hanslope Park, Turing would give lectures which Bayley faithfully transcribed, effectively forming a textbook on advanced maths for circuit engineers. This sale was an exceptionally rare chance to take a look at these newly discovered papers and gain a greater the man who helped lay the foundations for modern computing."
Alan Turing (1912-1957) is celebrated as the father of theoretical computer science and artificial intelligence. He provided the breakthrough in deciphering the Enigma code, and his genius foresaw the invention of modern computing. His career was cut short when in 1952 he was prosecuted for homosexual acts, and upon his suicide in 1954 much of his work was still classified under the Official Secrets Act.
In 1943, cryptology's new frontier was the encryption of speech. Whilst there were other voice scramblers at the time, the only successful ciphering machines were of limited use due to their enormous size. Both the Americans and the British took on the challenge, working to secure a portable form of communication by voice. During his time at Bletchley Park, Turing set up a second lab at the nearby Hanslope Park, working on Delilah behind a cloak of secrecy.
Newly discovered and unpublished, these pages of mathematical theorems and calculations demonstrate the sophistication and extent of Turing's knowledge of the mathematical side of circuit design that were vital to the Delilah project and foreshadowed his automatic computing engine.
Towards the end of 1944, Turing brought Delilah before a group of British officials, demonstrating the system by encrypting and decrypting a speech by Winston Churchill. The Delilah project was complete.
Other highlights included:
Robert Boyle, The Sceptical Chymist, first edition, J. Cadwell, for J. Crooke, 1661. Sold for £279,800
David Hume, Four rediscovered autograph letters to Horace Walpole regarding his argument with Jean-Jacques Rousseau, 1766. Sold for £127,400
a collection of around 120 autograph letters from George III, Queen Charlotte, the Prince of Wales, and various members of the Royal Family to Hon. George Villiers and his wife Maria Theresa. Sold for £57,550
the visitors' books of Edward VIII and Wallis Simpson covering his time as Prince of Wales, King, and Duke of Windsor, January 1935 to March 1970. Sold for £43,520