Modern American & European Printmakers Led Prints & Drawings at Swann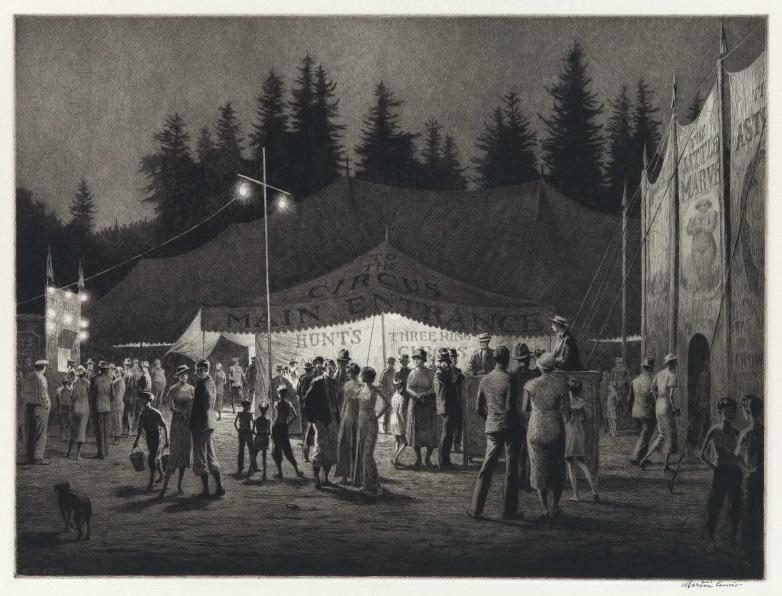 Courtesy of Swann Auction Galleries
New York — Swann Galleries' Thursday, March 5 sale of 19th & 20th Century Prints & Drawings saw success: "With more internet bidding, particularly via the Swann App, than any previous sale in the 19th & 20th Century Prints & Drawings category at Swann, with action from across the United States, Europe and Asia, and nearly 20% of buyers new to Swann. The most robust sections of the auction were the American prints and modern European prints and drawings," noted Todd Weyman, the house's director of prints and drawings.
The American offering included Martin Lewis' 1933 drypoint Circus Night garnering a record for the image at $22,500. Further drypoints by Lewis included Rainy Day, Queens, 1931 ($23,700), and Rain on Murray Hill, 1928 ($16,250). Additional American highlights featured Gustave Baumann with a 1917 color woodcut, Provincetown, and John Steuart Curry's 1932 lithograph The Tornado, which each earned $13,750 (both records for the prints); and Stuart Davis's 1931 lithograph Two Figures and El, which brought $23,750.
Twentieth-century European stalwarts delivered strong results, with Pablo Picasso leading the sale with Nature Morte à la Pastêque, a colorful 1962 still-life linoleum cut of a slice of watermelon and purple flowers, which sold for $39,000. Der Spaziergang I, a 1922 etching by Marc Chagall, brought a record for the image at $17,500. Surrealists proved popular among collectors, with René Magritte's 1966 etching Paysage de Baucis (Self Portrait with a Hat) bringing $35,000, and Salvador Dalí's 1935 etching Crânes mous et harpe crânienne, which sold for $20,000. Representing German Expressionism was Edvard Munch's 1908–09 Den Sinnssyke, which garnered $16,250, a record for the lithograph, and Max Klinger's 1897–98 Von Tode I. Theil und II. Theil, two portfolios with complete text and 22 drawings, which sold for $13,750.
Additional highlights featured Gathering Fruit, a circa–1893 drypoint by Mary Cassatt (sold for $35,000); and a circa–1925 oil-on-canvas painting of New York by Eduardo García Benito, which set a record for the artist at $20,000. The house's burgeoning Latin American art offerings rounded out the sale, with Francisco Toledo's circa–1965 watercolor Formes Surréalistes at $13,750.
Visit swanngalleries.com or download the Swann Galleries App for catalogues, bidding and inquiries.