Gould, Audubon, and Lear in New Exhibit Celebrating Writing About Birds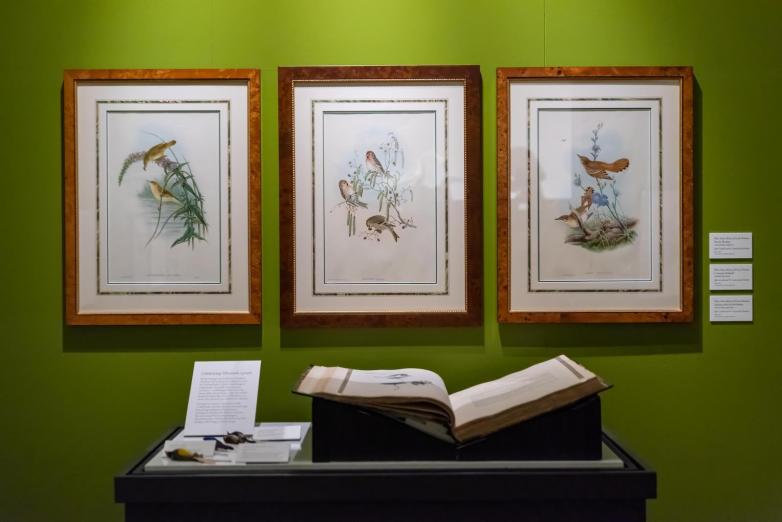 Ramon Torres/ANS
Artworks, rare books and artifacts documenting the beginnings of avian study in the U.S. feature in the new exhibition at The Academy of Natural Sciences of Drexel University.
Illuminating Birds: Drawing as a Way of Knowing draws on the collections of the Academy which houses one of the largest and most taxonomically complete bird collections in the world.
"With more than 7,000 different species of birds represented in our collections, the Academy continues to be a leading institution in global ornithological research," said Academy President and CEO Scott Cooper. "This exhibit not only celebrates our universal wonder and appreciation of birds, but also examines the scientific, historical and artistic implications of their study."
Since its founding in 1812, the Academy has built and cared for its world-class collections of more than 19 million specimens, serving as a treasured resource for scientists and nature enthusiasts around the world. Throughout 2023, the Academy is also celebrating Biodiversity Year, continuing its innovative research and community engagement to support the remarkably diverse tapestry of life found on Earth.
Artworks by Alexander Wilson, Elizabeth and John Gould, John James Audubon, Edward Lear and from the Academy's archives and collections will be on display, documenting the beginnings of the scientific study of birds as well as the complex cultural aspects they carry. Colorful early birding field guides and hand-painted magic lantern slides will demonstrate the role that illustration has played in popularizing birding and advancing the conservation movement.
Surrounded by historical artworks, visitors will also be encouraged to artistically engage through nature journaling and drawing. The exhibit's in-house Avian Art Studio will inspire creative exploration of specimens, field notes, an extraordinary commonplace book, feathers and prompts developed by the Drexel's Writers Room and many others.
Illuminating Birds: Drawing as a Way of Knowing runs through October 15, 2023