News
|
September 27, 2023
George Washington's Original Letter on God, Heaven & War for Sale for the First Time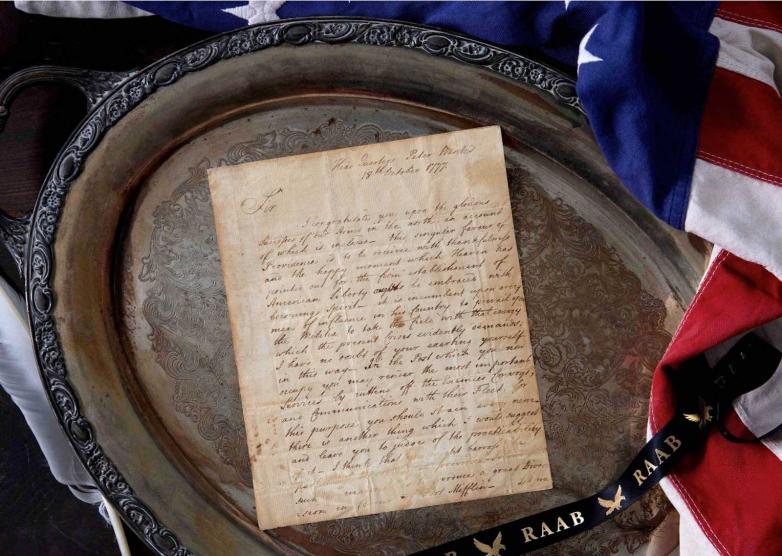 Raab Collection
The Raab Collection has announced that it has discovered, acquired, and is offering for sale for the first time ever a letter of great importance in the history of the Revolutionary War, one in which George Washington thanks God and Heaven for American victory in the Revolution. 
Written in October, 1777, just days after the Battle of Saratoga's end, Washington praises God for His support of the Revolution and urges his fellow Americans to rally to the cause. The Raab Collection was unable to find any other such letter of Washington having reached the market in which he directly ties a great American victory to "Heaven." This original letter, signed by Washington, was not believed to have survived although its content has been known to scholars. Raab recently acquired it directly from descendants of the recipient and has listed it for sale at $275,000.
"This letter, in its beauty, draws together many of the threads of American experience: God, patriotism, victory, destiny. Its discovery is exciting, and proof that Washington's words continue to inspire," said Nathan Raab, principal at The Raab Collection and author of The Hunt for History.
On October 4, 1777, George Washington and his troops suffered a great defeat at the Battle of Germantown, near Philadelphia. Washington's outlook was bleak, until news arrived that General Israel Putnam had exacted a major victory at Saratoga, New York, one that some historians believe was a turning point in the war. It was America's first great victory against the colonial power. The British surrender convinced the French to finalize an alliance with the fledgling United States. When Washington learned of this great victory, he wrote immediately to Brigadier General James Potter, who was his eyes and ears. 
In this deeply powerful and evocative letter, Washington offers his gratitude to God, instructs Potter to continue his work disrupting British supply lines and communications, and extols "the glorious work we have in hand," a reference to the Revolution. This is the only letter of Washington from that historic day which public records show having reached the market and the only one he wrote during the war referencing Heaven. 
The full text of the letter, signed by Washington, from the Head Quarters at Peter Wentz's, 18th October, 1777, to Brigadier General James Potter: 
"Sir, I congratulate you upon the glorious successes of our Arms in the north, an account of which is inclosed – This singular favour of Providence is to be received with thankfulness and the happy moment which Heaven has pointed out for the firm establishment of American Liberty ought to be embraced with becoming spirit – it is incumbent upon every man of influence in his Country to prevail upon the Militia to take the field with that energy which the present crisis evidently demands. I have no doubt of your exerting yourself in this way – In the Post which you now occupy you may render the most important Services by cutting off the Enemies Convoys and Communications with their Fleet, for this purpose you should strain every nerve. There is another thing which I would suggest and leave you to judge of the practicability of it – I think that you might harass the parties of the Enemy on Province Island in such a manner as to produce a great Diversion in favour of Fort Mifflin – Let me again entreat you and through your means every one of any influence among the Militia, to exert it to the utmost in exciting them to the Field where by seasonable Reinforcements the glorious work we have in hand will be completed – I am Your most h'ble Servt., G. Washington."