Fine Photographs at Swann March 11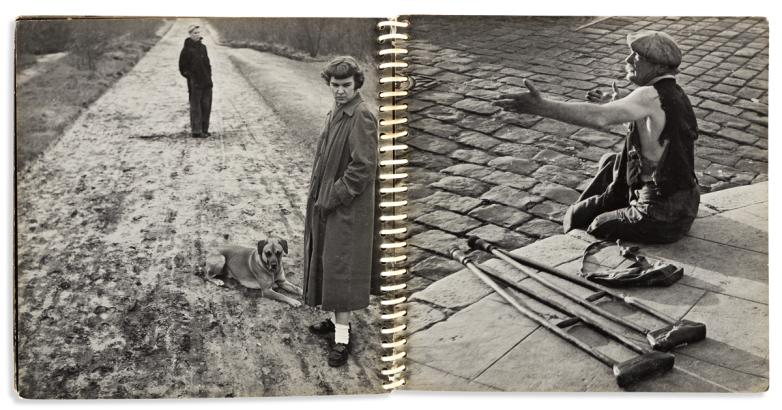 Courtesy of Swann Galleries
New York — Fine Photographs feature at Swann Galleries on March 11 with works spanning from the late 1800s to the 2000s with exceptional images from European and American masters including works by Alfred Stieglitz, Brassaï, Dorothea Lange, and Peter Hujar.
The sale opens with nineteenth century pictorialism and early twentieth-century American photography including Francis Frith with Sinai & Arabia Petra, Jerusalem & Palestine, and Egypt & Athens, three volumes with 140 albumen prints, 1860s–70s ($10,000-15,000); Julia Margaret Cameron's Alfred, Lord Tennyson, albumen print, 1869 ($10,000-15,000); Alfred Stieglitz's Camera Work Number 36, 1911, complete with 16 photogravures ($15,000-25,000) and Camera Work Steichen Supplement, 1906, with 11 photogravures and 5 halftones after Eduard J. Steichen ($10,000-15,000); Dorothea Lange's Oklahoma sharecropper and family entering Calif. stalled on the desert near Indio, California, 1937 ($15,000-25,000); and Paul Outerbridge Jr.'s Christmas Tree in the Dining Room, tricolor carbro print, 1937 ($8,000-12,000).
Early twentieth-century European photography includes 20 Photographs by Eugène Atget, 1856-1927, from an edition of 100, with 20 gold-toned silver prints by the celebrated Parisian photographer, printed by Berenice Abbott ($8,000-12,000); Bill Brandt's Rainswept Rooftops, silver print, 1933, printed 1907s ($8,000-12,000); Brassaï's Kiki (De Montparnasse) et ses Amies, silver print, 1932, printed 1970s ($5,000-7,500); and most notably, a rare, handmade personal album of 27 Parisian silver prints by the Dutch photographer Ed van der Elsken ($10,000-15,000).
           
The study of form and nature is on offer with Ansel Adams' Portfolio V complete with 10 circa 1936–60 silver prints, printed 1970 ($25,000-35,000); Irving Penn's vibrant 2006 Tulip/Tulipa: China Pink, New York ($25,000-35,000); a suite of 10 1938–75 abstract expressionist silver prints by Aaron Siskind, printed circa 1980 ($10,000-15,000); as well as a run of works by Imogen Cunningham including Rubber Plant, silver print, 1920, printed circa 1970 ($3,000-4,500). Further images of note include a complete 1955–2005 portfolio of seven silver prints by Lucien Clergue, printed 2006 ($7,000-10,000), and André Kertész's Distortion #88, silver print, 1933, printed circa 1970 ($4,000-6,000).
Artists, politicians, and old Hollywood: portraits include several exquisite prints by Penn, Horst P. Horst, Manuel Álvarez Bravo, Peter Hujar and Robert Mapplethorpe. Notable lots include Penn's silver prints Spencer Tracy, New York, 1948 ($12,000-18,000), S.J. Perelman, 1952, printed 1980 ($10,000-15,000), and The New Yorker Cartoonists, 1947 ($5,000-7,500). Horst is included with his 1937 image of Coco Chanel, printed 1990s ($5,000-7,500); Lawrence Schiller's portfolio Marilyn 12, 1962, printed 2007, complete with 12 oversized photographs depicting Marilyn Monroe on the set of Something's Gotta Give ($20,000-30,000); and Álvarez Bravo is available with a seated portrait of Frida Kahlo 1930s, printed 1980s ($7,000-10,000). Also of importance is Robert Mapplethorpe's Lisa Lyon, silver print, 1985, printed 2014 ($8,000-12,000), and Peter Hujar's Edwin Denby, silver print, 1975 ($10,000-15,000).
The sale closes with vernacular material, ranging from a group of 50 1940s photomatic selfies of a man taken over a period of time ($1,500-2,500); a set of 38 late-1960s color photographs of pinup girls posing with Kodak cameras ($1,000-1,500); horror film stills from iconic movies of the 1930s and 1970s ($800-1,200); atomic bomb tests images ($4,000-6,000); as well as spirit photographs, medical documents, and cabinet cards.
Limited previewing (by appointment only) will be available through March 10, to be scheduled directly with a specialist in advance and conforming to strict safety guidelines. Swann Galleries staff will prepare condition reports and provide additional photographs of material on request. Advance order bids can be placed with a specialist for the sale or on Swann's website, and phone bidding will be available. Live online bidding platforms will be the Swann Galleries App, Invaluable, and Live Auctioneers. The complete catalogue and bidding information is available at www.swanngalleries.com and on the Swann Galleries App.