Documents Led the Way in Skinner's Manuscripts & Rare Books Auction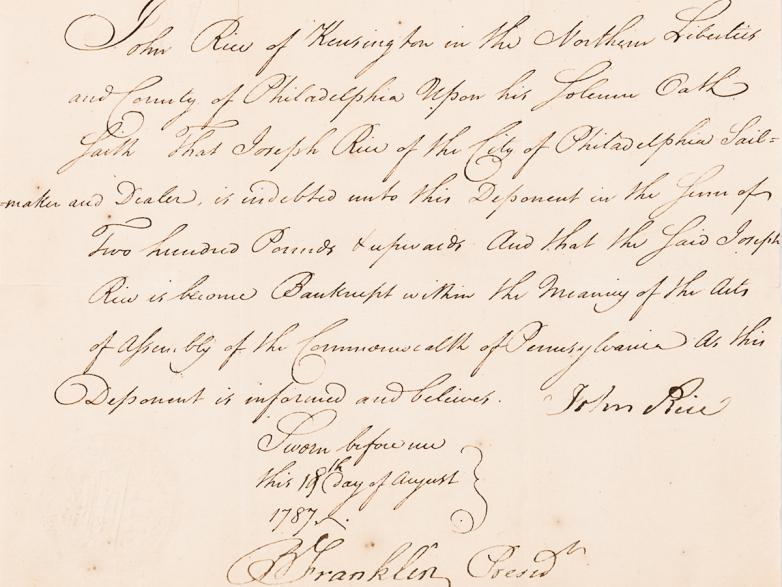 Courtesy of Skinner
Boston — A trove of documents collected in the late 1930s from legendary dealers Goodspeed's in Boston, Massachusetts, and John Heise of Syracuse, New York, included a wide variety of interesting early documents spanning four centuries.
A rare and well-preserved George Washington-signed Revolutionary War printed discharge form for a soldier in the 2nd New York Regiment sold for $18,750. A 1787 sworn oath testifying to a debt owed by a Philadelphia sailmaker signed by Benjamin Franklin brought $10,000.
Several important lots from the Civil War were also hotly competed for in the sale. One of the most historically significant lots, the 1863 diary of Lincoln Ripley Stone, Surgeon of the 54th Massachusetts Volunteer Regiment, achieved $11,250. The 54th was one of the first all-black regiments in the Union army. The unit soldiers gained tremendous notoriety for the valor they displayed during the storming of Battery Wagner in Charleston, South Carolina, on the evening of July 18, 1863, where the regiment lost over 40% of its men in the attack.
An 1864 letter from a father regarding the enlistment of his underage son in the Union Army caught the attention of President Abraham Lincoln. Lincoln responding to the father's requests for his son's release from service, penned a brief note on the back reading "let this boy be discharged" and signed it with his well-known signature "A. Lincoln." This poignant letter sold for $9,375.
Competitive bidding for a remarkable collection of over 400 signed cards of virtually every American military and government figure of the time collected by Major John S. Schultze, Adjutant General of the Department of the Susquehanna in 1864, and neatly mounted in two volumes climbed to a bid of $21,250, well beyond the pre-sale estimate.
An archive of John F. Kennedy letters from his career in the United States Senate featured some interesting documents. Included were a pair of letters and associated correspondence regarding the emigration of an Irish citizen into the United States, letters of thanks to key members of his campaign for the United States Senate in 1952, and a 1955 handwritten postcard signed "Jack Kennedy," which sold for $3,750.
Anchoring the offerings of rare books and graphic materials was a fine first edition printing of Margaret Mitchell's epic novel Gone With the Wind selling at $5,938, and a partial elephant folio of John James Audubon and John Bachman's The Viviparous Quadrupeds of North America, Vol. 1 containing twenty-six very clean and bright images which sold for $15,000.