Depictions of Early America by Pioneering Woman Artist on View at NY Historical Society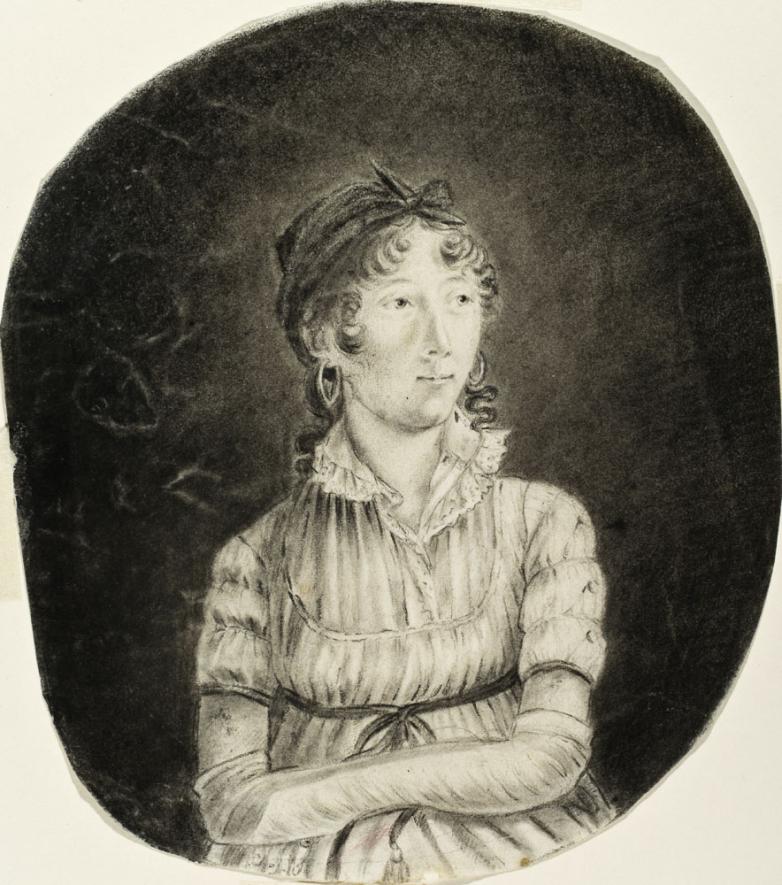 New-York Historical Society, Purchase, 1953.238
New York – This fall, the New-York Historical Society introduces visitors to a little-known artist whose work documented the people and scenes of early America. Artist in Exile: The Visual Diary of Baroness Hyde de Neuville, on view November 1, 2019 – January 26, 2020 in the Joyce B. Cowin Women's History Gallery of the Center for Women's History, presents 114 watercolors and drawings by Anne Marguérite Joséphine Henriette Rouillé de Marigny, Baroness Hyde de Neuville (1771–1849). Self-taught and ahead of her time, Neuville's art celebrates the young country's history, culture, and diverse population, ranging from Indigenous Americans to political leaders. Curated by Dr. Roberta J.M. Olson, curator of drawings at New-York Historical, this exhibition is the first serious exploration of Neuville's life and art—showcasing many recently discovered works including rare depictions of European scenes and people at work, a lifelong sociological interest—and is accompanied by a scholarly catalogue.
"Baroness Hyde de Neuville's status as a woman, an outsider, and a refugee shaped her view of America and Americans, making her a particularly keen and sympathetic observer of individuals from a range of socioeconomic and ethnic backgrounds," said Dr. Louise Mirrer, president and CEO of the New-York Historical Society. "Neuville could never have envisioned that her visual diary—created as a personal record of her travels and observations of early America—would become an invaluable historical document of the early republic. Yet her drawings vividly evoke the national optimism and rapid expansion of the young United States and capture the diversity of its inhabitants."
Born to an aristocratic family in Sancerre, France, Henriette married ardent royalist Jean Guillaume Hyde de Neuville, who became involved during the French Revolution in conspiracies to reinstate the Bourbon monarchy and was accused of participating in a plot to assassinate Napoleon. In an effort to disprove the charges against her husband, the baroness took her cause directly to Napoleon, who was impressed with her courage and allowed the couple to go into exile. They arrived in New York in 1807 and stayed for seven years. During their second American residency (1816–22), when her husband served as French Minister Plenipotentiary in Washington, D.C., Henriette became a celebrated hostess. John Quincy Adams described her in his diary as "a woman of excellent temper, amiable disposition… profuse charity, yet judicious economy and sound discretion." In 1818, she presciently stated that she had but one wish "and that was to see an American lady elected president."
Artist in Exile follows Neuville's life, reconstructing her artistic education and tracing her artistic practice, which included portraiture, landscapes and cityscapes, ethnographic studies, botanical art, and other genres. Highlights of the exhibition include Neuville's views of the Hudson and Mohawk rivers, street scenes of her neighborhood (now known as Tribeca), a watercolor documenting an "Indian War Dance" performed for President Monroe, and portraits of subjects ranging from Indigenous Americans to immigrant students at a Manhattan school founded by the Neuvilles. The exhibition opens with Neuville's miniature self-portrait (ca. 1800-1810) that was likely created for her husband to carry on his travels. Pictured wearing a fashionable daytime empire-waist dress over a chemisette, fingerless mitts, and hoop earrings, the baroness  looks away, not engaging the viewer as is customary with self-portraits that are drawn using a mirror because she based it on another study.
Upon first reaching the United States, the Neuvilles journeyed up the Hudson River and to Niagara Falls, where Henriette was one of the first to record many early settlements, buildings, and rustic scenes. In the watercolor Distant View of Albany from the Hudson River, New York (1807), she drew the panoramic view from the sloop Diana as it traveled downriver from Albany, chronicling the river long before artist William Guy Wall's renowned Hudson River Portfolio (1820–25). The atmospheric vista conveys the majestic sweep of the Hudson and the reflections on its surface. In Break's Bridge, Palatine, New York (1808), Neuville, who was intrigued by engineering and technology, depicts a newly constructed Mohawk River bridge destroyed by rushing waters. The couple in the foreground of the image is the Neuvilles, with their pet spaniel, Volero.
Neuville also captured vivid views of New York City residents and buildings—many of them long since demolished—bringing to life the burgeoning urban center and its ethnically diverse population. Corner of Greenwich Street (1810) represents a scene at the intersection of Greenwich and Dey streets. Near the cellar hatch of the brick house at the center stands an Asian man, who may be the Chinese merchant Punqua Winchong, making this work one of the earliest visual records of a Chinese person in the United States.
The Neuvilles contributed to the cultural life in New York as co-founders of the École Économique (Economical School), incorporated in 1810 as the Society of the Economical School of the City of New York. Its mission was to educate the children of French émigrés and fugitives from the French West Indies and to offer affordable education to impoverished children. Henriette sketched the students at the school, and many works from the "Economical School Series" are on view in the exhibition, including the recently discovered life size portrait, Pélagie Drawing a Portrait (1808), which demonstrates the school's emphasis on drawing. Her series is the only visual record of the school's existence.
The couple returned to France in 1814 after the fall of Napoleon and the restoration of King Louis XVIII and the Bourbon monarchy. In 1816, Louis XVIII appointed the baron French Minister Plenipotentiary, and the Neuvilles returned to the U.S., settling in Washington, D.C. They became renowned for their lavish Saturday evening parties and their friendships with President James Monroe and James and Dolley Madison. Among the notable events the Neuvilles attended was an "Indian War Dance," performed by a delegation of 16 leaders of the Plains Indian tribes in front of President Monroe and 6,000 spectators at the White House on November 29, 1821. Neuville's watercolor documenting the event includes likenesses of half-chief Shaumonekusse (Prairie Wolf) and one of his five wives, Hayne Hudjihini (Eagle of Delight). Later, the "War Dance" was also performed at the Neuvilles' house.
Neuville's portraits of individuals celebrate the ethnic and cultural diversity of the early American republic, and her portrayals are notable for their ethnographic integrity and avoidance of stereotypes. In the portrait of Peter of Buffalo, Tonawanda, New York (1807), the sitter has ear lobes pierced with earrings and bare feet, traditional for Seneca tribesmen. Wearing an undershirt, a fur piece, and leggings with garters, he carries a tomahawk, a knife, a powder horn, and a string of wampum. In the portrait Martha Church, Cook in "Ordinary" Costume (1808–10), Neuville depicts a cook in her everyday attire, as part of the artistic tradition of occupational portraits that originated in Europe and appeared in New York in the early 19th century.
The exhibition features works from New-York Historical's collection, the most extensive in the world, as well as important loans from the Metropolitan Museum of Art; the Museum of Fine Arts, Boston; the New York Public Library, the Miriam and Ira D. Wallach Division of Art, Prints and Photographs; the Museum of the City of New York; Colonial Williamsburg Foundation, Abby Aldrich Rockefeller Folk Art Museum; Hagley Museum and Library; and Princeton University, Firestone Library, Rare Books and Special Collections, Graphic Arts Collection. Artist in Exile: The Visual Diary of Baroness Hyde de Neuville sheds light on this fascinating artist, whose life reads like a compelling historical novel.