David Ruggles Prizewinner Jalynn Harris on Collecting Queer Africa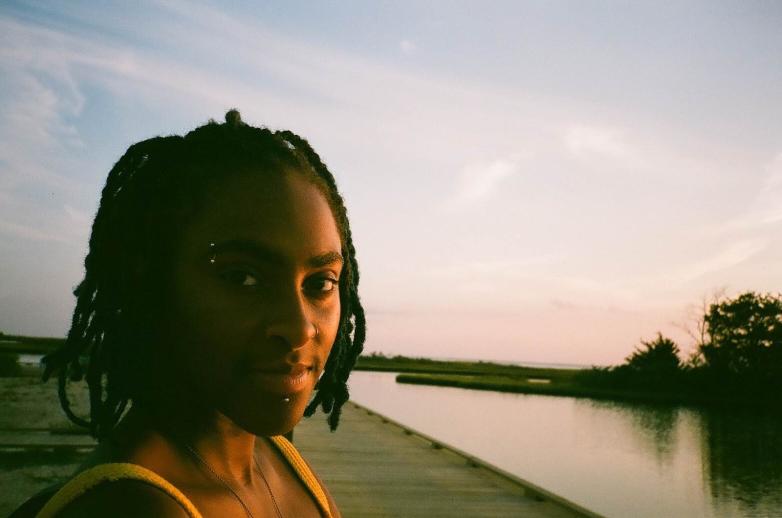 Jalynn Harris
Our Bright Young Collectors series continues with Jalynn Harris who won second prize in this year's David Ruggles Book Collecting Contest for young collectors of color.
Where are you from / where do you live?
I was born and raised in Baltimore, Maryland and currently still live here.
What did you study at University? What do you do now for an occupation?
I graduated from UNC Chapel Hill with a B.A in Linguistics with a minor in Geography. After graduating, I went straight into a masters program. In 2020, I graduated with an M.F.A in creative writing and book design. Currently, I work at my high school! As a literary arts teacher. On the side, I run a tiny publishing company, Soft Savage Press that promotes and publishes the work of Black creatives.
Please introduce us to your book collection. What areas do you collect in? 
The focus of my collection is queer Africa. This collection helped me construct a personal praxis. Through engaging with these texts, I have learned about homophobic legislation throughout the continent, artifacts of pre-colonial African homosexuality, coalitions spearheaded with a queer African feminist perspective, and the strength of the queer liberation movement despite homophobic legislations. 
This collection is an amalgamation of artifacts of identity. Before these texts I had no language to understand my experience as an African-American queer writer. I had read Audre Lorde and her musings about time spent in Russia and Germany. I had read Alice Walker and enjoyed her poetry about her travels throughout the African continent. But never had I heard from the Black body born in Africa about her experience as a lesbian. Nor had I read about the transgender experience in Africa. Since the very first book of this collection, I have been blessed with the simple medicine of representation. The antidote of seeing myself in photo, text, or comic rendering has blessed me with possibility, an expansion of my imagination, and knowledge of history otherwise obscured, and worse, erased.
How many books are in your collection?
In total, I have 15 print materials including magazines, plays, photography, poetry, and graphic novels.
What was the first book you bought for your collection?
I began collecting in 2015, when I went to South Africa for the first time. In Cape Town, I befriended my destiny: lesbians. They were organizers. One day, I told my friend Simeme that I was going to get my labret pierced. Her eyes widened with information, "you're gay!" incredulous I replied ,"Me?". She took me to the bookstore and showed me Zanele Muholi's Faces and Phases. Page after page she pointed at women with a lip piercings and said, "see?" It was the greatest told-you-so of my life. I bought Muholi's Only Half the Picture; I began collecting. 
How about the most recent book?
The most recent book in my collection is Nervous Conditions by Tsitsi Dagaremba. This is one of my favorite books EVER.  While not explicitly about queerness, this novel is one of the greatest historical fiction pieces about, what Frantz Fanon calls, "the condition of native is a nervous condition". This novel explores the complexities of colonization on the African psyche via the relationship between two cousin-sisters in Zimbabwe. This title shows an expanded understanding of queerness as "non-normative" experiences that do not necessitate sex/sexuality.
And your favorite book in your collection?
My favorite book in this collection is an anthology edited by Makhosazana Xaba – a collection of work by seven lesbian participants in a two-day writing group in Bulawayo, Zimbabwe. I love these on-the-spot, during-workshop poems of lesbian love, loss, anger, joy, and the power of community.
Best bargain you've found?
Because all of these books were bought or gifted to me while in South Africa, considering the conversion rate from USD to RZA, I would say all of them were a bargain.
What would be the Holy Grail for your collection?
As a queer African American who came into Africanness and queerness in the continent, this collection is invaluable to my own self actualization. For me, it provides a mirror. I look into a play and see myself: the hand holding the other girl's hand. I laugh at a comic; I cry through a poem. This print matter provides a map of where my people have been, where they are, and how vibrantly we become alongside one another.
Text builds a bridge. A transcontinental pathway to freedom. The biggest lost of the transatlantic slave trade is the loss of Blackness' connection to Africanness. Enslavement made our connection one of otherness. But this collection situates me in a constant state of pan-African queerness. African to African, transatlantic to intercontinental, I am engaged in the literature of queer imagination. Living in Cape Town brought me eye to eye with this likeness. And, when I'm not in the continent, this collection provides a home for me: a place where expressions of queerness are blazing through literature.
This is all to say, I cannot choose one book as each book is a part of the mosaic. 
Who is your favorite bookseller / bookstore?
I don't necessarily have a favorite of either. Though in practice of my ethic I only buy from local booksellers and/or used books. Because my collection is transcontinental, I like to visit book stores (and libraries) in countries I get the privilege to travel to. That way I can read what the people are reading.
What would you collect if you didn't collect books?
If I didn't collect books I would collect different strains of mycelium to grow mushrooms.  I love fungi. My favorite podcast, The Mushroom Revival Podcast, is a deep dive into the fascinating world of fungi. My dream is to go to a fungarium. My fantasy summer job would be to work on a mushroom farm and innoculate and turn over logs. I get excited when a second flush of oyster mushrooms fruits from an at-home grow bag. I wish I had the confidence to clone from store bought mushrooms. I wish I had the community to go in on a flow hood. I think mushrooms teach us so much about our human animal world and the ways to be in community.