Curator's Choice Goes Virtual at Boston Athenaeum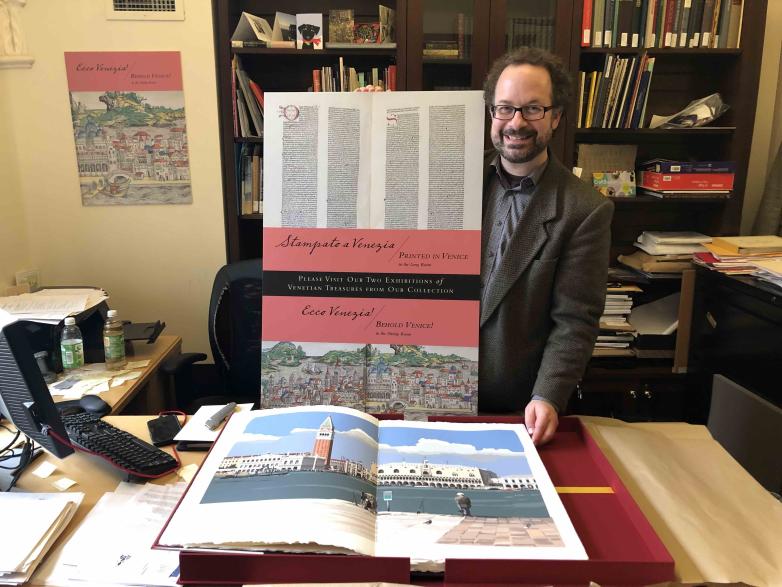 Courtesy of the Boston Athenæum
In another pandemic-era example that makes a compelling case for broadband to one day be reclassified as a utility, the Boston Athenæum has reformatted its spring and early summer in-person events for a stay-at-home audience. A full slate of talks originally intended to be held at the Athenæum's Edward Clarke Cabot-designed enclave at 10 1/2 Beacon Street have migrated online, where they're open to the public and free of charge.
Pre-pandemic, Athenæum staff were already considering ways to expand its reach. According to John Buchtel, curator of rare books and head of special collections, the forced physical closures allowed the library to wholeheartedly embrace the digital transition. "We were delighted to be able to pivot from in-person to online presentations," he said.
And pivot they have: from now until mid-June, the Athenæum is offering a range of online programs, from a conversation with the chief conservator about caring for the library's bibliographic treasures to a live reading by Caldecott winner Christopher Bing of Henry Longfellow's "The Midnight Ride of Paul Revere." Most tantalizing, perhaps, is the series of talks dubbed "Curator's Choice," which highlight the library's various holdings. Buchtel said that these talks are a natural segue for the Athenæum's curators to share their knowledge with the public. "Having finished putting a new curatorial team in place shortly before cultural institutions had to shut down, we were already thinking about ways to expand our offerings that focus on our fascination with various aspects of material and visual culture," he explained.
So far, four virtual lectures are on tap: assistant curator Christina Michelon's examination of Little Nell, a sculpture by Robert Ball Hughes depicting a character in Dickens's Old Curiosity Shop on May 19; a discussion of artist Florine Stettheimer's still life, The White Curtains, led by assistant curator Ginny Badgett on May 26; John Buchtel's leafy survey of the Athenæum's rare dendrological holdings on June 2; and Theo Tyson curates (Anti)SUFFRAGE, presenting thirteen rare books, broadsides, paintings, photographs, and other items in celebration and commemoration of PRIDE month on June 9. The full list of events and how to register may be found on the Athenæum website.
The Athenæum's shift to online programming has been met with strong public response, and Buchtel envisions a post-Covid future for the institution that will incorporate the best of the digital and physical realms. "While we all believe strongly that images on a screen never fully substitute for experiencing physical books and artwork in person, we have been very pleased with the response to our new series," said Buchtel. "We plan to continue to explore innovative ways to provide virtual points of entry to our collections even after we are able to welcome visitors back into the Athenæum."
For internauts interested in seeing a sample of these presentations, the Athenæum kindly provided Fine Books with the complete video of Buchtel's April 27 talk on artist Leslie Gerry's Venice Reflections.