Bright Young Librarians: Michelle Chesner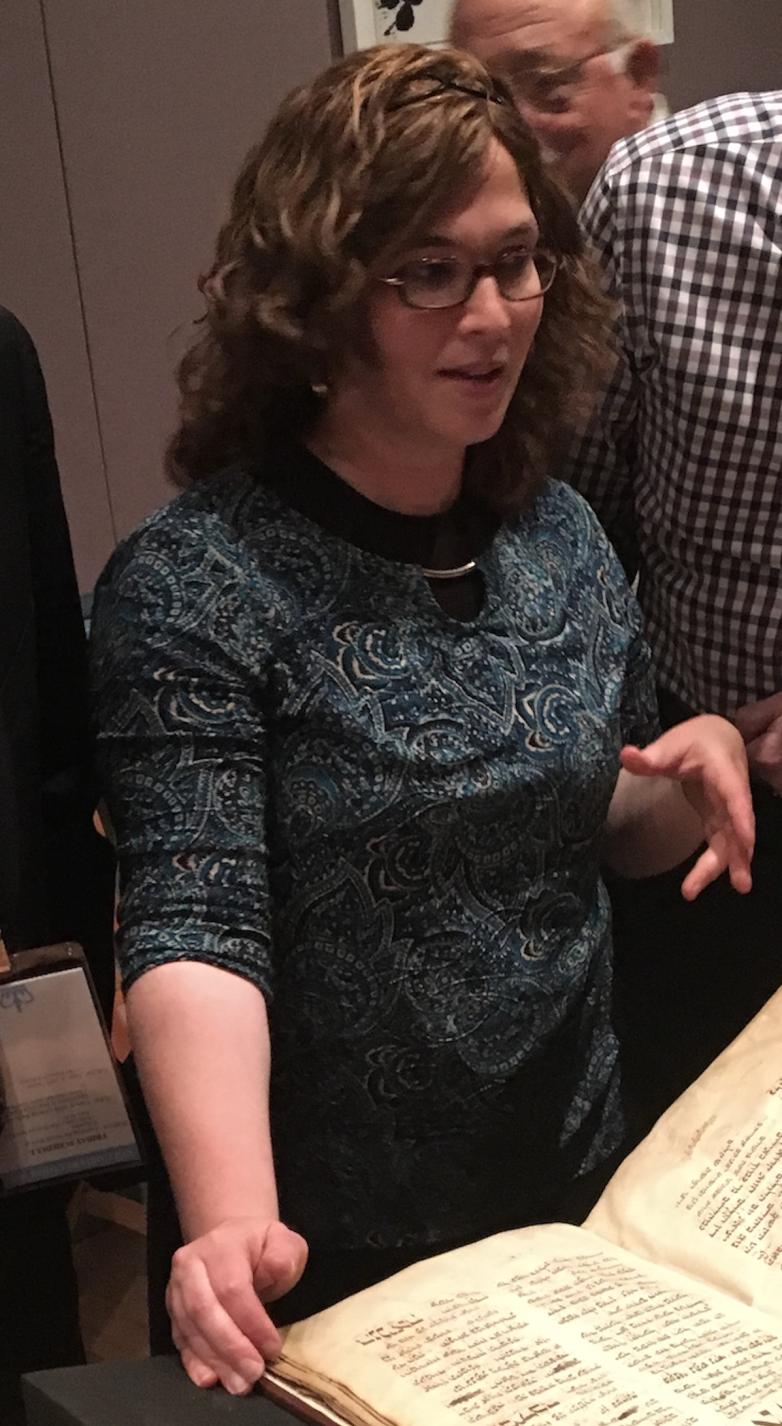 Courtesy of Michelle Chesner
Our Bright Young Librarians series continues today with Michelle Chesner, Norman E. Alexander Librarian for Jewish Studies at Columbia University.
What is your role at your institution?
My official title is Norman E. Alexander Librarian for Jewish Studies. I am technically situated in the Global Studies division in the Columbia University Libraries, but my position includes responsibility for Columbia's rare Judaica collection, which is located (mostly) in the Rare Book and Manuscript Library.
How did you get started in special collections?
I always loved history as a subject, and vaguely wanted to "see old books" from the time I was young. When I got to college, my advisor, Dr. Jim Grubb at the University of Maryland, Baltimore County, encouraged me to do my undergraduate thesis on Hebrew incunabula. I was hooked! I interned that summer at (then) Baltimore Hebrew University's library (now part of Towson University's collection) and worked with books that had been confiscated from Jews by the Nazis. The multiple layers of history in those books -- centuries-old Hebrew annotations by Jewish users, the Nazi archival stamp, and the bookplate of the Jewish Cultural Reconstruction project, which distributed these books back to Jewish communities after WWII -- showed me how books were indeed the closest way to "hear" the people of the past. It was then that I knew I wanted to spend my life with rare books and manuscripts.
Where did you earn your MLS/advanced degree?
I did a joint MA/MLIS program through the NYU/LIU "Masters and Mentors" partnership, including an MA in Jewish Studies from NYU, and a Certificate in Rare Books and Manuscripts as part of the MLIS from Long Island University.
Favorite rare book / ephemera that you've handled?
My favorite printed book is a legal text by Jacob ben Asher called Arba'ah Turim, printed in Constantinople by David and Samuel ibn Nahmias in 1493. The first book to be printed in the Ottoman Empire, this book also tells the story of the journeys of Sephardic Jews in the 15th century: its typefaces come from Guadalajara and Hijar (Jews were expelled from Spain in 1492), and the paper is from Venice and Naples. The book was finally printed in Constantinople, whose leader, Sultan Bayezid II, actively encouraged Jewish immigration to the Ottoman Empire in the late 15th century.
What do you personally collect?
There are so many things I WISH I could collect -- does that count? I'm particularly interested in Hebrew incunabula - there are between 150-200, depending on who you ask, and they range from secular literature to religious law to philosophy to grammar to Bible and Talmud. Making the choice to print something in the 15th century was a huge investment, and I think that early choices made by printers made can be very enlightening as to real or perceived audiences. As just a single example, contrary to Gutenberg's famous Bible, Hebrew Bibles were not printed until the end of the 15th century, because it wasn't necessary -- every synagogue had a Torah scroll with which one could access the text.
What do you like to do outside of work?
I adore musical theatre and performance.
What excites you about special collections librarianship?
To me, special collections stand for a unique entry into the past -- and being able to share that with others is a privilege that I am grateful for daily. I love to see and learn from the creativity in the special collections world, especially since COVID started. Librarians, curators, and even private collectors have taken to the internet to share their collections with the world. I am also constantly amazed by the unique ways in which people interact with rare materials: As just one example, Columbia holds an audio archive of interviews focused on linguistic aspects of Yiddish, and one artist used the audio file to create an interpretive dance piece based on the sounds of the conversation.
Thoughts on the future of special collections librarianship?
Openness and information sharing are critical to the future of special collections librarianship. Advocating for your collections looks different for everyone, but if nobody knows that you're there, it's hard to explain why your work should be supported. A friend of mine built a bot to showcase our Hebrew manuscripts on Twitter (@CULhebrewMss), and it now has about 1000 followers - and it's drawn considerable interest to the collections from audiences that I never would have encountered in traditional library outreach. I also strongly believe that mentorship and encouraging new "recruits" to the field is the only way that we can have a future. I have learned so much from both my mentors and mentees -- perhaps I shouldn't say this in a magazine devoted to books and collecting, but not everything can be taught in books!
Any unusual or interesting collection at your library you'd like to draw our attention to?
I am very proud of the Footprints project, which I co-direct with Joshua Teplitsky (Stony Brook), Adam Shear (Pittsburgh) and Marjorie Lehman (Jewish Theological Seminary). Footprints traces the movement of Jewish printed books through time and place - documenting the printers, owners, expurgators, thieves, readers, booksellers, and many other people who interacted with a particular copy of a printed work. As we've noted in various places, printed books are probably "the largest hidden archive of the early modern world," and it's very exciting to be part of a project that's working to bring that hidden information to the fore.
Any upcoming exhibitions at your library?
There are many exhibitions at the Columbia RBML, but I'm really excited about a joint exhibition scheduled (at this point) for Fall of 2021 on the Jews of Corfu, co-hosted by the Jewish Theological Seminary (JTS). Our two institutions (just six blocks apart) together hold a very unique collection on this little-known community, which produced incredible art, poetry, and religious literature during the early modern period. The exhibition will have a portion at JTS and a portion at Columbia, as well as joint programming around the materials.