Bob Dylan Love Letters to High School Sweetheart Sold For Nearly $700k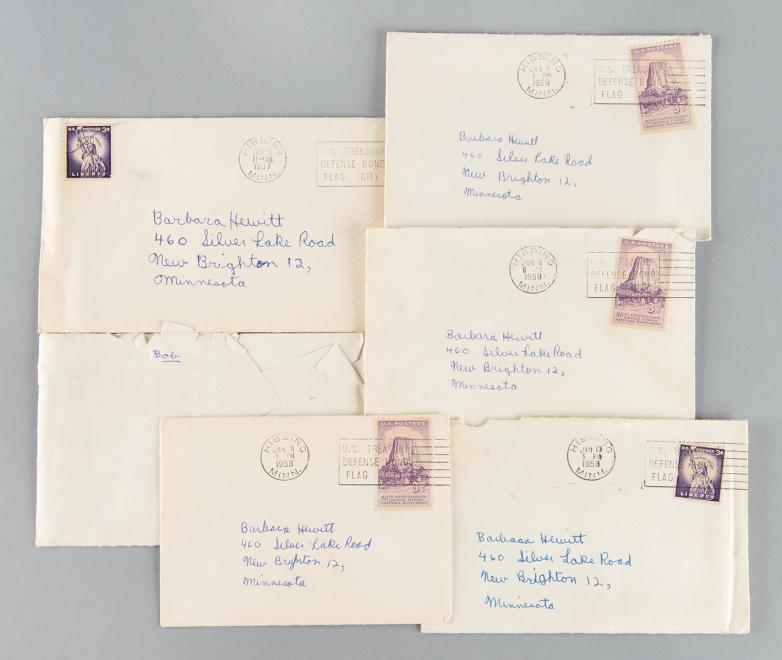 RR Auctions
A remarkable archive of 42 love letters written by Bob Dylan to a high school sweetheart, Barbara Ann Hewitt, sold for $669,875 according to Boston-based RR Auction.
The Hewitt archive, in total, contains over 150 pages of autograph material written between 1958 and 1959.
Wide-ranging in scope and content, the young Dylan reveals his dreams of changing his name and selling a million records, offers bits and pieces of poetry, and professes his never-ending affection. He prepares for the Hibbing High talent show; invites Barbara to the Buddy Holly show in Duluth; speaks of singing, songwriting, and recording; comments on the cars, clothing, and music of the late 1950s.
Every letter is accompanied by its original mailing envelope addressed in Dylan's hand, with nearly all signed on the flap: "Bob." Also included are a signed Valentine's Day card and a brief unsigned handwritten note.
"The archive documents the transformation of Bob Zimmerman into Bob Dylan, full of never before known facts from his formative years," said Bobby Livingston, Executive VP at RR Auction.
The winning bid came from Livraria Lello, an internationally renowned bookstore in the northern Portuguese municipality of Porto, which intends to keep the archive complete and made available for both Bob Dylan fans and scholars to examine in the future.
Among other items originating from the Hewitt estate are early drawings and several photos—including one of the earliest signed Dylan photos known to exist, which sold for $24,361.
Additional highlights from the sale include, but are not limited by:
* Bob Dylan Archive of 24 Handwritten 'Poems Without Titles,' penned while at the University of Minnesota, sold for $249,563.
* Edie Sedgwick's original self-portrait painting from 1965, dating to her emergence as a Warhol superstar, sold for $52,500.
Alan Freed's Big Beat 1958 Waterloo concert poster with Buddy Holly, Chuck Berry, and more, sold for $35,715.
* The Doors fully signed, 'Waiting for the Sun' album sold for $25,000.
* Prince's 1980 City National Bank credit card sold for $16,500.