10 Medieval Illuminated Manuscripts For New York Exhibit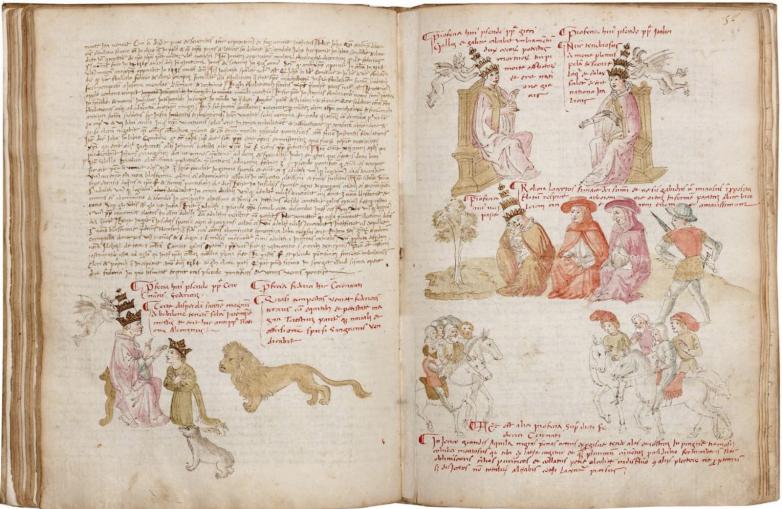 Les Enluminures
New York - In 2022, Les Enluminures celebrates its tenth year in New York with an exhibition of exceptional medieval illuminated manuscripts. The focus lies on ten manuscripts, each unique and world-class. Included are Books of Hours, romances, philosophical treatises, and fables. There are also a small number of outstanding related works from Private Collections that have passed though the New York gallery in the past ten years. Rings, miniatures, and historic jewelry complement the core exhibition.
Visitors will have the opportunity to witness a sparkling display of manuscripts of unparalleled importance. It includes new acquisitions, as well as significant works only rarely on public view. There are, for example, an illuminated copy of the Songe du Vergier (The Dream in the Orchard), a lively political allegory on the relationship between Church and State; a rare, illuminated version of a French translation of Aesop's Fables, perhaps originating in the royal circle; and a previously unknown version of the Vaticinia, prophecies concerning the papacy, extensively illustrated with beautiful watercolors by a Venetian artist.
This exhibition offers an opportunity to look back on our achievements since 2012. The gallery is proud of its many successful exhibitions, publications, and fairs. These include our inaugural exhibition, An Intimate Art 12 Books of Hours for 2012; the Flowering of Medieval French Literature (2014); and Diamonds, the Collection of Benjamin Zucker (2019), among many others. We are of course also proud of our ongoing participation in the Winter Show, a staple of New York's art world.
Simultaneously, we are setting the stage for 2022 and 2023 as we embark on a year of in-person programming in our New York space. Exhibitions will encompass exciting, unusual, and innovative pairings of important medieval manuscripts, miniatures, and jewelry with art ranging from antiquity to today, across a variety of different media.
Timeless Treasures: 10 Manuscripts to Celebrate 10 Years in New York
November 3 to December 21, 2022
Opening: Thursday, November 3, 6:00 to 8:00 pm (RSVP requested)
Gallery Hours: Tuesday to Saturday, 9 am to 5 pm, by appointment.
Same-day appointments are possible.
We are delighted to be able to reconnect with friends of the gallery on a more regular basis going forward. We will henceforth be open on appointment all year round.