Previously Unknown John Morgan Medical Manuscript to Auction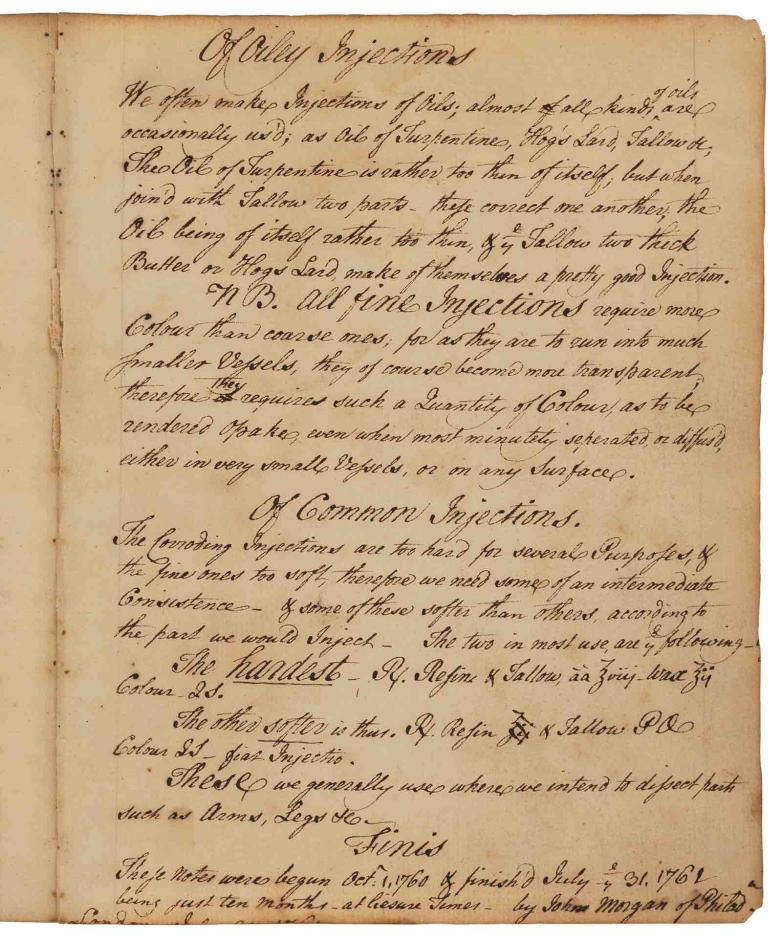 Bonhams
Leading Bonhams' Fine Books & Manuscripts auction on June 22 in New York, is a previously unknown, extensive medical manuscript by John Morgan, the father of American medicine and the founder of America's first medical college in 1765.
Over 272 pages, Morgan's autograph manuscript (estimate: $30,000-50,000) covers 50 lectures on the practice of medicine—including anatomy, physiology, pathology, and surgery—drawn in part from contemporary lectures and citing modern and ancient authorities in the medical field.
John Morgan was the eldest son of a prominent Philadelphia family, and the neighbor of Benjamin Franklin, whose valued assistance helped Morgan to become one of the most notable doctors of his time. He began his medical career as an apprentice in Philadelphia, before enlisting as a doctor and surgeon in the Army during the French and Indian War. After the war, Morgan traveled to London, where, with the help of Franklin, he met and trained with the most important medical doctors of the period. He earned an advanced degree in medicine in Edinburgh before embarking on a grand tour of Europe to meet the continent's most important physicians.
After 15 years of pursuing knowledge in the medical field, on May 30, 1765, Morgan delivered his inaugural address at the College of Pennsylvania, announcing the creation of the first medical college in the colonies. In 1775, he was appointed by George Washington as the head medical doctor of the Continental Army, essentially making him America's first Surgeon General.
 
These lectures - written throughout his stay in London, 1760-1761, where he practiced with and trained under John Hunter and John Fothergill - convey first-hand knowledge and case-studies from contemporary sources including Hunter, William Cheselden, Albrecht Von Haller, Marcello Malpighi, and William Cowper. The lectures on optics and the eye reference Sir Isaac Newton and Willem 's Gravesande, among others. Overall, the manuscript is balanced with the historical perspectives of Morgan's own education.
This previously unknown manuscript is an exceptional item in the history of modern medicine, comprising a series of lectures that represent the inkling of what would soon become the curriculum of America's first medical college. Few primary materials from Morgan's life exist, making this an exceptionally rare piece of American history. At the start of the American Revolution, Morgan moved his library and manuscripts from Philadelphia to Connecticut, in order to avoid destruction. However, when the British came through Bordentown, they burned his house, destroying most of his papers and books. Consequently, the discovery of this previously unknown manuscript represents a major opportunity for scholarship in the history of medicine.