Writing for the Camera Opens at the Getty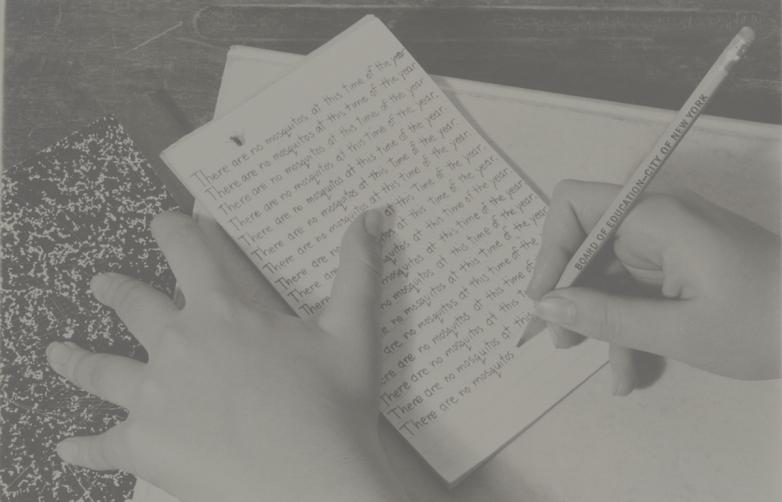 Credit: The J. Paul Getty Museum, Los Angeles 2009.87.2
Los Angeles – Photography—a word derived from the Greek terms phos (light) and graphe (writing or drawing)—is, by definition, a means of "writing with light." The medium's inherent relationship with writing manifests in various ways, from the use of captions and inscriptions to the appearance of words within pictures, signifying its expansive narrative potential.
In Focus: Writing for the Camera, on view February 22 through May 29, 2002, presents ten artists who explore the profound connection between writing and photography. Featuring works made since the 1970s, this exhibition showcases imaginative, conceptual approaches to the practice of combining written words and photographic images during the last fifty years.
"Modern and contemporary artists have often employed a variety of media to create their work, and many incorporated photography into their practices," says Timothy Potts, Maria Hummer-Tuttle and Robert Tuttle Director of the J. Paul Getty Museum. "This exhibition celebrates the fruitful conversations that such different media can spark when brought together."
Drawn primarily from the Museum's permanent collection, and supplemented with key loans, the exhibition will include photographs by Sophie Calle, Eileen Cowin, Anthony Lepore, Marcia Resnick, Carrie Mae Weems, and William Wegman. Recently acquired works by Laura Aguilar, Hal Fischer, Shirin Neshat, and Allan Sekula will also be displayed at the Getty for the first time.
Many of the works selected for the exhibition depict the makers themselves, while some allude to their presence through textual traces that include handwriting and correspondence. These forms of authorship underscore the role of performance—which can involve theatrical concepts such as staging, posing, and acting—in the interplay between photographic images and text. 
"In an interview with the Paris Review, Joan Didion likened the impulse of becoming a writer to working as an actor because, she deduced, both careers constituted performances," says Amanda Maddox, associate curator in the Department of Photographs and curator of the exhibition. "I think the same is true of photography. It demands the performance of practitioners behind the camera who, in the case of this exhibition, also perform in front of the camera, so to speak, by inscribing or writing their own words as part of their work."
Artists featured in the exhibition—or representatives of their estates—were invited to write short texts for the labels that accompany their work. Their illuminating remarks reinforce the fundamental role that text can play in the interpretation of photographic images.
In Focus: Writing for the Camera will be on view February 22 through May 29, 2022, at the Getty Center. It is curated by Amanda Maddox, associate curator in the Department of Photographs. This exhibition is presented concurrently with Imogen Cunningham: A Retrospective.