World Record for Bloomsbury Artist Roger Fry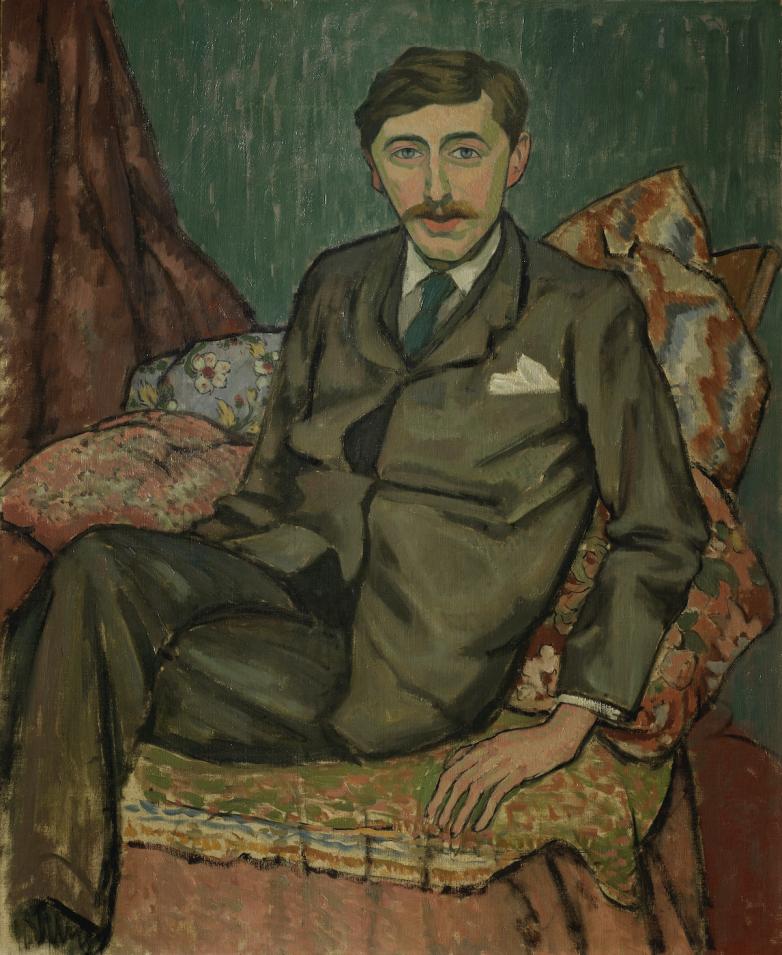 Courtesy of Bonhams
London — A striking portrait of the novelist E. M. Forster by his friend, the art historian and painter Roger Fry, set a new world record for the artist at auction when it sold for £325,000 at Bonhams Modern British and Irish Art sale on July 1. It had been estimated at £30,000-50,000. The sale made a total of £2,000,000 with 80% sold by lot and 85% sold by value.
 
This was the first sale held at Bonhams that members of the public were able to attend in person since the Government's relaxation of lockdown regulations. Bidders in the auction room remained socially distanced at all times and participated keenly in the auction.
 
Fry and Forster were prominent member of the Bloomsbury Group, the early 20th century artists, writers and freethinkers who in Dorothy Parker's memorable phrase, 'lived in squares, painted in circles, and loved in triangles'. The Group scandalised society at the time and has continued to fascinate succeeding generations.
 
Fry and Forster were neighbours in Surrey and became close friends. Writing in the summer edition of Bonhams Magazine, the biographer Matthew Sturgis said, "The portrait – painted at a time when Fry, steeped in the Parisian experiments of Post-Impressionists, Fauves and Cubists, was striving to introduce something of their daring simplification and anti-naturalism into his own practice – was an upshot of that happy friendship."
The sale also offered a rare self-portrait by Vanessa Bell (1879-1961). With her sister Virginia Woolf, Vanessa was a core Bloomsbury figure and acknowledged as among its finest artists. The portrait sold for £56,000 having been estimated at £20,000-30,000.
Bonhams Director of Modern British and Irish Art Chris Dawson said, "We are delighted with the result. Roger Fry's portrait of E.M. Forster is an extraordinary and important work and it's fitting that it set a new world record for the artist at auction. The high price paid for the painting and for other works by Bloomsbury artists, including Vanessa Bell's wonderful self-portrait, reinforces the continuing appeal of this key artistic and literary movement."
 
Other highlights included:
 
Sir Winston Churchill, maquette for the monument in Parliament Square by Ivor Roberts-Jones (1916-1996). Sold for £118,810 (£65,000-85,000).
 
A Steamship and a Schooner Passing the Coast (recto); A Path Through a Wood (verso) by Alfred Wallis (British, 1855-1942).  Sold for £100,000 (£50,000-70,000).
 
Reclining Figure: Pointed Legs by Henry Moore O.M., C.H. (1898-1986). Sold for £93,800 (£50,000-70,000).
 
Portrait of a Young Man by Christopher Wood (1901-1930). Sold for £87,500 (£25,000-35,000.