Unseen Photos from Fatal 1910 Air Races to Auction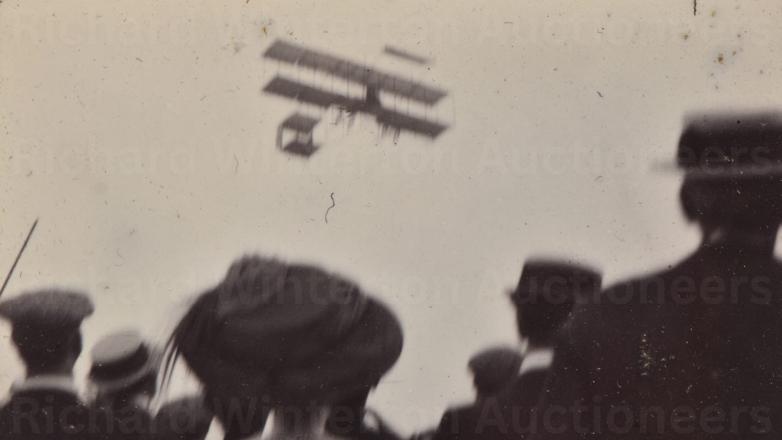 Richard Winterton Auctioneers
Unseen photos from Bournemouth's 1910 International Aviation Meeting, during which Rolls-Royce co-founder Charles Rolls plunged to his death when his plane broke up mid-air, go under the hammer with Richard Winterton Auctioneers on November 6.
 
The Edwardian album documenting one of Britain's earliest aviation meetings came to light following a house clearance in the Stafford area. It album contains 96 original photographs, 28 from the 1910 International Aviation Meeting at Bournemouth.
Nineteen licensed pilots entered the aviation displays held at Hengistbury Airfield, Southbourne, during July 11-16 as part of celebrations for Bournemouth's 1910 centennial as a town. On the second day, co-founder of Rolls-Royce Charles S Rolls became Britain's first powered aviation fatality when his Wright biplane broke up during a sharp manoeuvre and the pioneering pilot plunged 80ft to the ground.
Aged just 32, Rolls had been the second Briton to go up in an aeroplane and, following the purchase of his own Wright Flyer, made more than 200 flights from October 1909. In March 1910, he became the second person licensed to fly by the Royal Aero Club and, on June 2 that year, became the first man to make a non-stop double crossing of the English Channel in 95 minutes, earning the aero club's gold medal. His death at Bournemouth was also the world's 11th aeronautical fatality.
Sixteen of the 28 original 3.5ins x 2.5ins photographs coming to auction show early planes in the air, with one captioned 'Rolls plane 1910 fatal flight'. Images on the ground include the Farman craft of Launcelot Gibbs and the monoplane of British pilot Alan Boyle plus the hangars of Gibbs, Boyle and fellow aviators George Barnes, Alec Ogilvie and Léon Morane.
One photograph has 'Audemars smash' written on the reverse – one of a number of mishaps to befall Swiss pilot Edmond Audemars during the event. Another caption refers to popular British aviator Claude Grahame-White, who took part with his Farman plane.
"By 1910, flying had captured the hearts of many people in England as a wonder of the modern day and the Bournemouth aviation meeting must have been an incredible spectacle," said said Robert French, valuer at Richard Winterton Auctioneers. "Photography was still in its relative infancy, with ownership of a camera and taking pictures far from routine for most people. It's also believed that officials confiscated cameras following Charles Rolls' crash. With remarkably clear images of aircraft up in the sky and of crowds watching down on the ground, these historical photographs are an evocative tribute to those magnificent men in their flying machines."
Also included in the album coming to auction are 68 photographs featuring the crew of the SS Eugenie from 1906, taken at sea and in Constantinople, plus a personal log book from the ship.