Unique Harry Potter Stars at Bonhams Books Sale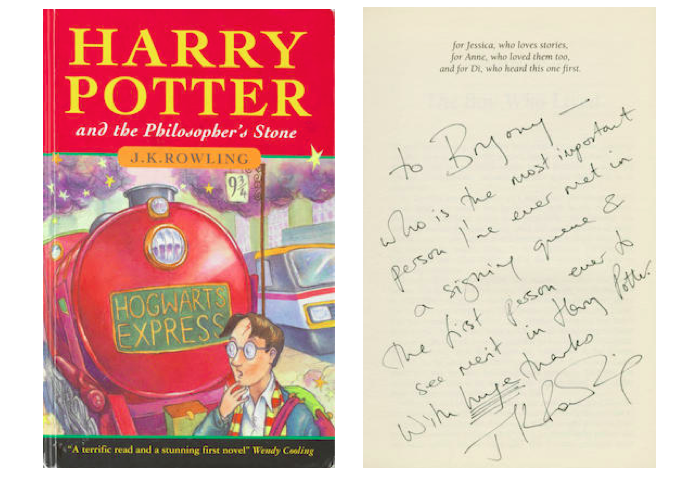 Courtesy of Bonhams
London — A rare first edition of one of the most popular books ever written, Harry Potter and the Philosopher's Stone signed by author J. K. Rowling "to Bryony... the first person ever to see merit in Harry Potter" sold for £118,000 in Bonhams Fine Books, Atlases, Manuscripts & Photographs sale on 11 March in Knightsbridge, London. It had a presale estimate of £70,000-90,000.
 
Bryony Evens was the office manager for the literary agent Christopher Little, when in 1996, she picked up a three-chapter submission from the slush pile and started reading. Instantly hooked, Bryony asked Little to request that the author send the rest of the book. They soon received the full manuscript for Harry Potter and the Philosopher's Stone by the then unknown J.K. Rowling, and the rest is history.
 
Head of Bonhams Fine Books and Manuscripts Department, Matthew Haley, commented: "This unique copy of the highly desirable rare first edition of Harry Potter and the Philosopher's Stone really was a little piece of Harry Potter history. I'm not surprised that it attracted such interest and achieved such an impressive price".
 
Other highlights include:
 
    •    Walter Raleigh's own copy of Tasso's Rime et prose, Venice, 1584. Estimate: £30,000-50,000. Sold for £47,000.
    •    Manet (Edouard) Poe (Edgar Allan), Le Corbeau; The Raven: Poëme, traduction française de Stéphane Mallarmé avec illustrations par Edouard Manet, Paris, Richard Lesclide, 1875. Estimate: £25,000-35,000. Sold for: £31,000.