Saturday Evening Post Covers Pop in Swann Illustration Sale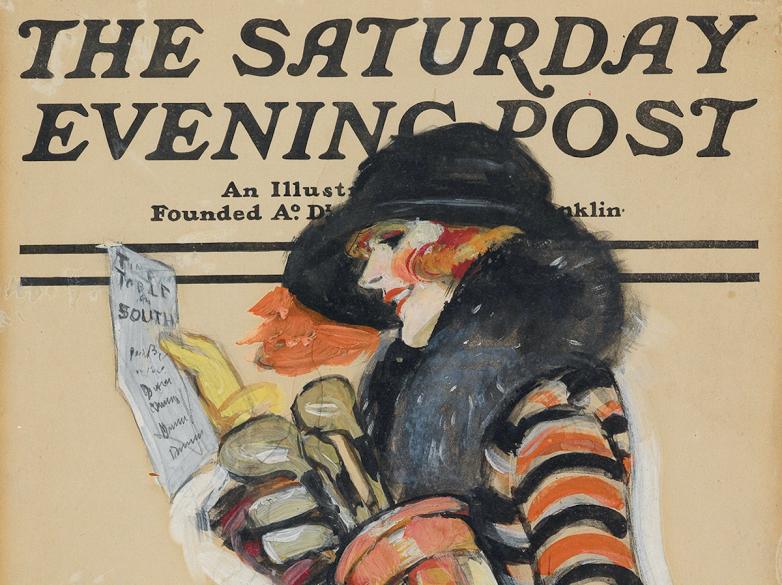 Courtesy of Swann Galleries
New York — Swann Galleries opened the winter/spring 2021 season with a robust sale of Illustration Art. The auction saw record prices for several works, as well as auction debuts from artists. Original artwork from the collection of Richard "Dick" McDonough brought excitement from buyers, and covers for The Saturday Evening Post and The New Yorker, Sunday comics, and story illustrations sparked widespread interest.
The Dick McDonough Collection of Golf Illustration, featured a selection of 63 golf and sports-themed works of art, including original illustrations and rare printed posters and graphics. Most notable was College Football by Joseph F. Kernan, which led the sale at $75,000, a record for Kernan. The 1932 oil-on-canvas served as a cover The Saturday Evening Post, and was likely the inspiration for the iconic Heisman trophy designed by Frank Eliscu in 1934. The collection brought additional artist records with two more covers for The Saturday Evening Post: Conference on the Mound, 1912, by Leslie Thrasher ($37,500); and Hitting the Links of Palm Beach, circa 1920s, by Ruth Eastman, which was acquired by the USGA Museum & Library ($11,875). Further highlights included Joseph Leyendecker's Golfer Lighting a Cigarette, a 1920 oil-on-canvas study for an advertisement, that sold for $30,000; and Michael Brown's Levin Links, an early-twentieth century oil-on-canvas scene of a golf course, that brought $8,125.
Story illustrations included Edmund Dulac, with a 1910 watercolor from The Sleeping Beauty and Other Fairy Tales featuring a scene from the tale of Bluebeard, which earned $18,750. A run of pen-and-ink works by N.C. Wyeth from The Courtship of Miles Standish by Henry Wadsworth Longfellow found success, with each of the three pen-and-ink drawings earning spots in the top twenty.
The auction boasted excellent prices for market newcomers Johanna Stewart Mapes, Honi Werner, and Clement Hurd. Mapes found success with A Fairy Book, an illustration for a poem of the same name featured in St. Nicholas Magazine in 1907, at $4,000; Werner's cover of the 1995 book Practical Magic by Alice Hoffman garnered competitive interest from buyers with the work selling for $2,750, well over its $600 high estimate; and Hurd's Running Away—for the 1972 edition of The Runaway Bunny by Margaret Wise Brown—realized $6,250.
Sunday comics performed well with an original 1960 four-panel Peanuts comic strip featuring Linus and Lucy earning $15,000, and original Felix the Cat comics by Otto Messmer for Pat Sullivan Studios bringing $11,250 and $9,375, respectively.
The New Yorker section continued to be a favorite among buyers. Noteworthy lots included Family Tree, a watercolor for the February 12, 1938 cover by Constantin Alajalov, which crossed the block at $11,875; One Pin, a watercolor by Charles Addams published in the June 16, 1962 issue, at $11,250; and A Day at the Beach, the cover for the August 5, 1944 issue by Barbara Shermund, a record for Shermund at $9,375.
Christine von der Linn, the house's director of illustration art, noted: "The nearly six-hour long auction was a testament to the amount of active bidding in the sale and the continuation of the robust art market from 2020. We were especially thrilled to see high prices and records set for a number of female illustrators who spanned the twentieth century. It was also heartening to see Swann's literary tradition shining through in record prices set for iconic cover art by major American artists. And, the Dick McDonough Collection of Golf Illustration had a fine follow-through with high prices, several new bidders, and a number of artworks going to private collections and institutions."
For the house's most up-to-date auction schedule please visit swanngalleries.com.