For Sale: Poe Letter Referencing a Literary Feud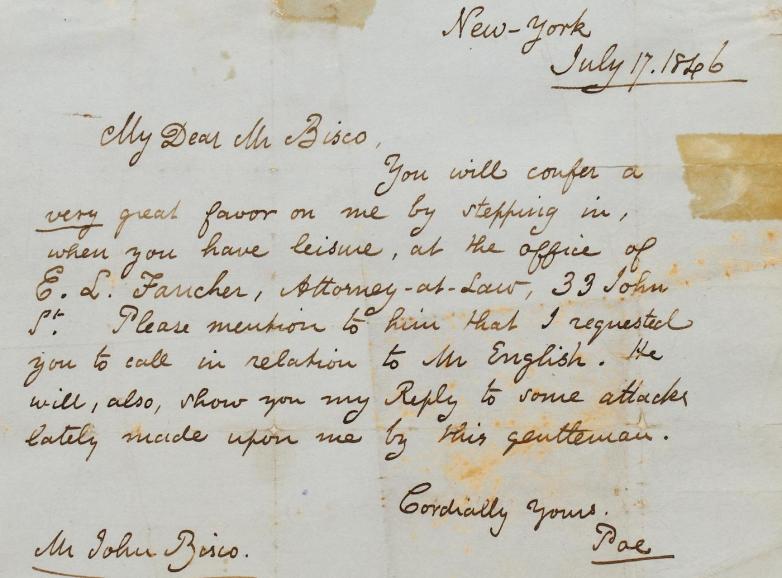 Courtesy of Nate D. Sanders Auctions
On July 17, 1846, Edgar Allan Poe wrote to John Bisco, the publisher of the Broadway Journal, a magazine Poe once edited, to ask him to call upon an attorney in relation to "attacks made upon me" by playwright Thomas Dunn English. Poe and his friend-turned-foe had been trading barbs (and punches) for years, but English took it up a notch when he accused Poe of being a forger, a drunk, a scoundrel, and—worst of all—a plagiarist in the New York Evening Mirror in June of that year.
Poe replied in print a few days later, and he also engaged the services of a lawyer to charge the Mirror with libel. In July, he wrote to Bisco, requesting his "favor … by stepping in, when you have leisure, at the office of E.L. Fancher, Attorney-at-Law, 33 John St. Please mention to him that I requested you to call in relation to Mr. English. He will, also, show you my Reply to some attacks lately made upon me by this gentleman."
This brief letter goes to auction later this week for the first time since 1941. The bidding starts at $25,000, although the letter is expected to achieve six figures, as several recent Poe letters have done. As the Los Angeles-based auction house states, "Edgar Allan Poe letters are notoriously scarce."
In the end, Poe successfully sued the Mirror for libel and received $225 in damages the following year. However, "this acrimonious lawsuit had an adverse effect on his career," according to one scholar, though he only lived another two years. English went on to become a congressman representing the 6th congressional district of New Jersey.