The Ronnie Paloger JFK Memorabilia & Photographs Collection Offered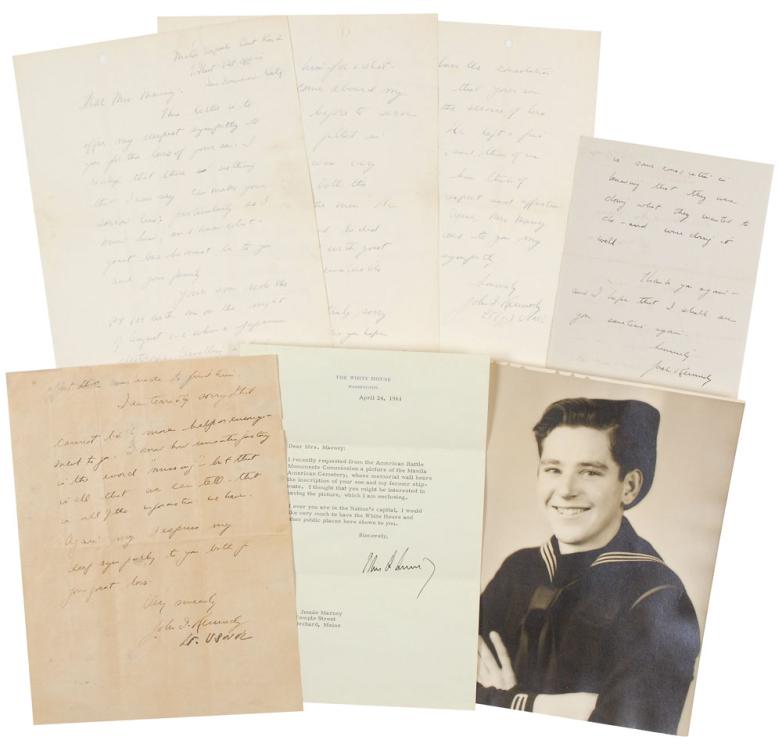 Courtesy of RR Auction
Boston — The Ronnie Paloger JFK Memorabilia + Photograph Collection is arguably the finest, most comprehensive, and historically significant JFK Collection assembled by a private collector in the 21st Century. 
It's an Exhibit Waiting to Happen!
The two major components of the collection (memorabilia and photographs including original negatives) individually would stand alone as the finest ever assembled and this combination separates this collection from any other JFK collection in the world today.
Paloger assembled this collection as a 'tribute' to John F Kennedy.
Ronnie would have to be included on any short list of the greatest memorabilia collectors in the United States over the past 30 years.
The Paloger Collection will be the first major JFK collection to be offered intact, which was Paloger's intention when he started assembling this collection as a 'tribute' to the life and times of JFK. It is his belief that a JFK collection of this magnitude should be permanently housed, maintained, and exhibited for current American and foreign visitors, academics, researchers, authors, and historians and future generations.
Boston-based RR Auction is proudly honoring his wishes in an online auction later month.
The enormity and span combined with the high level of significant and unique artifacts in this collection will take your breath away.
The collection begins with JFK's Choate Academy French textbook from 1931 used when JFK was 14 years old that includes an incredible 77 signatures in a variety of formats. This textbook also shows an early example of JFK's fine wit and sense of humor that is sprinkled across this collection as he writes on the frontispiece a warning not to steal his book by declaring: "This book is not an orphan, do not adopt it!" This textbook is part of a major 'Young Jack Kennedy' grouping that has phenomenal Kennedy artifacts from his years at both Choate Academy and Harvard University, including his senior year thesis which became the foundation for his first book, "Why England Slept" in 1940.
JFK's World War 2 exploits as a 'war hero' aboard the PT-109 have taken on iconic status over the years as one of the most singular events in JFK's life, that certainty propelled his chances in winning his first political office in 1946 representing the Eleventh Congressional District of Greater Boston. But what was not known to the public until recently was an extraordinary correspondence spanning over 18 years from 1943–1961 as president between Jack Kennedy and the mother of Harold Marney, one of two sailors who was killed aboard the PT-109 in the early morning hours of Aug. 2, 1943 in Blackett Strait in the Solomon Islands. What makes this archive so special is the fact that despite knowing Harold Marney for only one week, Jack Kennedy felt such loyalty to his shipmate and empathy and compassion to his mother to continue to correspond with Harold's mother over this length of time is remarkable.
Highlights include three handwritten letters from JFK to Marney's mother from 1943 + 1944 that are arguably the most historically significant handwritten letters that JFK ever wrote showing the incredible character of a future president of the United States as a 26 year old Lieut. jg (junior grade) officer displaying such compassion and honesty to a mother in agony whose son was MIA (missing in action). JFK writes about what happened aboard the PT-109 that night and that Harold did not survive. Nobody can read these letters now and be surprised that they were written by a future president of the United States.
The collection covers JFK's years both as congressman and senator and features the rarest and most historically significant photographs from these periods in existence, and JFK's original handwritten manuscript draft for his announcement speech of his intention to run for the presidency in 1960.
There are many significant artifacts from JFK's time as a candidate and as president including two beautiful watercolors of sailboats, never exhibited and signed "JFK 1960," JFK 's monogrammed necktie travel case with two raw silk hand-woven ties, the only known JFK back brace used by Kennedy that was gifted by Rose Kennedy to their family physician, JFK's personally owned and used wooden cigar box with presidential seal emblem inlaid on top with an engraved silver plaque on the front reading "John F Kennedy, My Cigars 1962" with two of the president's cigars still in the box, accompanied by a used JFK lighter from the Dave Power's Estate, a great JFK handwritten letter on White House stationery showing JFK's great wit to his brother-in-law Peter Lawford who was staying at the White House when this letter was left in Lawford's breakfast tray telling Lawford to be prepared that morning to go over JFK's script from PT-109 with him signed Louis B. Mayer. The entire letter in JFK's hand getting a rise out of his brother-in-law who was then having contract problems with the studio and particularly with Louis B Mayer. This is just a sampling of what makes the Paloger Collection so unique. The collection also includes photographs and personal artifacts of Jackie Kennedy, John F. Kennedy Jr., Caroline Kennedy (public domain), Robert Kennedy, Ted Kennedy, Dave Powers, and Jack Ruby.
The Paloger Collection is so unique that LIFE Magazine featured photographs from this collection in their JFK 100-Year Commemorative Edition, 'John F. Kennedy...The Legacy' in May 2017 in an 'exclusive gallery' over the first 12 pages of this magazine after the introduction which was the photographic highlight in this issue. Paloger was the only individual contributor who is mentioned either in the 'contents' page or in the text as he is noted on the opening pages of his gallery 'Portraits of a Young Politician.' It is important to note that Paloger owns not only the original 4" x 5" negatives from these images but also more than 400 others from this time period of mostly unseen images of JFK. These would have to be considered the rarest and most historically significant and valuable original negatives extant which represent by far the largest collection in the world with even combining the inventories of all photo stock agencies and museums.
The most distinguishing element in this collection from all other JFK collections is the extraordinary archive of mostly unseen photographs (and most importantly the original negatives ) from JFK's 1946 Congressional campaign, 1952 Senatorial campaign and his Sept. 12, 1953 wedding to Jacqueline Bouvier. This includes 434 original 4" x 5" negatives all in their original glassine sleeves, 231 original 4" x 5" contact prints also in their original sleeves, and 405 first generation 5" x 8" photographs from these negatives most with contemporaneous background commentary written on the backs adding to their historical significance. These rare images (over 1,000) detail JFK's earliest and most critical political campaigns in his career as well as his wedding day to Jackie.
It should be noted that all of these images are in the public domain and as such there are no copyrights passed from Ronnie Paloger to the future owner of these negatives. However there are numerous revenue streams that could be pursued from these public domain images which could derive potentially hundreds of thousands or even millions of dollars in perpetuity in the 'lease for use' revenue based on the current dollar amounts agencies charge for single uses of JFK images from 1946–1953, many of which are poor quality 'rental' prints from inferior resolutions when compared to the highest possible resolution and quality that would come from Ronnie Paloger's original negatives.
The Paloger JFK Collection is truly a treasure trove of artifacts from the life and times of John F. Kennedy and RR Auction is proud and pleased in offering this once-in-a-lifetime collection to the public.
The Ronnie Paloger JFK Memorabilia + Photograph Collection is open for phone bids, online bidding runs January 17 - 23.  For more information go to www.rrauction.com.