Rare Books &c. at Auction This Week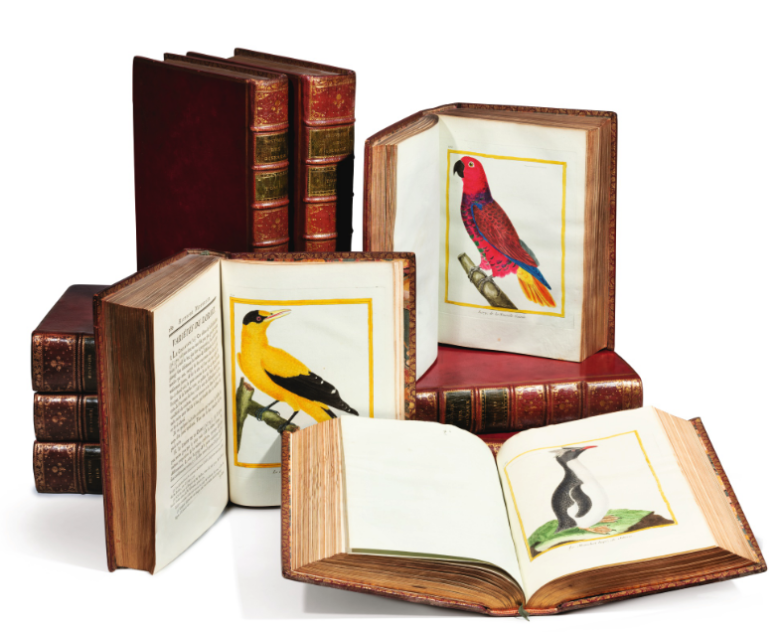 Image: Sotheby's
Here's what I'll be watching this week:
At Sotheby's Paris on Monday, November 18, Bibliothèque Jean-François Chaponnière : Une collection Genevoise, in 285 lots. A 1772 Mozart manuscript of two complete minuets is expected to lead the way, estimated at €150,000–200,000. Buffon's Histoire Naturelle des Oiseaux (1770–1786), from the library of Abel Smith of Woodhall Park, could sell for €40,000–60,000. They will also sell 47 lots of Artistes et Relieurs: Livres et Manuscrits, including Delaunay and Cendrars' La Prose du Transsibérien et de la Petite Jehanne de France (1913), one of 28 copies on Japan paper (€200,000–300,000). There are some truly fabulous bindings in this one, so do have a look through the catalogue.
Sotheby's London sells the Cottesloe Military Library on Tuesday, November 19. Leading lots are expected to be a copy of the first edition of Galileo's Discorsi e dimostrazioni matematiche (Leiden, 1638) from the library of Cardinal Carlo Massimo (£30,000–40,000); and Caxton's 1489 edition of The boke of the fayt of armes and of Chyvalrye, the first continental military book to be printed in English. A presentation copy to Charles II of Henry Hexham's Principles of the Art Militarie could sell for £20,000–30,000.
Chiswick Auctions will sell Books & Works on Paper on Wednesday, November 20. The 304 lots include a 1753 Atlas Novus Terrarum Orbis Imperia with 87 maps (£8,000–10,000).
On Thursday, November 21, PBA Galleries holds a sale of Rare Books & Manuscripts – Alcoholics Anonymous – Miniature Books, in 338 lots. A German copy of Johann Jakob Scheuchzer's Kupfer-Bibel (1731–1735), in five volumes, could sell for $15,000–25,000. A first edition of the Alcoholics Anonymous (1939), inscribed by Bill Wilson, in a facsimile dust jacket, is estimated at $10,000–15,000; a 1666 English edition of Aesop's Fables rates the same estimate.
Another tranche of Aristophil auctions will also be held this week in Paris:
At Aguttes on Monday, November 18, Britannica – Americana (Aristophil 22), in 200 lots. The Charlotte Brontë "little book" Second Series of the Young Men's Magazines rates the top estimate by a mile, at €600,000–800,000. Also on Monday at Aguttes, Aristophil 26 is Pages d'Histoire, in 112 lots, which will be of interest to the Napoleona collectors. 
Artcurial holds Aristophil sale 23 on Tuesday, November 19: Littérature Française des XIXe et XXe Siècles, in 265 lots. Balzac's Comédie humaine (1842–1848) is estimated at €60,000–80,000, as is Victor Hugo's new series of La Légende des siècles (1877). This copy, on vellum, was presented by Hugo to his grandson Georges. A collection of more than thirty letters from Flaubert to de Maupassant could fetch €50,000–70,000.
At Drouot on Wednesday, Aristophil 24: L'Académie Française (1634–1793), in 376 lots. And rounding out the week at Ader on Thursday, Aristophil 25, covering the subsequent period of L'Académie Française, in 355 lots.