Rare Books &c. at Auction This Week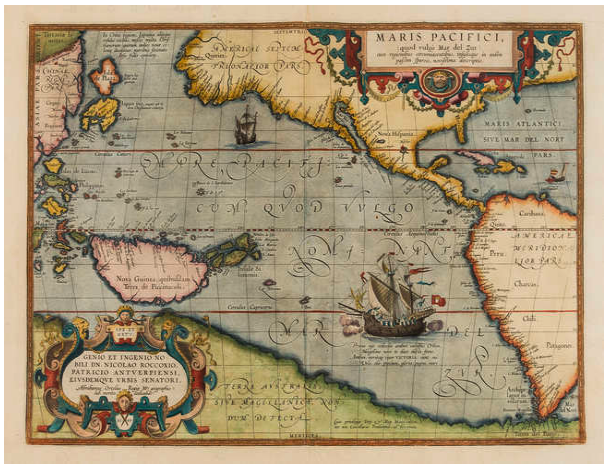 Courtesy of Forum Auctions
Another pair of auctions to keep an eye on this week:
On Wednesday, August 28, University Archives holds a sale of Historical Documents, Autographs & Books Including a Large Science Collection, in 255 lots. An 1804 Thomas Paine letter to John Fellows asking for assistance in dealing with a tenant farmer (and for Fellows to please bring Paine his mail) is estimated at $25,000–30,000. A 32-volume set of the novels of James Fenimore Cooper owned by Millard and Caroline Fillmore, deaccessioned from the Buffalo and Erie County Historical Library, could sell for $18,000–20,000. A 1799 Boston legal document signed by Paul Revere as a witness is estimated at $15,000–17,000. Other items on offer include a 1953 Albert Einstein letter ($10,000–12,000); a large collection of documents related to the Coffin family ($4,000–4,500); and 27 separately printed eulogies of George Washington ($2,000–2,400).
Forum Auctions holds an online sale of Maps and Atlases on Thursday, August 29, in 241 lots. A 1589 Ortelius map of the Pacific, the first printed map focused on that ocean, is estimated at £3,000–5,000, as is Jean Baptiste Bourguignon's Nouvel Atlas de la Chine, de la Tartarie Chinoise, et du Thibet (1737), the first survey atlas of China. Forum's description calls this the "most important cartographic record of China from the eighteenth century." A first edition of Tommaso Porcacchi's atlas of islands, L'Isole piu famose del Mondo (Venice, 1572) is estimated at £2,000–3,000. Andrew Dury's 1765 edition of A Chorographical Map of the King of Sardinia's Dominions and A Chorographical Map of the Territories of the Republic of Genoa, once in the library of the First Duke of Westminster, could sell for £2,000–2,500.