Rare Books &c. at Auction This Week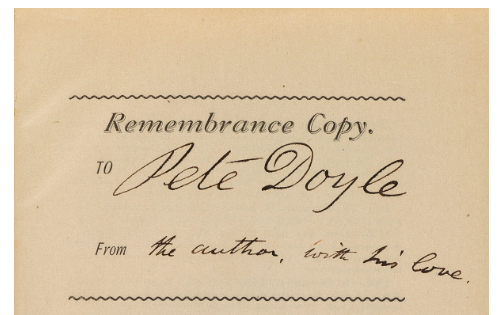 Courtesy of Swann Auction Galleries
Another busy week coming up:
Today at ALDE in Paris, Livres Anciens et du XIXe Siècle, in 442 lots. Some impressive bindings at somewhat modest estimates to keep an eye on in this one, as well as a 1483 Latin Bible printed at Lyon (€4,000–5,000); an illustrated edition of the Decameron (1757–1761), estimated at €5,000–6,000; and—of great interest to bibliophiles—a copy of the library catalogue of the great collector Jacques-Auguste de Thou (€2,000–3,000).
Doyle's online sale of Travel & Sport in Africa from the Library of Arnold 'Jake' Johnson closes on Tuesday, June 18.
Also on Tuesday, Sotheby's Paris hosts a Livres et Manuscrits sale, in 193 lots. Expected to lead the way is a copy of Henri Matisse's Jazz (1947), at €100,000–120,000. Goya's Los Desastres de la Guerra (1863) is estimated at €50,000–60,000, and a Zola autograph manuscript, "Deux Définitions du Roman," could sell for €30,000–50,000.
Lyon & Turnbull sells Rare Books, Maps, Manuscripts & Photographs on Wednesday, June 19, in 475 lots. The highlight is expected to be a set of two dozen unjoined gores for a large terrestrial globe designed by Vincenzo Maria Coronelli, estimated at £20,000–30,000.
Dominic Winter Auctioneers will sell Printed Books, Maps & Documents, Early Bibles & The Ladwell Collection of Fine Bird Books: Part II on Wednesday, in 479 lots. A 137-volume set of the New Naturalist series (1945–2018) rates the top estimate, at £5,000–8,000, while a presentation copy of Cook's Voyage towards the South Pole (1777) could sell for £3,000–5,000.
On Thursday, June 20, Dominic Winter holds an auction of Modern Literature & First Editions, Children's, Fine Press & Illustrated Books, in 294 lots. A set of the Lord of the Rings novels, each signed by Tolkien and from the collection of David A. Smith, is estimated at £7,000–10,000.
Swann Galleries holds the Pride Sale on Thursday. The 274 lots include a collection of 120 photographs of New York Gay Pride Parades by Hank O'Neal, each with annotations by Allen Ginsberg ($70,000–100,000); Walt Whitman's Memoranda of the War (1875–1876), inscribed by Whitman to Pete Doyle ($50,000–75,000); and one of just twelve copies of Oscar Wilde's The Importance of Being Earnest printed on Japanese vellum ($50,000–70,000). 
At Freeman's on Thursday, Books, Maps & Manuscripts, in 514 lots. A wide range of material in this sale.