Rare Books &c. at Auction This Week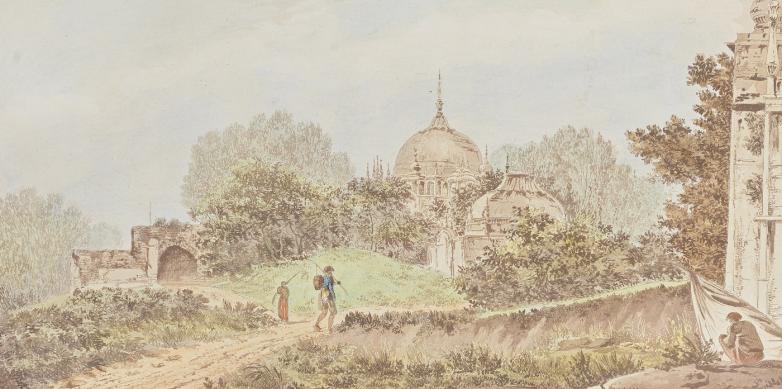 Image: Bonhams
Here's a roundup of rare book, manuscript & map auctions we'll be watching this week.
There are some books in the Bonhams London Travel & Exploration sale on Tuesday, September 20, including James Baillie Fraser's Views of Calcutta and its Environs (1824–1826) with 24 hand-colored aquatints by Robert Havell, Jr. This is estimated at £20,000–30,000. A second-issue copy of William Hodges' Select Views in India (1785–1788), with 48 hand-colored aquatints is estimated at £15,000–25,000.
On Wednesday, September 21, Books and Manuscripts at Freeman's, in 122 lots. A very rare copy of the 1643 pamphlet New Englands First Fruits, attributed to John Eliot and containing the first printed description of Harvard College, is estimated at $20,000–30,000. This copy is believed to be from the collection of bibliographer Henry Stevens (1819–1886), who listed it in his 1862 Historical Nuggets. A nice copy of the ~1833 Peter Force facsimile of the Declaration of Independence could sell for $10,000–15,000. A first state copy of The Wonderful Wizard of Oz (1900) is estimated at $8,000–12,000, and a copy of the rare comic Martin Luther King and the Montgomery Story (1957) signed by both Martin Luther King (in 1958) and Coretta Scott King (in 1985) is estimated at $7,000–10,000. Alexander Hamilton's vicious pamphlet against John Adams from the 1800 campaign is expected to sell for $5,000–8,000.
At PBA Galleries on Thursday, September 22, Fine Literature, with Beats, Bukowski and the Counterculture, in 505 lots. Ian Fleming's On Her Majesty's Secret Service (1963), the signed, limited edition, rates the top estimate at $15,000–25,000. Fleming's Live and Let Die (1954) is expected to sell for $10,000–15,000. An inscribed first issue copy of Steinbeck's Of Mice and Men (1937) could fetch $7,000–10,000. An advance reading copy of Harper Lee's To Kill a Mockingbird (1960) is estimated at $5,000–8,000.
Arader Galleries holds their September Auction on Saturday, September 24. The 204 lots include a 1508 Johannes Ruysch coniform world map which depicts the Americas ($325,000–375,000); a second edition of Lewis Evans' Geographical, Historical, Political, Philosophical and Mechanical Essays (printed by Franklin and Hall in 1755), containing the second state of the map of the British colonies in America ($150,000–250,000); and George Brookshaw's Pomona Britannica (plates watermarked 1822), which is estimated at $100,000–150,000.