Private Collection of Contemporary Artists' Books at Swann November 9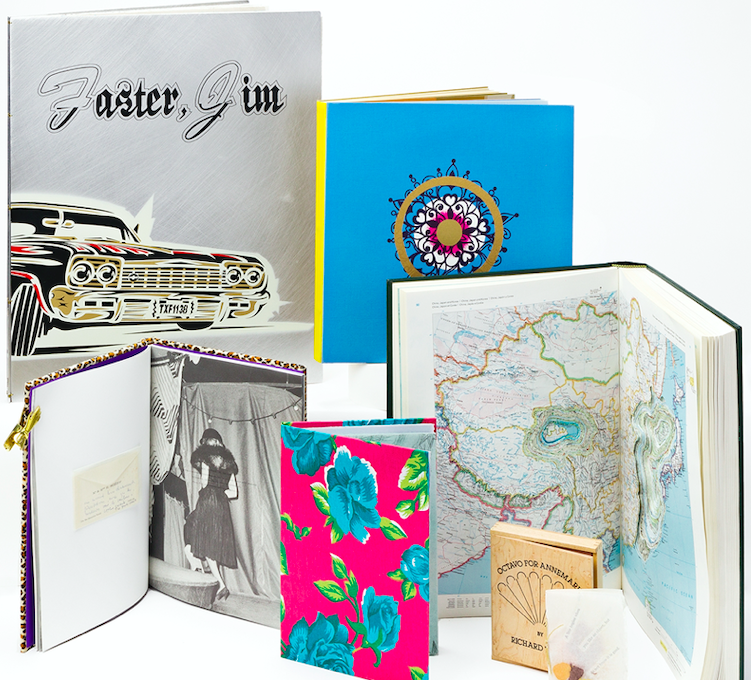 Courtesy of Swann Galleries
New York — On Tuesday, November 9 Swann Galleries will hold Contemporary Artists' Books: The Property of a Texas Collector—an astonishing single owner auction of works, many known only via institutional copies. The sale includes an abundance of deluxe issues produced in small limitations often out of reach of even the most determined collector.
Featured throughout the sale are considerable runs from artists including Kiki Smith, Sophie Calle, Raymond Pettibon, Richard Tuttle, Ed Ruscha and Sol LeWitt. Highlights include Ruscha's Stains, Hollywood, 1969, which leads the sale at $50,000 to $70,000. Also by Ruscha is S, a unique found-object book sculpture from 1999 that utilizes Paul Hervieu's Flirt ($20,000-25,000). From Kiki Smith is Touch, a complete group of six prints and a letterpress poem by Henri Cole from 2006 ($12,000-18,000); Still Life, with 24 mounted color photographs from 2001 ($7,000-10,000); and The Blue Feet, Oaxaca, 2003, with verses by Sister Juana Ines de la Cruz ($6,000-9,000). Richard Tuttle is present with The Missing Portrait, Brunswick, NJ, 2008, with text by esteemed poet and art critic John Yau, number three of only 10 handmade copies ($15,000-20,000), and Sophie Calle is here with La Fille du Docteur, New York, 1991, with 16 photographs of Calle's striptease and reproductions of congratulatory cards given to Calle's parents at her birth ($3,000-4,000). Also available are curated offerings from Joan Mitchell, Elizabeth Murray, Mike Kelley, Robert Rauschenberg and Roy Lichtenstein.
Important imprints include an impressive roster of notables from the 1960s into the twenty-first century representing a formidable survey of post-war book arts expression. On offer is Dieu Donné Press, Carpe Diem, Collectif Generation, Edition Jacob Samuel, Lapis Press and Editions du Solstice. Notable lots include William Kentridge's Receiver, New York, 2006 ($18,000-25,000), and Jane Hammond's Be Zany, Poised Harpists / Be Blue, Little Sparrows, New York, 2002 ($3,500-5,000), both from Dieu Donné Press. Edition Jacob Samuel is here with Marina Abramovic's Spirit Cooking with essential aphrodisiac recipes, Santa Monica, 1996, with 12 etchings and 25 letterpress prints ($10,000-15,000), and Anish Kapoor's Blackness From Her Womb, London, 2001, with a complete set of 13 etchings ($10,000-15,000); and from Editions du Solstice is Louise Bourgeois's Ode à ma mère, Paris, 1995, a complete portfolio comprising of nine drypoints ($25,000-35,000), and Roy Lichtenstein's La Nouvelle Chute de L'Amérique, Paris, 1992, with a complete set of 10 initialed color etchings and aquatints ($50,000-65,000).
          
Also of note are works by Anselm Kiefer, Glen Ligon, Maya Lin, and Christopher Wool, as well as the complete offering of the conceptual art trilogy from On Kawara, and unique items from Allen Ruppersberg.
Exhibition hours are 12 p.m to 5 p.m on weekdays from November 4 through November 8. Appointments are strongly encouraged and can be scheduled directly with a specialist. Swann Galleries staff will prepare condition reports and provide additional photographs of material on request. Advance order bids can be placed with a specialist for the sale or on Swann's website, and phone bidding will be available. Live online bidding platforms will be the Swann Galleries App, Invaluable, Live Auctioneers and Artsy. The complete catalogue and bidding information is available at www.swanngalleries.com and on the Swann Galleries App.
Additional highlights can be found here.