Poe Letter Extending His Condolences Sells for $155,000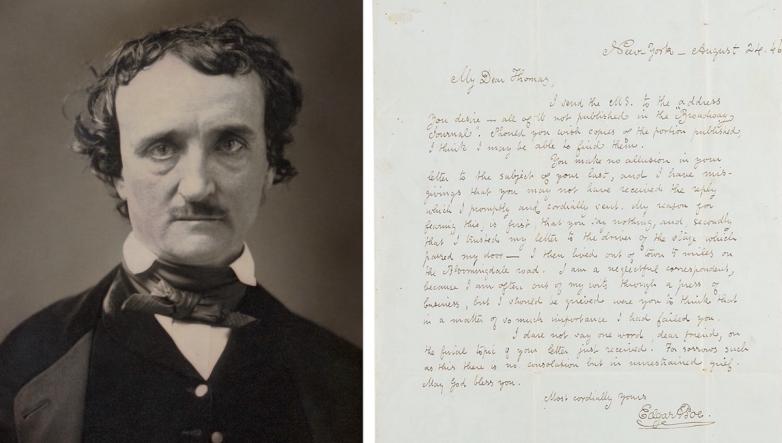 Courtesy of RR Auction
Boston — A rare Edgar Allan Poe letter extending his condolences to a fellow writer sold for $154,958, according to Boston-based RR Auction.
The one-page letter is signed "Edgar A. Poe," dated August 24, 1846. Addressed from New York, a handwritten letter to writer Frederick William Thomas, who, from 1841 until 1850, worked as a clerk in the United States Department of the Treasury in Washington, D.C., for which he selected a library. The letter, in part: "I send the MS. to the address you desire—all of it not published in the 'Broadway Journal.' Should you wish copies of the portion published, I think I may be able to find them. You make no allusion in your letter to the subject of your last, and I have misgivings that you may not have received the reply which I promptly and cordially sent. My reason for fearing this is first, that you say nothing, and, secondly that I trusted my letter to the driver of the stage which passed my door—I then lived out of town 5 miles on the Bloomingdale road. I am a neglectful correspondent, because I am often out of my wits through a press of business, but I should be grieved were you to think that in a matter of so much importance I had failed you. I dare not say one word, dear friend, on the final topic of your letter just received. For sorrows such as this there is no consolation but in unrestrained grief. May God bless you."
The "final topic" to which Poe refers is the tragic death of Thomas's sister and her two children, who were all killed in an accident on their return home from India. In his letter, Thomas deemed the event 'the most awful affliction of my life.' The reverse of the second integral page is hand-addressed by Poe, who adds his initials to the lower left, "E. A. P." Accompanied by an export certificate from the French Ministry of Culture.
Highlights from the sale include, but are not limited by:
George S. Patton typed manuscript and letter discussing combat, its history, and its cause sold for $29,475.
John Lennon typed letter with a self-portrait sketch sold for $24,129.
Mary Blair concept painting of Alice from Alice in Wonderland sold for $22,500.
Eyvind Earle concept storyboard painting of Princess Aurora and Maleficent from Sleeping Beauty sold for  $21,889.
Pirates of the Caribbean ride concept painting by Marc Davis sold for $18,898.
Niccolo Paganini autographed Musical Manuscript sold for $21,250.
The Fine Autograph and Artifacts auction featuring Animation by RR Auction began April 15 and concluded April 22. For more information, go to www.rrauction.com.