News
|
September 12, 2023
Phaidon and Christie's Celebrate a Century of Bookmaking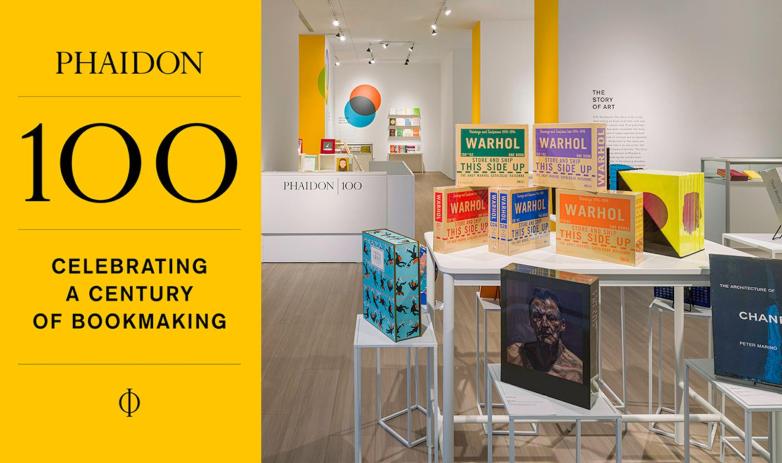 Phaidon
As part of Phaidon's 100th anniversary celebrations this year the publishing house has opened up its archives for a special exhibition at Christie's, Rockefeller Center, New York which runs through September 18 before travelling to London in October.
100 Years of Creativity: A Century of Bookmaking brings together more than 150 of the most influential Phaidon books published from the 1920s to present day. It commemorates the inspiring books that have changed culture at large, from Phaidon's first full-color, accessible artist monograph on Vincent van Gogh published in 1951, to the Phaidon books featuring the opinion formers, leading brands, and thought leaders of today, including Mickalene Thomas, Grace Coddington, and Annie Leibovitz.
The exhibition also examines the art of bookmaking through the lens of Phaidon's signature designs. Highlights include: 
a first edition of E.H. Gombrich's landmark The Story of Art (1950) which has sold more than 8 million copies in 40 languages
a section dedicated to the acclaimed Contemporary Artist Series, Phaidon's longest-running series of nearly 30 years and 108 books strong, showcasing early editions in the series
limited edition entries such as Rihanna: Luxury Supreme, an oversized edition of the 2019 book atop a bookstand sculpture designed by the Haas brothers that weighs 126 lbs (57 kg) and is plated in 18-carat gold
rare, out-of-print books from Phaidon's archives including 1930s surveys and monographs on the Italian Renaissance, Velazquez, and Michelangelo
Complementing the free exhibition is a Reading Room curated by interior designer Nina Magon, founder and principal of Nina Magon Studio. Author of the new book Evoke (Monacelli, October 2023), Magon has created an interactive space where guests can experience many of the books included in the exhibition, as well as enjoy a preview of select forthcoming titles.
A dedicated section on award-winning books such as Iro, winner of D&AD and the ADC Design Awards, will explore the multifaceted and unexpected forms that books can take. The exhibition is accompanied by a Phaidon anniversary book, also entitled 100 Years of Creativity, in a limited edition of 1,000 copies, only available as a gift from the publisher or via select anniversary partners.
"A century after Phaidon's formation, one thing hasn't changed: our belief that books should enlighten, delight, and inspire," said Phaidon CEO Keith Fox. "100 Years of Creativity tells the story of how our books championed the great creative voices that defined the last 100 years."