Parker Fine Art Auctions to Sell Rare Betjeman Watercolor Poem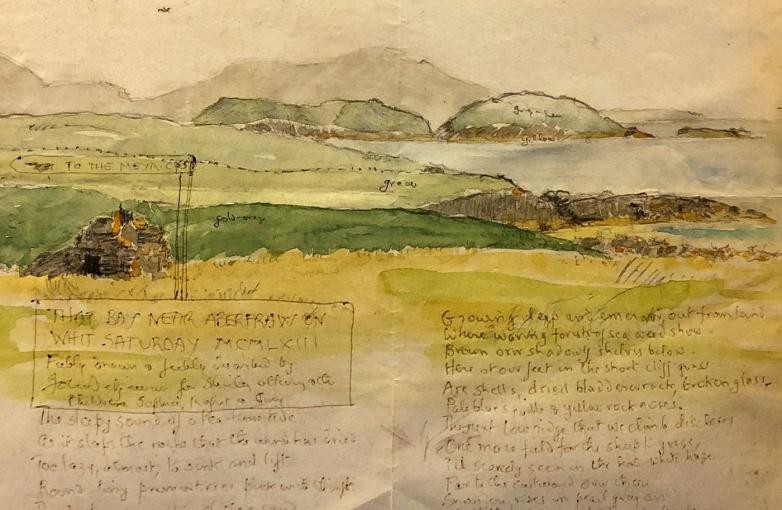 Courtesy of Parker Fine Art Auctions
Surrey, England — To be sold at auction on Thursday 10th March, this exceptional work, which is dated 1963, was produced for a family with whom Betjeman was staying in Anglesey and is the first known draft of A Bay in Anglesey. The poem was first published in the Cornhill magazine's winter 1964-65 issue (a literary journal with some renowned contributors) and subsequently in a collection of poems entitled High and Low, 1966. The first print run was 16,100 copies, with more printed the same month, and yet more in January 1967, 1969 and 1975. It is one of a number of his poems to be set to music (voice and piano) by Madeleine Dring.
The poem is written over a pencil and watercolour sketch of Anglesey Bay which is annotated in Betjeman's hand with details of colours: "grey and green," "yellow," "gold-grey" and "green". The "low peninsulas," fields "for the sheep to graze" and Snowdon (all mentioned in the poem) are visible in the painting. A signpost says "To the Meyricks," pointing left out of the picture. Betjeman believed he was a descendant of the Meyrick family, who lived at Bodorgan Hall in south west Anglesey.
Opportunities to buy paintings by Betjeman are remarkably rare. A similar item from the same year – a copy of the poem Wantage Bells written in John Betjeman's hand on a watercolour by him and dedicated to the bellringers who rang the bells at his daughter's wedding – is held in The University of Victoria Library in Canada.
Betjeman was knighted in 1969 and became Poet Laureate in 1972, a post which he held until his death in 1984. His satirical and observant verse – first gathered together in Collected Poems in 1958 - earned him wide public appeal and the respect of his peers. The following year Ken Russell made a film about him called A Poet in London which helped to expand his audience and cement his popularity further. Such was the appeal of his work that Betjeman was believed to have been targeted for murder by the IRA, who relented after an anonymous member declared a liking for Betjeman's poetry.
Betjeman's adult life started at Oxford, where he was taught by TS Eliot and tutored by C S Lewis. He left without graduating, but earned notoriety for providing the inspiration for Sebastian Flyte's teddy bear in Evelyn Waugh's Brideshead Revisited.
Betjeman wrote extensively about architecture, most famously The Shell Guides - the first tourist guides to Britain for the motorist – and The Collins Guide to English Parish Churches. He was something of a visionary, interested in Victorian architecture from an early age, and became a founding member of the Victorian Society. A statue of him was installed at St Pancras station when it re-opened in 2007 in recognition of the part he played in preserving it. In one of his best known poems, Betjeman uses his wry sense of humour to alert people to the fate of the changing landscape: "Come, friendly bombs, and fall on Slough! It isn't fit for humans now...". It is said that he later regretted writing it.