Nobel Prize in Literature Winner Rabindranath Tagore Paintings to Auction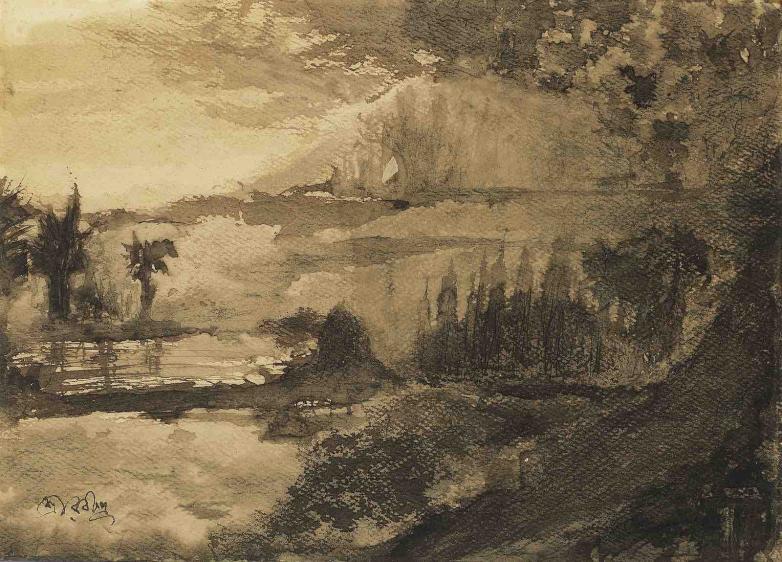 Bonhams
Two landscapes by Rabindranath Tagore (1861-1941) lead Bonhams' Modern and Contemporary South Asian Art on November 14 at New Bond Street, London. Untitled (West Bengal Landscape) and Untitled (Dark landscape with cliffs and tree), are both individually estimated at £80,000 - 120,000.
"Rabindranath Tagore is best known as the first non-European to win the Nobel Prize in Literature," said Priya Singh, Bonhams Head of Modern & Contemporary South Asian Art, "and yet his talents and his legacy go beyond his work as a poet and writer. Tagore was also a composer who wrote the national anthems for both India and Bangladesh, a social reformer, a philosopher, and a painter. Tagore's landscapes offer us an intimate glimpse into his contemplative spirit, his deep appreciation for the natural world, and his unique ability to translate his poetic sensibilities onto the canvas. Landscapes by Tagore are extremely rare, and these works have unbroken provenance making them especially desirable to collectors. We expect a great deal of interest."
Tagore travelled extensively throughout his life, and his journey to America in 1930 was marked by a fervent desire to bridge the gap between the East and West. He delivered a series of lectures and met with a number of American thinkers. An exhibition of his work ran in the Fifty-Sixth Street Galleries in New York, overseen and funded by Nina Collier (née Perera) who had befriended Tagore in Germany earlier that year. As a mark of gratitude Tagore asked Collier to select a number of his works, and two of her chosen works are now offered in the auction.
During the course of her life, Collier lent these works to various exhibitions around the United States and abroad. Some of these include the 1953 exhibition of Contemporary Indian Arts and Crafts, sponsored by the Government of India, and organised by the Academy of Fine Art, Bombay at the Smithsonian, and the 1961 birth centenary celebrations of Tagore, hosted by the Asia Society.