"Mueller Report Graphic Novel" Book Launch at Berkshire Antiquarian Book Fair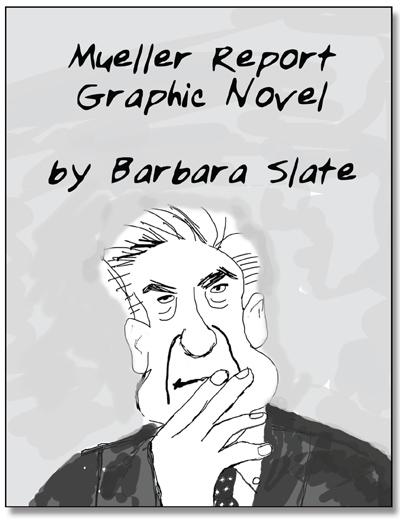 Courtesy of Barbara Slate
Great Barrington, MA — The Berkshire Antiquarian Book and Ephemera Fair will host the book launch for the Mueller Report Graphic Novel by Barbara Slate on Friday, July 26 from 5-8 pm and Saturday, July 27 from 10 am–4 pm at Berkshire South Regional Community Center, 15 Crissey Road in Great Barrington, MA. 
The first volume of the two-volume graphic novel adaptation of the Mueller Report was published, as a 32-page trade paperback with a matte cover, on July 15 by Richard Minsky, founder of the Center for Book Arts in New York. The second volume is due to be released on September 17, 2019. Ms. Slate will sign copies at the fair on Saturday, July 27 from 1-3 pm.
Ms. Slate tried to read the Mueller Report the day the redacted version was released, and found it daunting. She realized that most people would glaze over trying to get through it and brought her four decades of comic and graphic novel experience to making it an easy to follow, compelling, entertaining story. She posted the first page on Facebook and Twitter April 21, three days after the redacted report was released. The response was so fast, large, and enthusiastic, she created and posted a page a day until the first draft of volume 1 was finished. Volume 1 is on Russian Interference in the 2016 election. Volume 2, which is scheduled for release in September, is on obstruction of justice, as in the Mueller Report. The two volumes will be issued as one, in both paperback and hardcover later this fall for gift giving during the holiday season.
This graphic novel is based on the Report on the Investigation into Russian Interference in the 2016 Presidential Election, the official report documenting the findings and conclusions of Special Counsel Robert Mueller's investigation into Russian efforts to interfere in the 2016 United States presidential election, allegations of conspiracy or coordination between Donald Trump's presidential campaign and Russia, and allegations of obstruction of justice.
A redacted version of the 448-page report was publicly released by the Department of Justice (DOJ) on April 18, 2019. It is divided into two volumes. This edition of Mueller Report Graphic Novel condenses and visualizes the redacted report.
Slate's graphic novel has already garnered these rave reviews:
"A surprisingly good-natured but thorough adaptation of what may turn out to be the most astounding story of American corruption in plain sight ever told."
"This is a comic that needed to be done now rather than later. Slate has provided something that is half-public service, half-wild ride, both crucial and rollicking." – writes journalist and cultural critic John Seven, of North Adams, MA in Comics Beat
"Mueller Report Graphic Novel has arrived and it exceeds my expectations. @BarbaraSlate drills down to the essence and makes the complexities clear. This is a public service." writes Rick Schindler, retired editor for NBC News Digital, on Twitter
Barbara Slate created Ms. Liz, a feminist cartoon character, in 1976. Ms. Liz comic strip ran in Cosmopolitan and was an animated segment on NBC's TODAY show for two seasons. Barbara has written hundreds of comic books and graphic novels for DC, Marvel, Archie, Disney: Barbie, Beauty and the Beast, Pocahontas, Betty and Veronica, and created Angel Love, Yuppies from Hell, Sweet XVI, Getting Married and other Mistakes. She is profiled in A Century of Women Cartoonists. Author of You Can Do A Graphic Novel. A resident of Stockport, NY, she travels extensively nationwide as a keynote speaker, teacher, and moderator.
The Berkshire Antiquarian Book and Ephemera Fair will showcase used & antiquarian booksellers, ephemera and autograph dealers, fine letterpress printers, book binders, and artist book makers from throughout the New England the mid-Atlantic states. Free Admission.
At last report there are nearly 30 exhibitors from seven states, including: Laurie Alpert, (Brookline); Joslin Hall Books & Ephemera, (Hatfield); Melrose Books &Art, (Melrose),  New England Auctions, (Deerfield); Alan James Robinson, (Easthampton); John R. Sanderson, Antiquarian Bookseller, (Stockbridge); Peter L. Stern & Co., (Boston); Warwick Press, (Easthampton); Wiggins Fine Books, (Shelburne Falls); and Willow Bindery, (Shrewsbury) - all from Massachusetts.
Country Bookshop (Plainfield), will represent Vermont.
Jeffrey Bergman Books (Fort Lee); Brenner's Collectable Books (Manasquan); Stuart Lutz Historic Documents (Short Hills) and Pied Oxen Printers (Hopewell) are all from New Jersey.
New York booksellers will include Blind Dog Books (Chappaqua), Butternut Valley Books (Berlin); Carydale Books (Stamfordville); Carnegie Hill Books (New York); Doyle's Books (Fayetteville); Peter Luke Americana (New Baltimore), and Old Editions, Inc, (North Tonawanda).
Colebrook Book Barn (Colebrook), John Bale Book Company (Waterbury), Town's End Books (Deep River), and Yesterday's Gallery (East Woodstock) are from Connecticut and James Arsenault (Arrowsic, Maine) and William Hutchinson (Mendenhall, Pennsylvania) complete the roster as this is published.
The fair is produced by Book Arts Promotion, a collaboration between veteran bookseller Mark Brumberg, of Northampton, MA and Duane A. Stevens, of Wiggins Fine Books, of Shelburne Falls, MA.
For more information, visit www.berkshirebookfair.com or e-mail mdb@berkshirebookfair.com