Martin Lewis Etching Debuts at $42k in Prints & Drawings Sale at Swann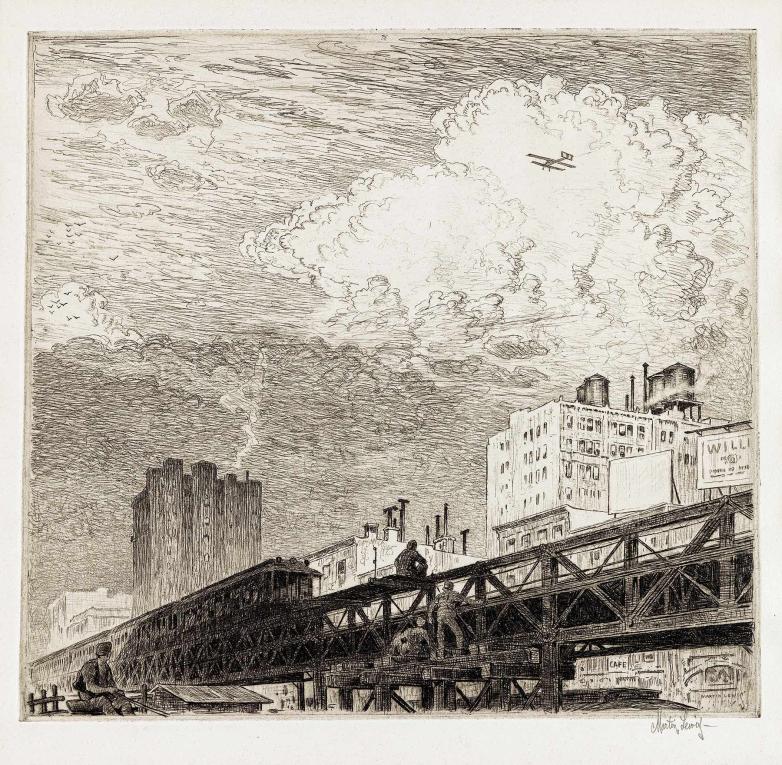 Courtesy of Swann Auction Galleries
New York—Swann Galleries opened the fall season on Thursday, September 19 with a marathon sale of 19th & 20th Century Prints & Drawings earning more than $2M.
Works by Martin Lewis proved popular with collectors. Of the 16 works offered nearly all found buyers, and five works reached among the top 20 overall. Highlights included Men Working on Elevated Train Tracks, Looking at Airplane in Sky, circa 1919—the rare early etching made its auction debut at $42,500; Glow of the City, drypoint, 1929, brought $40,000; and Little Penthouse, drypoint, 1931, earned $23,750. Further American artists featured Edward Hopper's 1922 etching East Side Interior, which reached $47,500; George Bellows's Dempsey and Firpo, lithograph, 1923-24, acquired by an institution at $37,500; and a 1951 complete set of 22 drypoints by Elie Nadelman which earned $22,500.
Marc Chagall lead the sale with his most widely-appreciated livre d'artiste, Cirque. The lively 1967 portfolio with complete text and 38 lithographs brought $143,000. Also by Chagall was Grand Corbeille, color lithograph, 1975, which garnered $23,750.
Other highlights included Edvard Munch's Badende Kvinner, open-bite etching, 1895, which earned a record for the print at $30,000, and Gråtende Akt, lithograph, 1908, which brought $20,000. Diego Rivera's 1932 lithographs El Sueño (La Noche de los Pobres), sold for $40,000, and Zapata, brought $32,500—both purchased by an institution. Henri Matisse's circa 1952 Fauvist interior color aquatint Petit Intérieur Bleu sold for $22,500, while Joan Miró's 1973 color etching Le Chef des Équipages sold for $20,000.
Todd Weymann, Director of Prints & Drawings at Swann, said of the sale, "Bidding throughout the auction was particularly robust from the private sector, with virtually all of our top lots won by individual collectors in the U.S. and abroad. We had significant success with modern American and European works, notably New York prints from the 1920s and 30s and editions from top-selling European artists such as Matisse, Chagall and Miró"
The next auction from the Prints & Drawings department will be held on October 29 with Old Master Through Modern Prints, featuring Rembrandt etchings from the John Villarino Collection. Visit swanngalleries.com or download the Swann Galleries App for catalogues, bidding and inquiries.