Marc Chagall Portfolio Leads Prints & Drawings Sale at Swann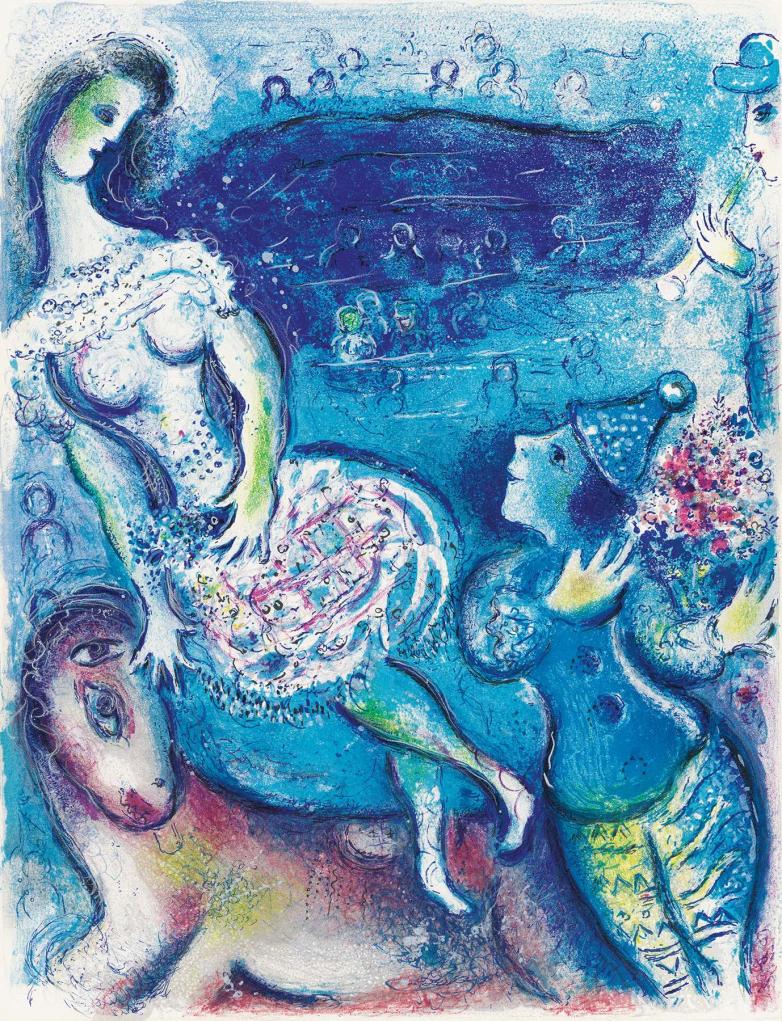 Courtesy of Swann Auction Galleries
New York — Swann Galleries will open their fall 2019 season on Thursday, September 19 with a sale of 19th & 20th Century Prints & Drawings. Replete with exceptional pieces by European and American visionaries, the auction features work from nineteenth-century harbingers of modernism through the major Modern art movements of the twentieth century.
Marc Chagall, who held an avid interest in the circus throughout his career, leads the sale with one of his most widely-appreciated livres d'artiste, Cirque—a 1967 portfolio with complete text, 38  lithographs. The lively work is expected to bring $120,000 to $180,000. Additional portfolios by Chagall include Ls Sept Péchés Capitaux, a 1926 bound volume with complete text and 17 etchings, two signed in pencil ($8,000-12,000); and Regards sur Paris, 1963, with complete text and three color lithographs by the artist, as well as an additional 30 prints by others, such as Pablo Picasso and Georges Braque ($10,000-15,000).
Additional Modern highlights include a complete set of 22 drypoints by Elie Nadelman from 1951 ($20,000-30,000); Femme Nue Pêchant des Truites à la Main, color linoleum print, 1962, by Picasso ($20,000-30,000); and Odalisque au Coffret Rouge, color aquatint, circa 1952, by Henri Matisse ($20,000-30,000).
From the turn of the nineteenth century come several important drypoints by Mary Cassatt including The Crocheting Lesson, circa 1902 ($15,000-20,000), Margot Leaning Against Her Mother, circa 1902 ($12,000-18,000), and Margot Resting Her Arms on Back of Armchair, circa 1903 ($10,000-15,000). James Ensor is present with La Vengeance de Hop-Frog, a 1898 etching, with hand-coloring in watercolor and gouache, based off an Edgar Allan Poe's short story ($30,000-50,000).
Swann is pleased to offer a selection of works from the collection of the late print dealers Betty and Douglas Duffy of The Bethesda Art Gallery, including dizzying portraits of New York City skyscrapers by Howard Cook. Most notably by Cook: the wood engravings Skyscraper, 1928 ($10,000-15,000) and Chrysler Building, 1930 ($8,000-12,000), as well as his 1931 lithograph New York Night ($5,000-8,000). Further American artists include George Bellows, with the 1923-24 lithograph Dempsey and Firpo ($30,000-50,000), and Gustave Baumann's 1917 color woodcut Mending the Seine (Provincetown) ($8,000-12,000).
Building on the success of Swann's first standalone Latin American art auction last spring, the house is poised to offer another strong selection of works. Highlights include Miguel Covarrubias's gouache on paper Portrait of Somerset Maugham, circa 1925 ($5,000-8,000), and José Clemente Orozco's lithograph Fin de Fiesta (Miseria), 1935 ($2,500-3,500). Also of note is an array of color aquatints and Mixografías by Rufino Tamayo with Gato, color lithograph, 1959 ($4,000-6,000), Personajes con Pajaros, color Mixografía, 1988 ($3,000-5,000),
Exhibition opening in New York City September 14. The complete catalogue and bidding information is available at www.swanngalleries.com and on the Swann Galleries App.