Jonkers Presents 'From the Author' Catalogue of Rare Books & Manuscripts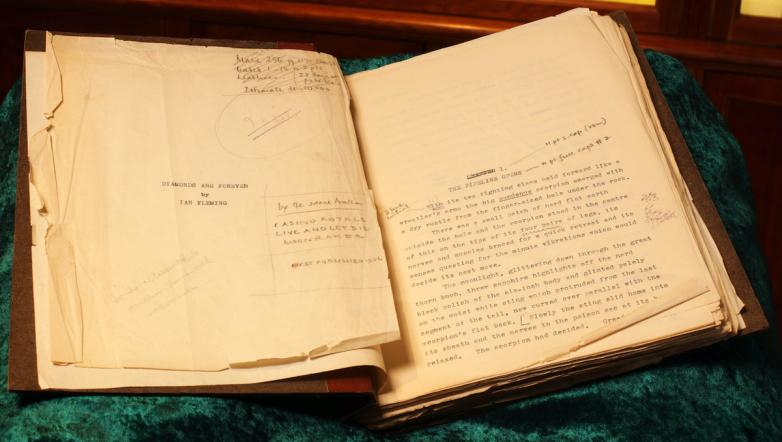 Courtesy of Jonkers Rare Books
Henley on Thames, England — Jonkers Rare Books are delighted to announce the publication of From The Author - A Catalogue Of Presentation Copies And Manuscripts. The catalogue, and accompanying exhibition at our Henley on Thames bookshop, offers for sale a range of exceptional inscribed books, association copies and literary manuscripts.
Here we see books inscribed by authors to their lovers, collaborators, and most important influences, as well as densely scrawled letters and heavily corrected manuscripts. Such literary relics represent the most intimate communion with an author available to the book collector, transporting us to the moment of inscription or conception, and inviting us to see their work as they themselves saw it.
Notable highlights include:
- Rupert Brooke's first book of poems, inscribed for fellow Dymock poet Wilfrid Gibson, an exceptionally rare presentation copy - £17,500
- Raymond Chandler's Playback, inscribed to fellow master of the thriller genre Ian Fleming. An exceptional association linking the creators of Philip Marlowe and James Bond - £50,000
- Ian Fleming's Final Typescript for Diamonds Are Forever, heavily revised by the author with numerous autograph additions, revealing Fleming's working practices as he honed the fourth Bond novel into its final shape - £350,000
- Robert Frost's first book of poems, A Boy's Will, inscribed for his close friend and key influence Wilfrid Gibson - £17,500
- Andre Gide's Isabelle, inscribed for Joseph Conrad at the first meeting of the two great writers in July 1911 - £7,500
- Robert Graves's rare first book, Over The Brazier, inscribed to his sister Roz and with the poems extensively annotated by him - £15,000
- The dedication copy of Ted Hughes's children's book The Iron Man, inscribed for his son Nicholas - £22,500
- James Joyce's three great works, Ulysses, Dubliners and The Portrait Of The Artist As A Young Man, each inscribed for the Zurich salonniere Gustav Zumsteg just nine days before Joyce's death - £15,000-£25,000
- Sylvia Plath's The Colossus And Other Poems, the only collection of poems published in her lifetime, inscribed for Ted Hughes's aunt and cousin after a Christmas visit - £30,000
- John Steinbeck's Grapes Of Wrath, inscribed for his best friend and college roommate Dook Sheffield - £25,000
- Robert Louis Stevenson's Prince Otto, inscribed for his mother - £15,000.
- Evelyn Waugh's The Holy Places and Basil Seal Rides Again, each inscribed for Graham Greene. Exceptional association copies linking two of the greatest writers of the twentieth century - £12,500 and £15,000