Illuminated Missal, Surrealist Card Game, and Diderot's Encyclopedia at Christie's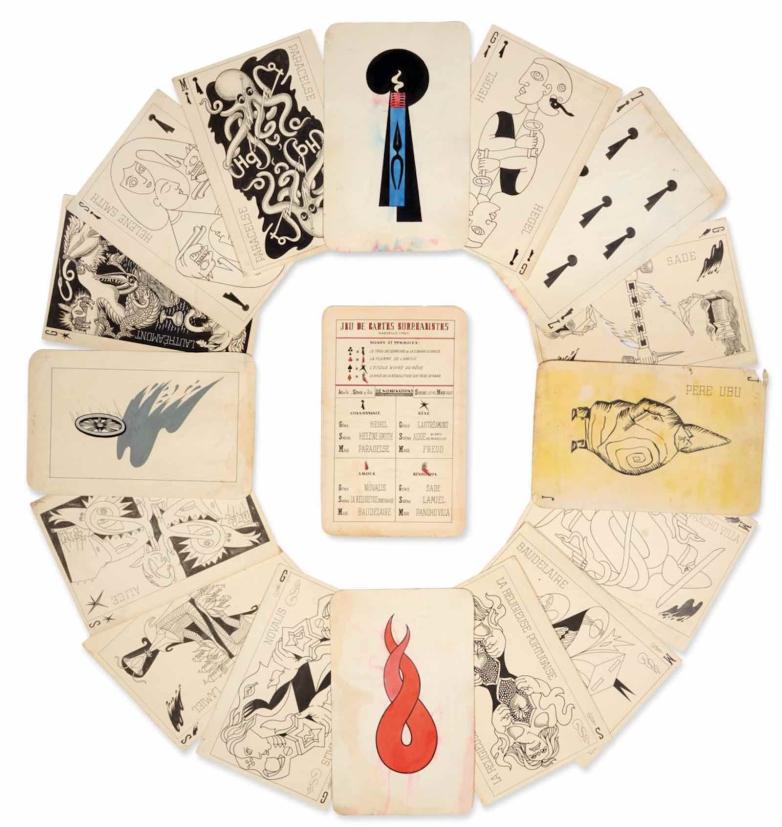 Christie's
Christie's (Paris) online sale of rare books and manuscripts Livres rares et Manuscrits features more than 220 lots from the 15th century to the present day. 
 
One of the highlights of the sale which runs until July 5 is a sumptuously illuminated missal
 from the end of the 14th century from Notre-Dame de
 Paris (estimate €40,000-60,000). The manuscript was probably used by a priest of Notre-Dame, in particular for its calendar.
 Another rare lot is a 19th century prayer book, entirely woven on a Jacquard loom that can be programmed using punched cards. At the crossroads of craftsmanship and the beginnings of computer technology, the book would have been produced in only about 50 copies (estimate €10,000-15,000).
The sale also features a magnificent travel book dating from 1782, bound in contemporary red morocco and illustrated with sumptuous hand-colored plates. It offers a detailed account of the habits and customs of India, Malaysia and China by one of the greatest designer-naturalists of the time, Pierre Sonnerat, sent by Louis XV to explore the region. The book describes many species of birds and hitherto unknown fruits such as the lychee. 
Other highlights include:
* a copy of Diderot's Encyclopedia, all the 35 volumes and 3,129 plates of illustrations from the original edition, and bearing the arms of Maria Feodorovna (1759-1828), empress consort of Russia (estimate €30,000-50,000)

* a collection of engravings from the end of the 17th century, probably the most complete copy ever offered of the famous series of "grotesque costumes and trades" produced by the Larmessin, an important dynasty of engravers of the Grand Siècle (estimate €30,000-40,000)
* a letter from Flaubert to his muse, the poet Louise Colet (estimate €6,000-8,000), an autograph manuscript by Leo Tolstoy responding to a speech by Émile Zola (estimate € 10,000-15,000), and a letter from Pierre Soulages to Michel Butor (estimate €6,000-8,000)
* artist Frédéric Delanglade's surrealist pack of cards, published for the first time in 1943, the set offered for sale here bringing together Delanglade's original drawings and his models (estimate €5,000 7,000)
* a complete deck of tarot engraved on wood and colored with stencil, made by cardmaker Nicolas Bodet in the 18th century (estimate €10,000-15,000)