Hindman's Civil War Collection & American Historical Ephemera Auctions Exceed $1.6 Million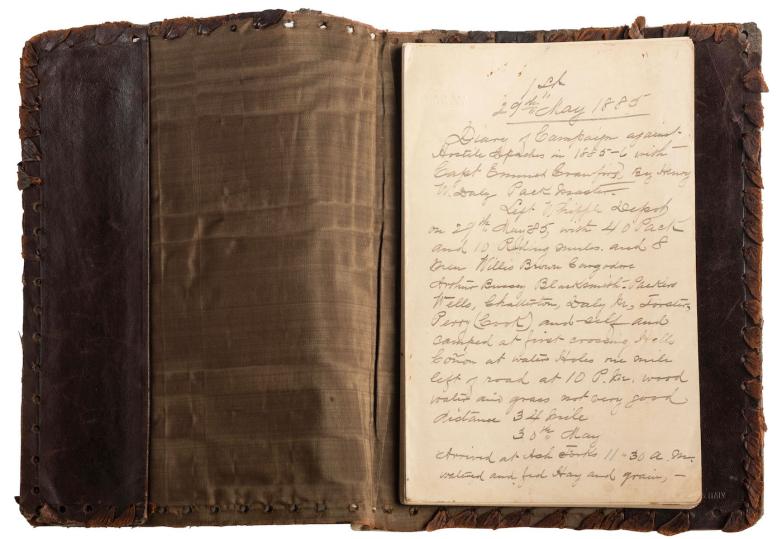 Courtesy of Hindman Auctions
Cincinnati, OH – A renowned Civil War collection, singular historical memorabilia, photographs and manuscripts drove strong prices across two days of American Historical Ephemera and Photography at Hindman Auctions. The November 12th Civil War Collection of James C. Frasca auction achieved over $834,000 and saw remarkable interest, with enthusiastic in-person, phone and online bidding. The auction presented property from the nationally renowned collector and dealer of Civil War memorabilia, James C. Frasca. A 98 percent sell-through rate demonstrated bidders' intense interest in this one-of-a-kind collection. Hats, drums, regulation bugles, swords, photographs and documents signed by America's Founding Fathers were among standout lots in the auction. The November 15th American Historical Ephemera & Photography auction totaled to over $823,000 with a 91 percent sell-through rate. Early photography and manuscript archives were among auction highlights. In particular, Civil War photography was highly sought after.
Civil War Collection of James C. Frasca | November 12
The Civil War Collection of James C. Frasca saw astonishing bidding activity and ultimately totaled to $834,875. Frasca spent 50 years of his life building his collection and was inspired by his mother Ann Carmen Frasca to search for and acquire historical objects. As a full-time dealer of Civil War artifacts for more than 40 years, Frasca placed outstanding material in virtually every major private Civil War collection in the country and a great many of the most prominent museums in America. Examples of such items include John Brown's inscribed and annotated Bible at Harper's Ferry to a pair of Robert E. Lee's documented wartime gauntlets at the Civil War National Museum in Harrisburg, PA.
Highlights of the sale included a pair of Union Army slouch hats (lot 112) identified to Captain Charles E. Nash, 19th Maine Infantry which achieved $87,500, more than double its presale estimate. Made even more distinct, each hat was accompanied by a handwritten note from the soldier that owned them, with details about the campaign and battle in which each hat was worn. Other hats that achieved strong results included an 140th Pennsylvania Infantry II Corps enlisted man's forage cap identified to Philip A. Cooper, Company C (lot 110), which sold for $20,000. A Cavalry officer's McDowell style forage cap (lot 107) jumped well past its estimate of $6,500-$7,500 to realize $15,000, and a 1st Ohio Light Artillery forage cap identified to Joseph Speddy, Battery G, realized $13,750 (lot 108), more than double its presale estimate.
Drums and regulation bugles also achieved top prices. Among the many highlights were Civil War drums, including an elaborately painted drum from the Civil War decorated with an eagle and other patriotic motifs (lot 123), which realized $34,375, over four times its presale estimate. On the opposite side is a round brass tack design unique to the manufacturer. A US Army regulation bugle engraved with battle honors (lot 116) that belonged to Richmond F. Parker, Principal Musician, Company C, 19th Michigan Infantry, climbed well past its presale estimate of $4,000-6,000 to achieve $23,750. Two Civil War US Regulation bugles with original cavalry cords realized $17,500 (lot 118) and $15,000 (lot 119) against estimates of $2,500-3,500.
Bidders also eagerly competed for rare swords. A sword presented to Gettysburg casualty Lieutenant W.H. Hamilton, Co. I, 14th Vermont Infantry, (lot 10) saw a strong result of $31,250 against a presale estimate of $8,000-10,000. A sword presented to Captain E.L. Jones, Company D, 54th Massachusetts Infantry, the famed African American regiment (lot 8), generated heightened interest as well, realizing $17,500 against a presale estimate of $8,000-10,000.
Other notable sales included a sixth plate tintype taken in the field depicting Ohio soldiers, which soared past its presale estimate of $3,000-4,000 to ultimately realize $25,000. The wonderfully detailed image features the soldiers posed with their rifles, equipment, mess gear and hardtack. One of the most notable features is a superbly detailed Ohio State Seal breastplate affixed to the corporal's cartridge box sling. Most authorities consider this plate to be one of the rarest, if not the rarest of all Civil War Union Plates. A collection of items identified to Lieutenant Colonel Jonathan Biggs, 123rd Illinois Infantry, "Wilder's Brigade," (lot 99) sold for a strong price of $25,000. The group was highlighted by a bullet-struck frock coat and vest worn during the assault on Selma, Alabama on April 2, 1865.
A partly printed document signed by Benjamin Franklin as President of the Supreme Executive Council of Pennsylvania, on August 6, 1787 (lot 1) realized an outstanding price of $17,500. A document signed by George Washington as President and countersigned by Edmund Randolph as Secretary of State on September 3, 1795 (lot 3) sold for a strong price of $11,875.
American Historical Ephemera & Photography Auction | November 15
Following the strong performance of the Frasca Collection, the American Historical Ephemera & Photography auction continued the momentum with eager bidding activity, ultimately achieving $823,125.
The American Historical Ephemera & Photography auction was led by the 1863 album entitled Yo-semite Valley: Photographic Views of the Falls and Valley of Yo-semite in Mariposa County, California (lot 696), containing 63 photographs taken by Carleton Watkins, which tripled its presale estimate to realize $93,750. This is considered the most complete collection of Watkins' Yosemite images ever sold at auction. Other photography lots that were top performers included a group of 22 Edward Curtis photogravures, most from portfolio 1 of The North American Indian (lot 673), which saw active bidding and ultimately sold for $43,750. Vietnam War-era papers of Pulitzer Prize-winning combat journalist Tracy A. Wood (lot 550) sold  for a strong price of $25,000. These included documents related to the 1973 release of American POWs in Hanoi. Wood served as a foreign correspondent in Saigon for United Press International (UPI) from May 1972 through February 1974. Wood was one of a small number of female combat reporters to cover the Vietnam War, and was the only woman ever elected president of the Association of Foreign Correspondents in Vietnam.
Standout daguerreotypes included a quarter plate daguerreotype of Boston & Worcester Railroad locomotive, Mercury, which realized $21,250 against a presale estimate of $7,000-9,000 and a stereodaguerreotype portrait of President Millard Fillmore (lot 552), which sold for $18,750, more than double its presale estimate.
Many 19th Century diaries and manuscript archives commanded five figure prices. Examples included the Diary of Campaign against Hostile Apaches in 1885-6 with Capt. Emmet Crawford, by Henry W. Daly Pack Master (lot 639). This diary, which provides a first-hand account of the pursuit and surrender of Chiricahua Apache leader Geronimo, was written by Henry W. Daly, a civilian pack master employed by the US Army. War-date letters of Corporal Edwin J. Barden, 7th Regiment Connecticut Volunteer Infantry (lot 510), doubled its presale estimate, selling for $34,375.
Other highlights included a quarter plate tintype of a group of soldiers celebrating the Union victory at the First Battle of Memphis (lot 417), which skyrocketed pasts its estimate of $1,500 - $2,500 to achieve $17,500, and a Buffalo Bill Cody orotone (lot 721), which sold for $16,250 against a presale estimate of $8,000-12,000.
Bidding for the November 12th and 15th auctions was available in-person, via absentee bid, by phone, or live online through the Digital Bid Room, Hindman's recently launched online and mobile bidding platform.