Heritage's Debut Historical Platinum Event Realizes $4 Million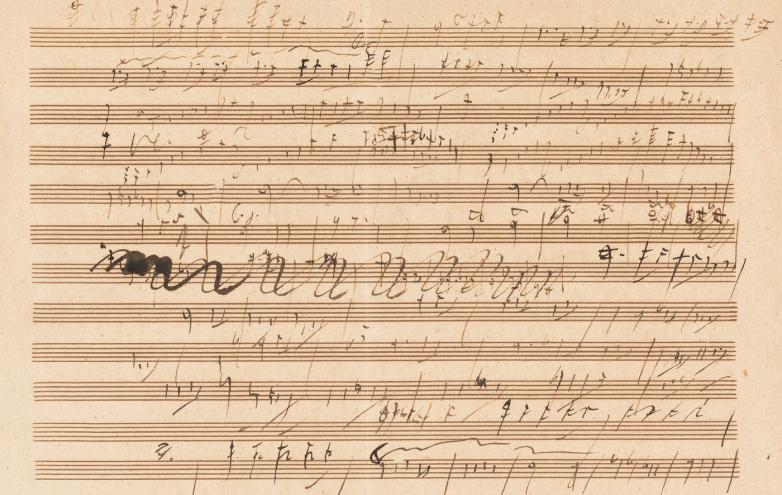 Courtesy of Heritage Auctions, HA.com
Dallas — Heritage Auctions' first Historical Platinum Session Signature® Auction proved historic indeed.
The finely curated, nearly sold-out 52-lot auction, held Saturday, realized $4,031,625 in just under two hours. More than 430 bidders from around the world vied for offerings that spanned centuries of human achievement.
"This was the first such auction in Heritage's history, and the end results made it the milestone we believed it could and would be," says Executive Vice President Joe Maddalena. "The results were extraordinary across the board for items ranging from some of the most historic moments and accomplishments in American history to landmarks from English literature to Beethoven and Mozart's handcrafted magic. We were honored to offer these momentous selections and are already looking forward to the next one."
Leading the event was Enola Gay co-pilot Robert A. Lewis' logbook written on Aug. 6, 1945, as he and his crewmates dropped the atomic bomb on the citizens of Hiroshima. This harrowing and oft-heartbreaking account of those very moments between the pre-atomic and post-atomic world, written at the request of New York Times reporter William L. Laurence, sold for $543,000.
Ludwig van Beethoven's working handwritten manuscript for the first movement of "The Emperor Concerto," circa late 1808-early 1809, realized $471,000. A number of bidders competed for this work exhibiting how Beethoven shaped the motives and textures of the music at a seminal stage of composition for what would become one of the greatest piano concertos of all time.
A working handwritten manuscript of a portion of one of Wolfgang Amadeus Mozart's Le Nozze di Figaro (The Marriage of Figaro) was not far behind: It realized $275,000, its price tag reflecting its status as one of Mozart's greatest achievements and a landmark of Western civilization.
Collectors competed, too, for several significant manuscripts written by some of England's most revered and influential authors, among them Sir Arthur Conan Doyle. Complete Doyle manuscripts are few and far between, which explains why his complete autographed manuscript of "The Adventure of the Greek Interpreter" from The Memoirs of Sherlock Holmes realized $350,000. This 34-page document marks the only remaining complete manuscript story from The Memoirs of Sherlock Holmes.
Bidders were also keen to get their hands on one of the 500 first editions of J. K. Rowling's Harry Potter and the Philosopher's Stone initially published by Bloomsbury in 1997. This hardback, with its myriad misprints and the author listed as Joanne Rowling on the copyright page, sold for $225,000.
But it was the Lord of the Rings himself, J.R.R. Tolkien, who stole the spotlight in this event, as bidders clamored for a beautiful genealogy chart and outline of Tolkien's yet-unpublished work The Silmarillion titled "Concerning... The Hoard," circa 1964, all in the author's unmistakable hand. A heated bidding war drove its final price to $150,000. The same thing happened as fans fought over an archive of autographed materials related to the Lord of the Rings index circa 1958, which realized $106,250.
Edgar Allan Poe's handwritten manuscript page from his essay "The Rationale of Verse" — published in Southern Literary Messenger October 1848 and later included in The Best Known Works of Edgar Allan Poe — realized $96,875. James Bond fans, too, took their best shots during this event, which saw Ian Fleming's notebook containing autograph notes for You Only Live Twice sell for $52,500 after a heated tussle among bidders who took Fleming's advice ("Don't draw your gun unless you can see both the other man's hands") to heart.
The auction also featured lots from The Armstrong Family Collection™, among them, an Apollo 11 lunar module-flown section of the Wright Flyer's wing fabric. This extraordinary artifact — flown as part of the first successful powered controlled flight in history at Kitty Hawk in 1903, as well as the first crewed lunar landing in 1969 — realized $187,500. There was a space race, too, among collectors competing for the telescope handmade (from spare parts!) by the astronomer who discovered Pluto, Clyde Tombaugh, which sold for $106,250.
The only signed copy of Albert Einstein's Die Grundlage der allgemeinen Relativitätstheorie ever to appear at auction sold for $150,000.
But it was clear from the opening moments that this would be an auction for the ages: The very first lot of Heritage's inaugural Historical Platinum event was the 1776 first edition of Adam Smith's An Inquiry into the Nature and Causes of the Wealth of Nations. And straight away, this two-volume classic of economic thought sold for $125,000.