Hachette Book Group Sends Wyeth Painting to Auction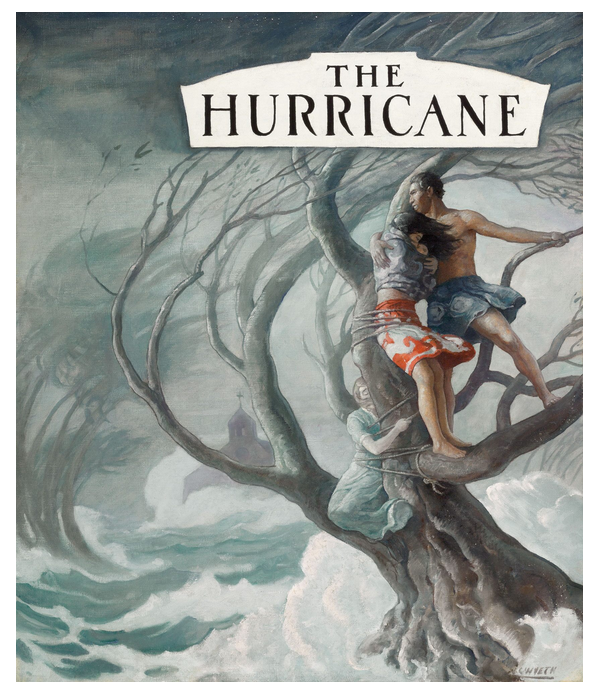 Credit: Sotheby's
In 1935, the publishing company, Little, Brown commissioned N.C. Wyeth (1882-1945) to create the dust jacket art for a novel called The Hurricane. It was the tail end of the "golden age of illustration," and Wyeth, one of America's greatest illustrators, having created nearly 4,000 illustrations for books and magazines during a four-decade-long career, produced this dynamic oil on canvas depicting a harrowing storm.
Unearthed from deep storage—or perhaps plucked from an executive's wall?—the Hachette Book Group, which acquired Little, Brown in 2006, is selling the painting via a Sotheby's auction that runs online April 24-May 1. Actually, it would be more correct to say that they are making a second attempt; Hachette tried to auction this artwork back in 2016, but there were no takers at the $70,000-90,000 level. The estimate has now been adjusted to $40,000-60,000.
Wyeth's Hurricane depicts the plot of Charles Nordhoff and James Norman Hall's 1936 novel The Hurricane, set on a South Seas island and told from the perspective of Dr. Kersaint, a French medic. According to Sotheby's, "In this work, Wyeth captures the dramatic moment when a hurricane wreaks havoc on the island … He frames the scene with curving tree branches, which simultaneously draw attention to the center of the composition and allude to the undeniable power of nature, a theme that is present throughout the novel."
The book made a splash, with the New York Times calling it "a grand yarn" and comparing it to Joseph Conrad. The paper also reproduced Wyeth's art alongside its review.
Incidentally, if Nordhoff and Hall's names ring a bell, it's because they are best known as the authors of Mutiny on the Bounty (1932), one of a trilogy of novels they wrote based on the infamous mutiny against William Bligh, commanding officer on the Bounty in 1789, which also became the basis for movie and musical adaptations through the twentieth century. The Hurricane also became a movie, directed by John Ford in 1937.