Freeman's Kicks Off Fall 2022 with Significant Americana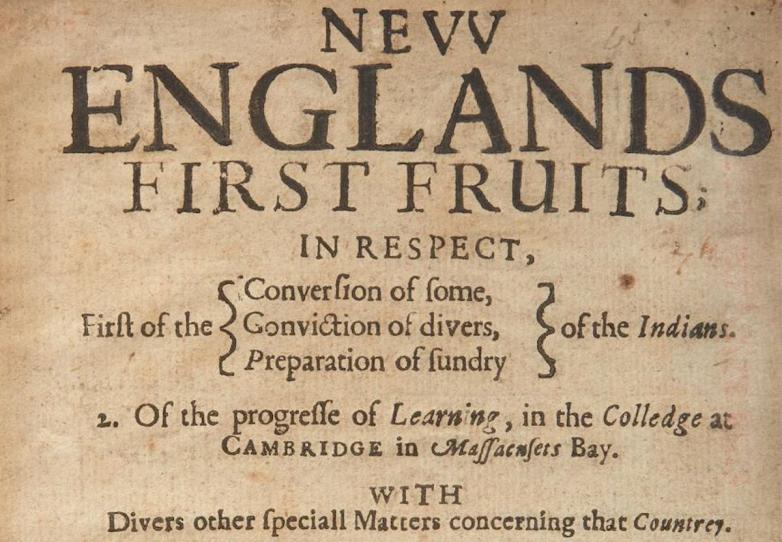 Courtesy of Freeman's
Philadelphia — Freeman's September 21 Books and Manuscripts auction, the inaugural sale of the Fall 2022 season, is led by an extremely rare first edition of New Englands First Fruits (estimate: $20,000-30,000), a 1643 account of Puritan evangelization in New England. The first copy to be offered at auction in over 20 years, the book features the first printed mention of Harvard College.

Also on offer is a rare and beautiful first edition of L. Frank Baum's most famous work, The Wonderful Wizard of Oz, the inspiration for the classic 1939 film (estimate: $8,000-12,000). With works by Charles Dickens, Robert Louis Stevenson, Louisa May Alcott, Walt Whitman, James Fenimore Cooper, and Joseph Conrad, Books and Manuscripts offers a great selection for buyers at all stages of collecting.
"REAL DEMOCRACY AND EQUALITY FORALL CITIZENS": IMPORTANT AMERICAN DOCUMENTS
The September 21 sale features two significant items related to Dr. Martin Luther King, Jr. The first is a poignant letter from Dr. King to a Pennsylvania-based poet and supporter sent just before the passage of the Civil Rights Act of 1964, in which Dr. King writes that "Without hope, all things become meaningless" (estimate: $6,000-9,000). Also on offer is a scarce copy of the 1957 comic book Martin Luther King and the Montgomery Story, signed by both Dr. King and Coretta Scott King (estimate: $7,000-10,000). Another important piece of American history—a very rare 1683 document dating to the founding years of Pennsylvania—is on offer with an estimate of $5,000-8,000. A receipt issued by the Free Society of Traders in Pennsylvania, the first large-scale business venture in the colony, the document is a testament to William Penn's influence on the business proceedings of the young colony.
AUDUBON TO ZAPPA: MUSICIANS AND ARTISTS
Books and Manuscripts features sheet music, as well as signed pamphlets, books and letters from legendary music figures such as Frank Zappa, Bob Dylan, Patti Smith, and Thelonious Monk; first and limited editions of Smith's Kodak, together with A Useless Death, are offered at an estimate of $1,500-2,500.
The sale also includes a fine selection of prints from John J. Audubon's monumental Birds of America, as well as works by or related to a range of notable artists, from Edouard Manet, Henri Matisse, Pablo Picasso, and Joan Miro to Arthur Rackham, W.W. Denslow, and George Cruikshank.
ADDITIONAL HIGHLIGHTS
Other featured lots include a first edition of Ruins of the Palace of the Emperor Diocletian at Spalatro in Dalmatia by Scottish neoclassical architect Robert Adam (estimate: $6,000-9,000), a rare first edition of Letters of the Late Ignatius Sancho (estimate: $4,000-6,000), a manuscript bill of exchange signed by Scottish financier John Law (estimate: $2,000-3,000), a presentation copy of the first revised edition of Narrative of Sojourner Truth (estimate: $1,500-2,500), and a fine copy of the first edition of Sabine Baring-Gould's classic treatise The Book of Were-wolves (estimate: $1,200-1,800).