Frank Miller's Original Art Depicting Joker's Death Sold For $550,000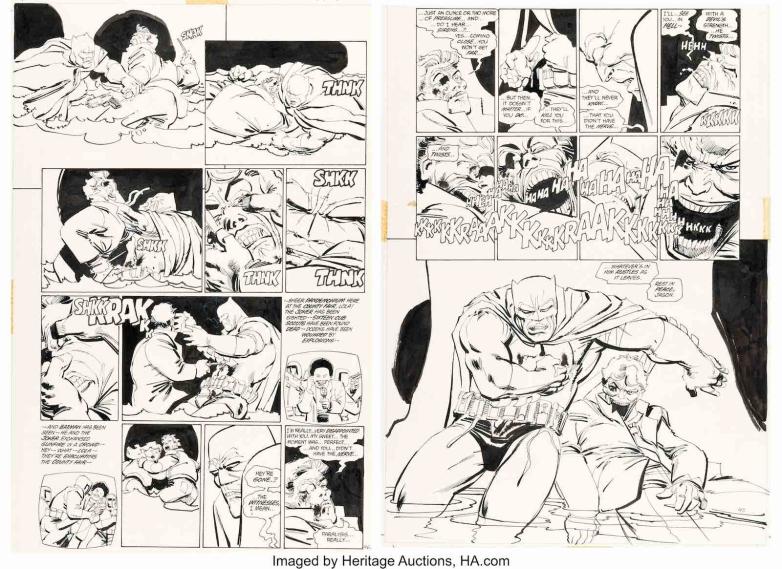 Heritage Auctions
A sequence from Frank Miller's 1986 comic book Batman: The Dark Knight Returns - the two-page spread during which the Joker snaps his neck to make it look like Batman killed him - has sold at Heritage Auctions for $550,000. Those are now the most expensive story pages from the book that, in Miller's words, "slapped the genre awake." Only the cover to the first issue of Batman: The Dark Knight Returns has sold for more.
Another landmark moment at the original art and anime auction came when the Comedian's murder depicted in the first issue of Alan Moore and Dave Gibbons' 1986 Watchmen realized $115,625. Initially bought in 1988, this page was thought to be lost until its recent discovery in Paris. 
Other highlights included:
* a page from 1967's Amazing Spider-Man No. 52, in which John Romita Sr. and Mike Esposito pit the Web-head against Wilson Fisk's Kingpin, went for $137,500
* another page from Amazing Spider-Man No. 36 by Steve Ditko realized $100,000
* John Byrne and Terry Austin's Page 7 from X-Men No. 129, the start of the Hellfire Club storyline that led to the Dark Phoenix Saga, sold for $90,625
* Page 35 from Astérix Légionnaire No. 10 by Albert Uderzo, initially published in 1967 in the French comic magazine Pilote No. 385, made $93,750.
* Enrico Marini's wraparound cover of 2000's La Marque du Diable No. 1 was sold for $57,500