First Edition Christmas Carol Led Tennants Auction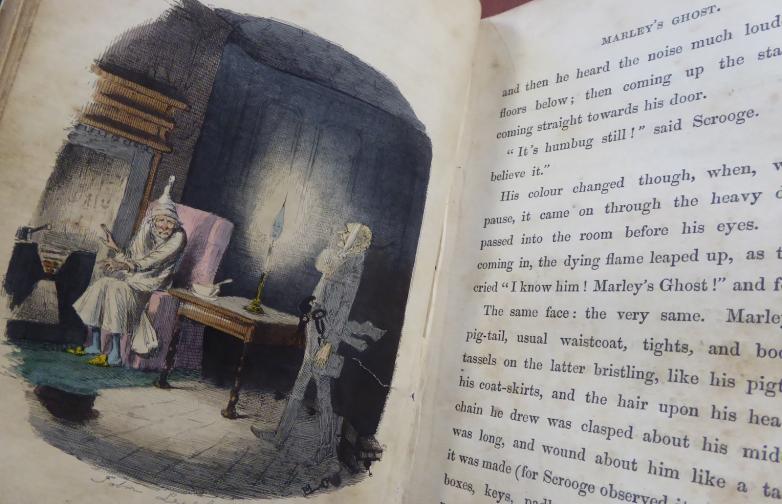 Courtesy of Tennants
Leyburn, North Yorkshire, UK — A first edition of Charles Dickens' A Christmas Carol has sold in Tennants Auctioneers' Books, Maps & Ephemeral Sale for £4,200 (plus buyer's premium). The volume was published by Chapman & Hall in 1843 and is an example of the second state of the first issue of the first edition. Despite its worn condition, the volume far exceeded its £500-700 estimate.
Selling well throughout was the Chris Casson Collection of Early 20th Century Literature. The collection has a particular focus on Modernist literature, and the expatriate writers who gathered in Paris in the 1920s. Highlights from the collection included Paul Morand's Paris de Nuit or Paris After Dark that sold for £1,500 and a group lot of volumes by James Joyce, Gertrude Stein, Kay Boyle and George Braque amongst others sold for £1,600.
Two early wax Royal Seals also caused a stir; the first lot comprised an Elizabeth I Letters Patent dated 1600, with a pendant impression of the Second Great Seal which was designed by Nicholas Hilliard (sold for £1,500). Also included in the lot were two Elizabeth I indentures on vellum, a Charles II Grant of Arms by Sir Edward Bysshe of Clarenceaux to John Gonning of Bristol, 1662, and four further documents. The second lot comprised a James I Letters Patent, licence of alienation from Edmund Bawdwen to Thomas Ingilby, with pendant impression of the Royal Great Seal (sold for £420).
Also selling well above estimate at £1,400 was an interesting collection of ephemera including papercut silhouettes, greetings cards, a small commonplace book, and a peepshow. Most notably in the collection, however, were two 'cobweb' or 'beehive' moveable pictures in which an intricately cut picture is raised by pulling a string to create a cobwebbed dome revealing a picture underneath. One features a house for sale, that when raised reveals a mouse inside.
The sale achieved a total hammer price of £56,420 for 177 lots, with 95% sold rate.
Full sale results are available on our website: www.tennants.co.uk.