Dickinson & Poe Letters Up for Auction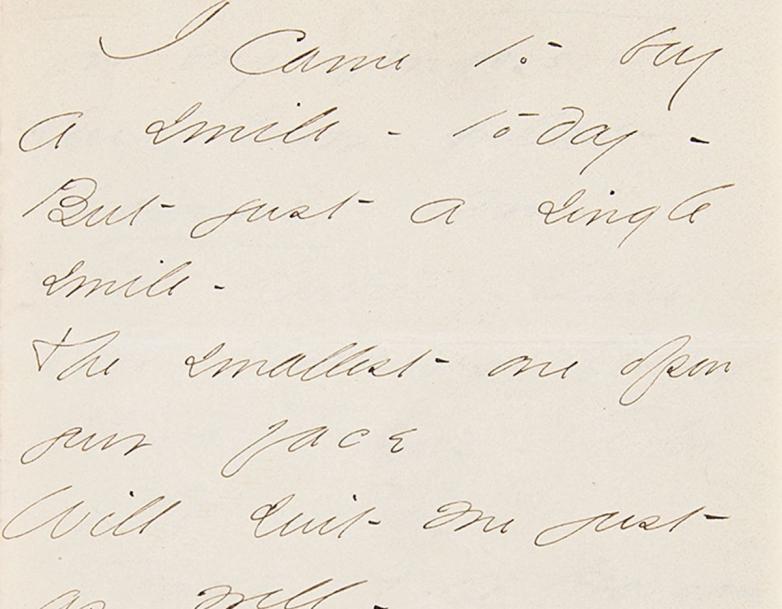 Courtesy of RR Auction
Boston — RR Auction's October Fine Autographs and Artifacts sale boasts a wealth of important literary letters and Revolutionary rarities. 
Highlights include an autograph letter signed by Edgar Allan Poe. In the one-page letter, dated November 12, 1836, Poe solicits a donation for the Southern Literary Messenger, his short-lived employer and his formal entrance into the publishing realm. A beautifully penned letter from the 27-year-old scribe, written during a formative period in his life. (Estimate: $125,000+) 
A handwritten poem by Emily Dickinson, soliciting a shopkeeper's smile. The autographed poem on two pages, no date but circa 1861. Fabulous autograph manuscript of a poem by Emily Dickinson, rendered in her distinctive, slanted handwriting. this is one of two known copies of the autograph manuscript of this lovely Dickinson poem—the other known example is not signed. This one was apparently sent to Samuel Bowles, family friend and journalist who was the owner and editor-in-chief of the Springfield Republican. Any autographic material from Dickinson—a recluse who did not achieve notoriety in her lifetime—is extraordinarily rare, and this is just the second handwritten poem by her that we have ever offered. A true rarity that would be the centerpiece of any American literary collection. A true rarity that would be the centerpiece of any American literary collection. (Estimate: $50,000+)
An original manuscript by Beatrix Potter for a play entitled "Squirrel Nutkin," signed and inscribed inside the front cover in ink, "E. L. Choyce, from Beatrix Potter, (Mrs. Heelis), Spring 1924, For private acting," totaling 21 pages in pencil inside an exercise book. (Estimate: $50,000+)
A Charles Dickens draft for 'David Copperfield.' The two-page handwritten manuscript by Dickens for a six-chapter outline of a stage performance of David Copperfield, undated. (Estimate: $30,000+) 
In addition to remarkable letters by John Steinbeck, Ernest Hemingway, Herman Melville, and Louisa May Alcott. 
Other top items include a letter by Benjamin Franklin regarding the mutinous crew of John Paul Jones's flagship, outstanding letters by John Hancock, and autographs of George Washington, Alexander Hamilton, and Thomas Jefferson. 
The sale is rounded out by a fine selection of important antiquarian books, numerous signed photographs, and other historic memorabilia.
Fine Autograph and Artifacts Featuring Literature and Revolutionary rarities auction from RR Auction began on September 23 and will conclude October 12.  For more information, go to www.rrauction.com.