Dickens Collection Offered at Bonhams on December 1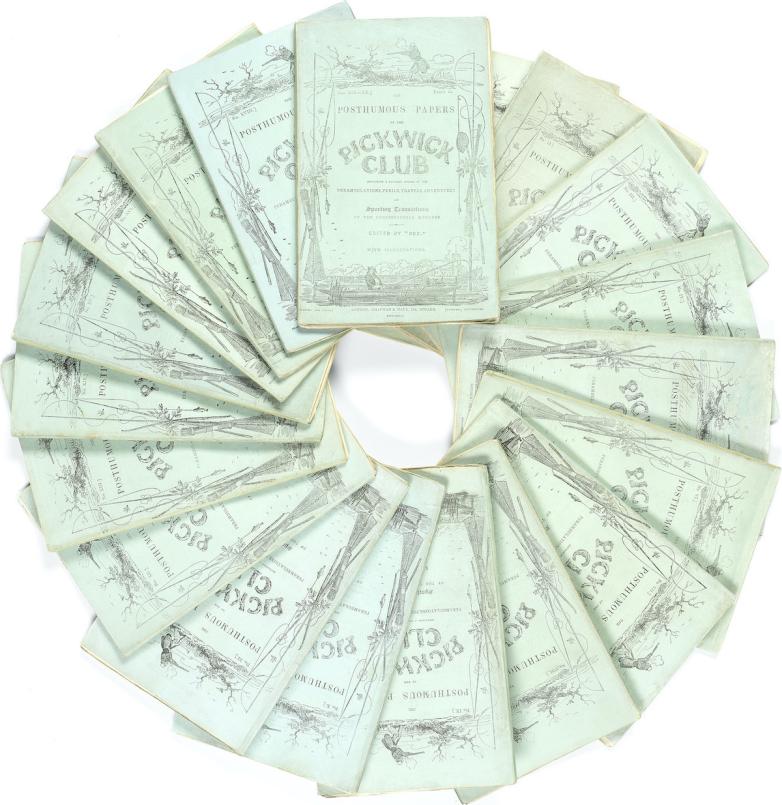 Courtesy of Bonhams
London – There was a time not so long ago when the Collected Works of Charles Dickens, like the Bible and Shakespeare, could be found on the shelves of most homes across Britain. But looking at such forbidding leather-bound volumes, it's easy to forget that many of Dickens' full-length novels started life not between hard covers but in monthly or sometimes weekly installments. Dickens pioneered this low-priced serial format as a way of reaching readers of all incomes – all the way up to Queen Victoria herself – and generating sales by ratcheting up suspense at the end of each part. Inexpensively produced on flimsy paper, they were not designed to last. Yet some copies have survived against the odds, as shown by a wonderful collection accumulated in the 1930s by the Liverpool collector W.H. Collis – which now features in Bonhams' Fine Books and Manuscripts sale in Knightsbridge, London, on Wednesday 1 December. It includes a very rare, complete set of Pickwick Papers estimated at £15,000-20,000.
 
Bonhams Senior Book Specialist, Simon Roberts, said: "The collection, which is being sold on behalf of the descendants of Collis, provides a fascinating insight into the circle of 1930s Dickens collectors, dealers and bibliographers who shared knowledge and often bought and sold parts and spares to make up sets. Some of the lots are still preserved in Collis' brown paper parcels tied with string, and the vast majority include his detailed collation and provenance notes."
Other highlights of the sale include:
 
    •    First editions of A Christmas Carol, published by Chapman and Hall in 1843. Dickens' hugely popular Christmas story was printed many times between 1843 and 1860. Nearly all these editions are represented in the Collis collection. Estimates: £4,000-6,000.
 
    •    First issue of the first edition in the original monthly parts of A Tale of Two Cities. This edition issued between June and December 1859 was to be Dickens' final collaboration with "Phiz". The novel had first appeared, unillustrated, in the weekly journal All the Year Round from 30 April to 26 November 1859.
 
    •    First editions of Sketches by "Boz," Illustrative of Every-day Life, and Every-day People. Dickens' first book, illustrated by George Cruikshank, the work first appeared in book form in two volumes in 1836 and one further volume was published in 1837. Estimate: £4,000-6,000.
 
    •    A superb set of Sketches by "Boz" in their original parts, one of the rarest of Dickens' works to appear in this form. The Sketches first appeared in different periodicals and newspapers, were then released in book form, and subsequently published by Chapman and Hall in monthly parts to meet the form's growing popularity.