Collection of Stunning French Renaissance Bindings Reunited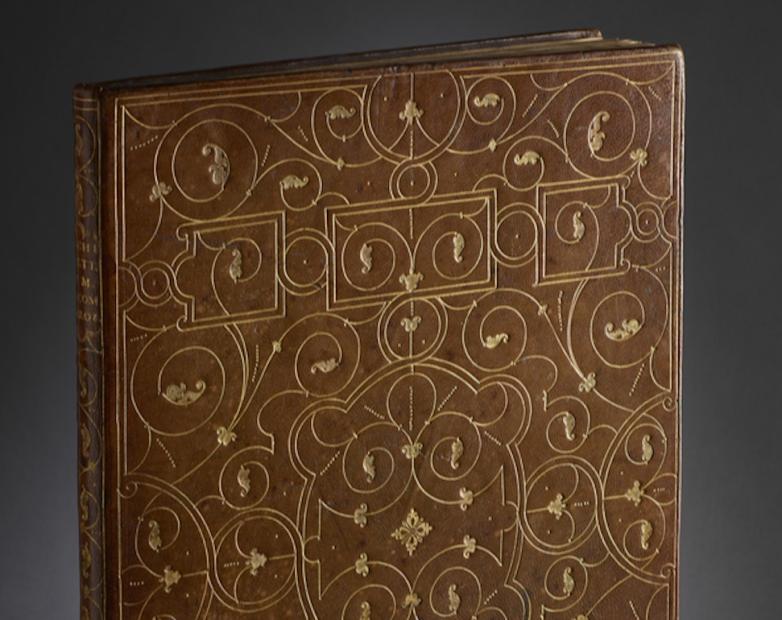 Credit: Morgan Library & Museum, purchased as the gift of the Fellows, 1960
This past Friday, the Morgan Library & Museum opened Poetry and Patronage: The Laubespine-Villeroy Library Rediscovered, an exhibition that brings together for the first time in 450 years spectacular bindings from the library of Claude III de Laubespine, one of the great collectors of the French Renaissance.
Little is known about Laubespine (1545–1570), who lived a life of luxury and royal favor but died young. He did, however, leave behind a magnificent library which was eventually dispersed and largely forgotten until bookbindings scholar and guest curator Isabelle de Conihout rediscovered it. As she said in a 2015 interview with Christie's, her quest began in 1993, when she was compiling a census of the decorated French bindings in the Rare Books Reserve of the Bibliothèque nationale de France:
Shortly after I began perusing the stacks, I noticed two folio 16th century books on architecture with very fine bindings executed at the end of the 1560s, but with no indication of whom they had belonged to – no ex-libris or coat of arms. They each bore on their fly-leaf an old shelf-mark in brown ink, a number in a large end 16th century hand between two parallel strokes. I went on searching and finally found in the BnF 40 volumes in extraordinary bindings, all bearing the same shelf-marks which I called the 'cotes brunes'. I continued my search in other Parisian libraries (where I found about 40 more volumes, revealing nothing about their original owner except for the mysterious 'cotes brunes'), in British and American libraries, and in a few private collections, most of them outside France….

It was in a literary manuscript that I finally picked up the trail. Finely bound with a double C repeated, the manuscript was believed to be a King Charles IX copy. Upon opening it I was surprised to find my 'cote brune' written on the fly-leaf. This early luxury calligraphic edition of the love poems of the French court poet Philippe Desportes, published in 1573, contains a final sonnet about the year 1570. In it Desportes mourns his 'wise, happy, and perfect' friend, Claude de Laubespine … the patron who commissioned this great Renaissance library.
Now identified, Laubespine's books form a showcase of ornamental binding design and enrich our understanding of book collecting during the French Renaissance. Exhibition highlights include a copy of Jacopo Vignola's Regola delli cinque ordini d'architettura (ca. 1564, pictured above) in a mysterious binding, which former Morgan director Frederick Adams declared sent "a tingle of pleasure down the spine." Also on exhibit are three copies of the renowned illustrated incunable, Francesco Colonna's Hypnerotomachia Poliphili (1499). The copy in the gold–powdered binding was "a centerpiece of Laubespine's library, a fitting representation of his collecting ambitions," according the Morgan.
"We are pleased to present Poetry and Patronage: The Laubespine-Villeroy Library Rediscovered, an exhibition that revisits the central role of bindings in our collection and one of the most splendid libraries of the French Renaissance. The exhibition takes a close look at the art of connoisseurship through the detailed task of reuniting an exquisite set of bindings that have been separated for over four centuries," said the Morgan's director, Colin B. Bailey.
The exhibition runs through May 16, 2021. A hardcover catalogue, designed by Jerry Kelly and bound in gilt stamped cloth, is available to order.