Classic Children's Literature in Demand at Tennants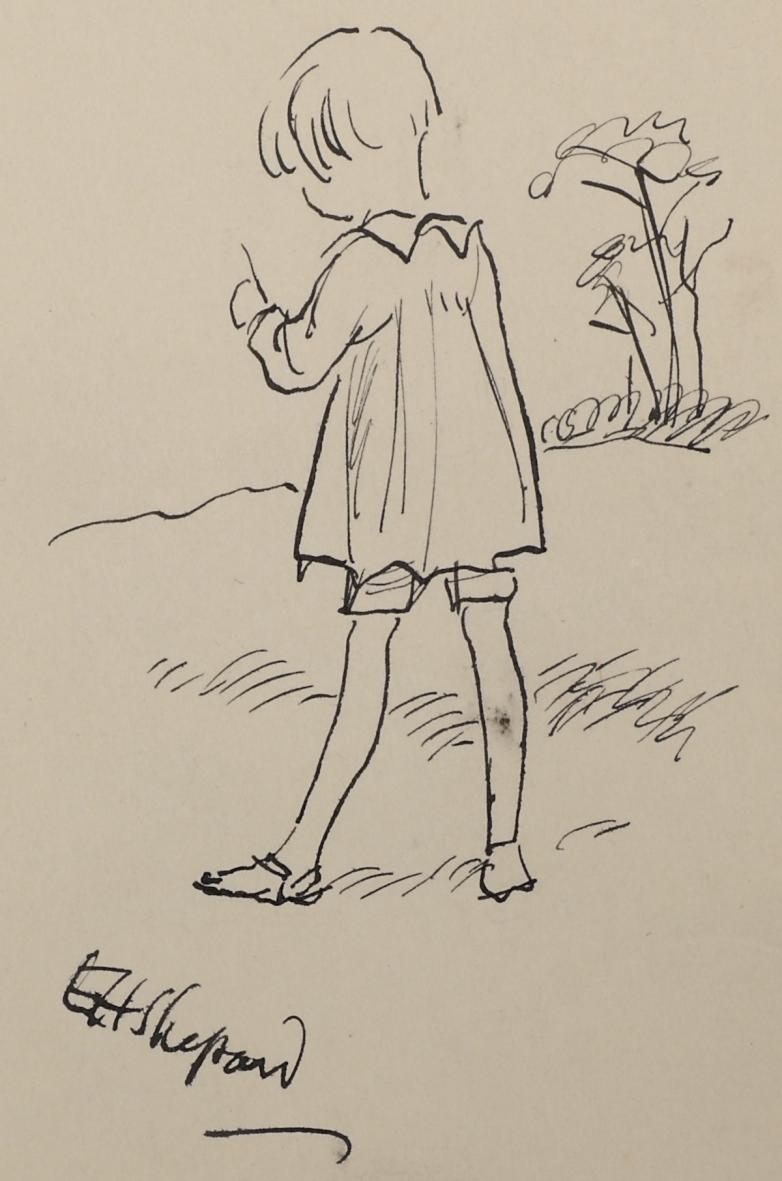 Courtesy of Tennants
Leyburn, North Yorkshire, UK -- Tennants Auctioneers' Books, Maps, Manuscripts and Photographs Sale on 18th November saw impressive results. Whilst the sale took place behind closed doors with no public viewing, online bidding facilities and extra imaging provided by Tennants helped the sale exceed the pre-sale estimate and achieve a 94% sold rate.
Lots relating to children's literature are a strong theme amongst the highlights of the sale. A small pen and ink sketch of Christopher Robin by E.H. Shepard was one of the top lots, selling for £3,800 (plus buyer's premium). The sketch, in which Christopher Robin faces away, is signed by the artist and is accompanied with a manuscript note on headed paper reading 'with [heart] and xx from Christopher Robin'. Both the sketch and the note are mounted in an autograph book compiled by Miss Joyce Cartmell from 1937.
A fine first edition of Harry Potter and the Philosopher's Stone by J.K. Rowling sold for £2,900; a second impression, the volume contained a label for Rowling's agent – Christopher Little Literary Agency – to the half title page. Strong results were also seen for a 1926 first edition of Winnie-The-Pooh by A.A. Milne (sold for £1,700), and a numbered limited edition copy of Oscar Wilde's The Happy Prince from 1913 that was signed by the illustrator Charles Robinson (sold for £1,000).
Top lots of classic fiction included a first edition, second issue of Anne Bronte's Tenant of Wildfell Hall from 1848, which sold for £5,400, and a third edition of Charlotte Bronte's Jane Eyre: An Autobiography from 1848, which sold for £3,600.
Interesting non-fiction highlights included Transactions of the Guild and School of Handicraft, Vol. 1, 1890, with manuscript inscriptions by the volume's editor and founder of the Guild C.R. Ashbee. Ashbee, one of the leading figures of the Arts and Crafts movement, inscribed on the flyleaf a verse from Rudyard Kipling's The Conundrum of the Workshops (sold for £2,100).
Photographic lots saw strong bidding, with a volume of sixty collotype plates of Korea, Japan and China photographed by Isabella L Bishop circa 1897 selling for £750. An outstanding collection of 47 early aviation photographs recording what is believed to be the first aviation meeting in Africa, which was held at Heliopolis in Egypt in 1910, sold for £1,400. Aircraft both on the ground and airborne are shown in the photographs, as well as scenes of spectators.
Finally, a collection of 1920s catalogues, brochures and price lists, mostly from Fortnum & Mason, sold for £2,100 against an estimate of £60-80. Featuring colourful graphic design of the era, interesting items in the collection included the brochure 'Fortnum and Mason make Entertaining easy in your own home'.
Tennants are currently accepting lots for the next Book Sale on 10th March 2021, please contact them on 01969 623780 or enquiry@tennants-ltd.co.uk for details.