Charles Dickens, Herman Melville & Virginia Woolf First Editions to Auction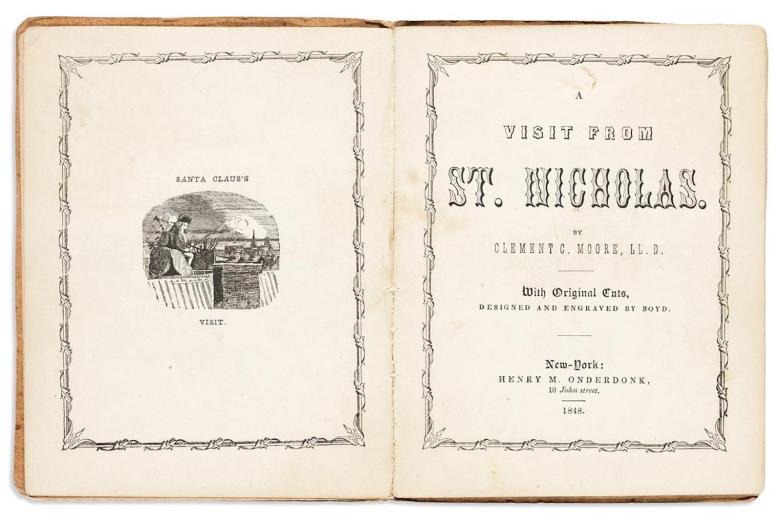 Swann Galleries
Fine Books & Autographs are at Swann Galleries on March 2. The auction will feature autographs from political figures, pop culture icons, artists and authors among others, and will include first editions of key nineteenth and twentieth-century literary works.
The auction opens with a selection of presidential autographs, including clipped signatures and signed letters by the United States' first president, George Washington. More than three items are signed by Washington, including an autograph letter from 1790 in which he discusses the character of prospective buyers of the land he intends to sell ($25,000-35,000); a payroll for the Potomac Company, signed in 1785 when he was the company's president ($7,000-10,000); and two letters from the Revolutionary War ($15,000-25,000 and $10,000-20,000).
Additional presidential material includes an autograph endorsement signed by Abraham Lincoln in which he grants freedom to a group of captured Confederates ($4,000-6,000), a selection of items signed by William Henry Harrison, collections of White House cards, visiting cards, checks, and franking signatures.
Visionaries include Walt Disney with a signed and inscribed photograph speaking to a leprechaun from his film Darby O'Gill and the Little People ($3,000-4,000). A selection of autographed letters signed by Artists included those by Paul Gauguin ($10,000-15,000) and Joan Miró ($1,000-1,500) and several complete archives of letters by Pierre Auguste Renoir ($7,000-10,000) and Thomas Hart Benton ($10,000-15,000). 
Among the writers offered in the auction a letter signed by Ernest Hemingway describing the summer that inspired his essay "The Dangerous Summer" as "the best time I ever had" stands out ($2,500-3,000).
The auction offers other areas of interest including a copy of a book about the long-running television show American Bandstand signed by Dick Clark and over 100 musicians and performers who appeared on the program ($4,000-6,000); a signature by Babe Ruth on a small card ($2,000-3,000) and a check signed by Jackie Robinson ($600-900). There are also outstanding examples from royals, inventors, and scientists.
Nineteenth and twentieth-century literary highlights include canonical firsts from Charles Dickens, including the first edition of A Christmas Carol, London, 1843 ($7,000-10,000) and a first edition in original monthly parts of A Tale of Two Cities, London, 1859 ($7,000-10,000); a run of works by Herman Melville including, a first American edition, in first state binding of Moby-Dick; or the Whale, New York, 1851 ($12,000-18,000); Mark Twain with a first American edition, first printing copy of The Adventures of Tom Sawyer, Hartford, 1876 ($18,000-25,000); and a first edition of Mrs. Dalloway, London, 1925, in the rare dust jacket, entirely unrestored by Virginia Woolf.
Also of note is Henry Roth's Call It Sleep, New York, 1934, bearing a presentation inscription to his sister Rose ($8,000-12,000). Children's titles include a signed copy of Lewis Carroll's Alice's Adventures in Wonderland, 1891 ($5,000-7,500), and the first Mickey Mouse appearance in book form from 1931 ($1,000-1,500).
An offering of fine press and illustrated books complete the auction. Eric Gill's limited edition of The Four Gospels, 1931 ($4,000-6,000), fine bindings from Kelliegram ($800-1,200), and various Continental examples are on offer. Robert Indiana's Numbers, one of 35 Artist Proofs, sourced from his own collection ($20,000-30,000), a rare and important Spanish translation of Karl Marx's El Capital, 1887 ($12,000-18,000), and the first fully illustrated book-length edition of Clement Moore's A Visit from St. Nicholas, 1848 ($6,000-8,000).