Celebrating the Coretta Scott King Illustrator Awards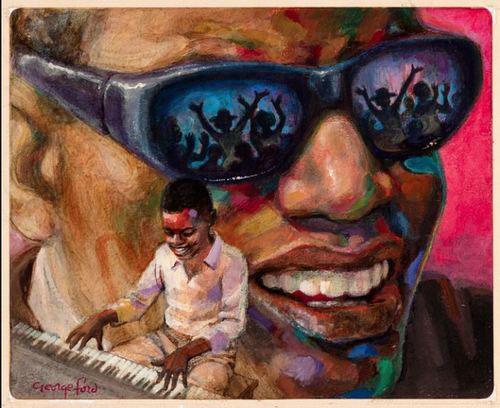 Courtesy of NCCIL. © 1973 George Ford.
Last week, the Eric Carle Museum in Amherst, Massachusetts welcomed Our Voice: Celebrating the Coretta Scott King Illustrator Awards, a traveling exhibition organized by the National Center for Children's Illustrated Literature (NCCIL) and the American Library Association's Ethnic and Multicultural Information Exchange Round Table. The exhibition is the first to commemorate the Coretta Scott King Award (CSK) since its inception in 1974. 
Established to "affirm new talent and to offer visibility and excellent in writing and illustration," the Coretta Scott King (CSK) Award has become one of the most prestigious annual recognitions bestowed by the ALA, on par with the ALA's annual Caldecott award.
Of the 108 books that have been graced by a CSK, one hundred of them are represented in Our Voice, including the work of artist George Ford, who received the first award for his acrylic illustrations in Ray Charles (1973) , written by Sharon Bell Mathis, who also took home that year's inaugural author's prize. "Although the award was a recognition of artistic excellence, I was most proud of the fact that it was a reward specifically intended as a source of inspiration and encouragement to African American children," Ford said recently about the experience.
Several artists have won the award multiple times: Jerry Pinkney, for example, is a ten-time CSK award recipient, while Ashley Bryan and Bryan Collier have each won nine CSKs for their work. Additional artists represented in the retrospective are a veritable who's-who of children's picture book illustration: Brian Pinkney, James E. Ransome, Leo and Diane Dillon, Javaka Steptoe, Kadir Nelson and many others.
Recognizing the transformative power of pictures and text, the CSK award highlights how powerful imagery enriches a narrative while also serving to uplift and encourage young readers that all voices have a place at the table. The art that accompanies these stories is a beacon in what is often a dark and scary world. Sometimes the creators of these works are persecuted, but that doesn't stop them; award recipient Peter Magubane's book Black Child (1983) was banned in his home country of South Africa, for example. But, as he put it, "the only way to show the world was through pictures."

Our Voice: Celebrating the Coretta Scott King Illustrator Awards
is on view through January 27, 2019 at the Eric Carle Museum of Picture Book Art.