Bright Young Booksellers: Jennifer Phillips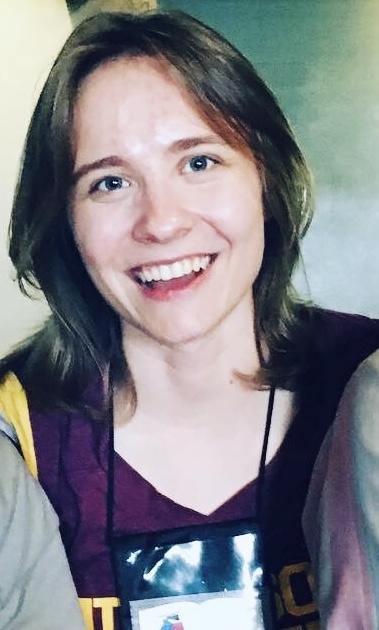 Courtesy of CABS-Minnesota Seminar
Our Bright Young Booksellers series continues today with Jennifer Phillips, second-generation bookseller with Evening Star Books in Madison, Wisconsin.
How did you get started in rare books?
I grew up in the rare book trade. I began working for Evening Star Books at age 14, shelving and organizing inventory. Two years later, I progressed from shelving to cataloging inventory. While attending college at the University of Minnesota, I had the good fortune of working for the Bookhouse in Dinkytown. After graduating college, I completed an internship for Rulon-Miller Books. My father, along with these two firms, really shaped who I am as a bookseller today.
What is your role at Evening Star Books?
I wear many hats at my job. Officially, I am the Managing Director, and the minority owner of the firm. However, I do everything from filling orders to designing e-lists and our print catalogs to managing our social media to even coordinating our travel logistics. There is no mundane office routine in the rare book business!
What do you love about the book trade?
Variety is the spice of life, and it is indeed the main ingredient of the book trade. I never do the same thing day in and day out. Every book I work with is different, every book fair we exhibit at is different, and every colleague with whom we interact has their own personality, and their own way of selling books. There is a myriad of ways to get involved in the trade: this summer I have the good fortune to volunteer at the CABS-Minnesota seminar (this will be my third year volunteering), and to attend Rare Book School as the William Reese Fellow. When there isn't a pandemic, there are so many people to meet, books to buy, shops to scout, and so many different things to do during any given day.
Describe a typical day for you:
The first order of business is always to process the day's orders. Next, I respond to any open inquiries or customer messages. After that, I usually create time for irregular tasks that don't get done every week: photography, tending to any projects we have outstanding at the time, preparing for the upcoming book fair, dealing with our accounting, etc. I usually do my cataloging after lunch. We segregate our books into catalogue books or book fair books (items that are more expensive which appear in our lists and at fairs), and general stock, books that go online right away. Shelving and organization are where I started, and they remain integral to our operation today.
Favorite rare book (or ephemera) that you've handled?
I guess this is a little cliché, but we got to handle an incunable once and it was magical. The author was Hermes Trismegistus, a cultic personality from Hellenistic Egypt whose writings would go on to shape Western philosophy and religion. I majored in classics and philosophy, so this item hit the sweet spot for my tastes! It also inspired us to buy a few reference books, so we got to learn more while cataloging the item.
What do you personally collect?
I collect any books related to Antiquity, ancient philosophy, and literature. I am a huge fan of Jane Austen and pretty much any literature up to Oscar Wilde. I also have a penchant for Hugh Thomson's illustrations.
What do you like to do outside of work?
Outside of work I can be found doting on my cats and exercising. The Ancient Greek philosophy of cultivating the mind and body is important to me, so you can find me running, doing yoga, and reading before bed.
Thoughts on the present and future states of the rare book trade?
I've noticed that there is a group of people who think bookselling is dead, and the trade will never be as good as it once was (whatever that means). I do think the internet has changed the trade greatly: namely, the middle of the trade has been carved out. The internet has put into perspective just how common certain books are. In general, to be a successful bookseller, you must either deal in volume or deal in exceptional quality of material (either unique or exceptionally desirable material). Bookselling is different in my generation, and maybe even more difficult, but it presents an opportunity for further discoveries of material that was previously ignored, material that will make an individual statement in a saturated marketplace. My generation is exceptionally diverse, and I expect, as time passes, that material offered, and the booksellers offering it, will grow more diverse as well. I am eager to help usher that along in any way I can.
Any upcoming fairs or catalogues?
Evening Star Books releases monthly e-lists and a yearly print catalog to our private mailing lists and to the trade. Regarding book fairs, we will be exhibiting at the New York Antiquarian Book Fair (April 22nd-24th), and I manage and sponsor a new book fair: the Minnesota Antiquarian Book Fair (July 8th-9th). The Minnesota fair will take place just before CABS-Minnesota 2022, and I am working hard to help the fair become more welcoming to collectors and patrons of all communities. Inclusivity takes thoughtfulness and a re-examination of business practices. Regional book fairs are important because they help introduce the rare book trade to people who will be the future collectors, archivists, dealers, etc. They can help fill a role left behind by open shops that have since closed. To make a good first impression on the future members of the book trade, the trade itself must be more welcoming.