Bright Young Booksellers: Anke Timmermann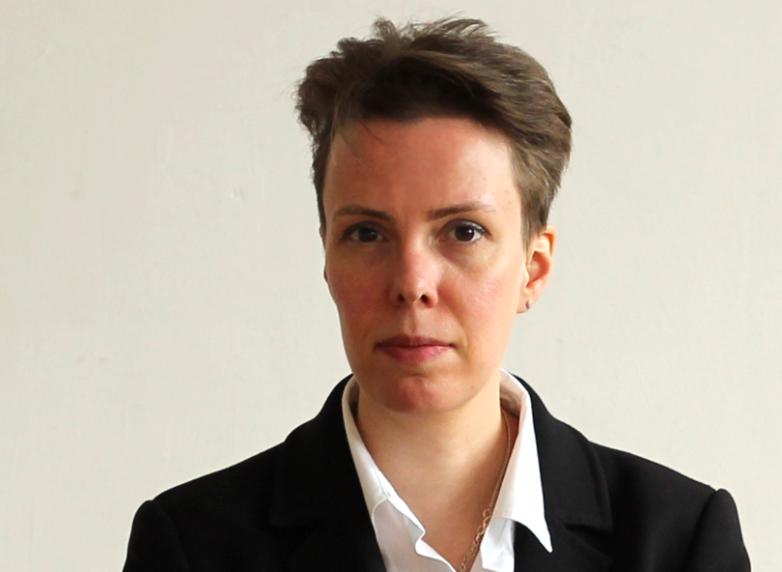 Courtesy of Dr. Anke Timmermann
Our Bright Young Booksellers series continues today with Dr. Anke Timmermann of Type & Forme in Grantham, Lincolnshire, England.
How did you get started in rare books?
In 2014, while I was the Munby Fellow in Bibliography at Cambridge University Library, I decided to leave academia but wanted to continue working with books and manuscripts in the UK. Uncertain of which direction to take, through conversations with Suz Paul (then Head of Manuscripts at Cambridge University Library) and the rare book dealer Roger Gaskell (formerly of Quaritch) the idea of joining the antiquarian book trade emerged, as a career which would accommodate my various interests outside of my academic specialisms, as well as allow me to do fundamental research, to publish, and to help individuals and institutions to build collections.
The fifteen years of experience in book history, manuscripts, and bibliography that led me to that point began when I was first studying English and philosophy at the University of Heidelberg. I was a library assistant at the English Department and also started (somewhat precociously) working on alchemical manuscripts with the Paracelsus expert Prof. Joachim Telle in his graduate research seminar at the Germanic Department. With the help of a DAAD scholarship I then immersed myself in the important alchemical collections at Glasgow for my MPhil, and subsequently won a Gates Cambridge Scholarship for a PhD in the history of science. My international postdoctoral career started at the Chemical Heritage Foundation (now Science History Institute), Philadelphia, which is home to the astounding Othmer Library of Chemical History, followed by co-editing 'The Letters of Bess of Hardwick' at the University of Glasgow and curating the accompanying exhibition 'Unsealed' (Hardwick Hall and The National Archives). After a couple of years immersing myself in the manuscripts of the National Library of Austria, and a summer researching at the Max Planck Institute in Berlin while finishing my monograph (Verse and Transmutation: A Corpus of Middle English Alchemical Poetry (Brill, 2013)), I began compiling 'Alchemy in Cambridge: An Annotated Catalogue of Alchemical Texts and Illustrations in Cambridge Repositories' (Nuncius, 2015) as the Munby Fellow in Cambridge. In fact, A.N.L. Munby was a wonderful example for a life in the book trade, libraries, bibliography and collectorship – it was time for me to investigate the life of books outside the library.
So I wrote to Bernard Quaritch Ltd offering my services, attended an interview, and started as a bookseller in the same year. Over the following two and a half years, Mark James and I produced (among other things) a catalogue of works by women travellers that was featured in The Guardian and the Frankfurter Allgemeine Zeitung, sold books on food and drink from the library of the conductor Christopher Hogwood, and acquired a complete, undisturbed archive relating to the publication of an early-twentieth-century book on travel to Turkestan, which is now in the special collections at Cambridge University Library. There was no turning back from that point, and in 2017 we both left Quaritch to set up Type & Forme.
When did you and Mark open Type & Forme and what do you specialize in?
We established the business at the beginning of 2018 in Sir Isaac Newton's hometown of Grantham, an hour north of London. Between us we cover a wide range of subjects, including travel; natural history (we are both Fellows of the Linnean Society); science and medicine; gastronomy; English and international literature; early and fine printing; and the performing arts. We deal in books and manuscripts in European and classical languages, and also prints, instruments, maps and globes. As for historical periods, anything from the fourteenth to the twenty-first centuries might come under our remit.
This may sound very eclectic, but we often work with small collections, entire archives and groups of objects on a particular theme, with a specific provenance or relating to a specific aspect of book history, which we then present in themed catalogues. In the past year or so we have produced catalogues on women writers, science and medicine, voyages of discovery and natural history, T.E. Lawrence, and, most recently, a catalogue of fine editions (including Roxburghe Club and William Blake Trust publications) from the library of Stephen Keynes.
What is your particular role at Type & Forme?
Type & Forme is a partnership with two partners, so Mark and I share all responsibilities.
What do you love about the book trade?
The combination of a longstanding tradition with individuality, creativity, and constant learning is wonderful. Where else can one apply knowledge in the history of science to, say, the history of polar exploration and mountaineering (the equipment, apparel, food rations, physiological reactions of the body to extreme temperatures, etc.), and combine a love of modern literature with discoveries that contribute to the bibliography of modern writers? What other job would allow me to use my specialist knowledge in the history of alchemy and medicine on the same day as identifying an unprepossessing ephemeron as historically important (and thus preventing it from being forgotten or destroyed), or to use my background in dance and movement and Mark's experience in theatre for a performing arts catalogue?
Describe a typical day for you:
If working in Grantham, I will be at my desk cataloguing, researching, and selling books, or planning the next catalogue or fair. Our book room in the Grantham Museum (formerly also a Carnegie Library) overlooks Newton's statue on the town square and catches the afternoon sun, so it will often be transformed into a photo studio when we are preparing a catalogue. I will make time at some point during the day to exercise – as a fully trained Pilates teacher (I qualified while a research fellow at the Medical University of Vienna) I am keenly aware of how detrimental the physical aspects of antiquarian bookselling can be, whether carrying book boxes, sitting at a desk for extended periods, or standing at a fair for several hours at a time, and I do intend to continue in this business for a long time!
Visits to clients, libraries, auctions, etc. usually take us to London once a week. I might also attend a meeting at the Linnean Society, where I have recently joined the Collections Committee, or a Bibliographical Society lecture. We also travel further afield for valuations of private or institutional libraries, to buy books, or to research – writing is still an important part of my life. At the moment I am writing a four-article series on important alchemical collections in British Libraries for The Book Collector: the first, on Elias Ashmole's alchemica, appeared earlier this year; the second, on Sir Hans Sloane's alchemical manuscripts, is imminent; the third, on James 'Paraffin' Young's collection, has just gone to the editor; and for the fourth, on John Ferguson, I have received a Visiting Fellowship at Glasgow University Library, which will enable me to spend two weeks in Glasgow working on Ferguson's collection later this summer.
Building a new business is an all-consuming passion, and – although I might have the best intentions to relax in the evenings – I will still have a tab on my iPad open to track upcoming auctions. I am currently building a collection for a client, and some of the most rare and unusual items in it have been discovered in the wee small hours.
Favorite rare book (or ephemera) that you've handled?
A series of six Christmas cards which were sent by Jacob and Rita Bronowski to Gritta Weil in the 1950s come to mind. Jacob Bronowski was one of the most famous public intellectuals of the post-war era, a brilliant scientist, and an important populariser of science. He saw art and science, the 'two cultures', as twin expressions of the human imagination, and also published on poetry and science, and William Blake. These Christmas cards contain Bronowski's own poems on, among other things, Isaac Newton and Copernicus, and are beautifully illustrated by his wife, who was an artist and sculptor. They are a beautiful, well-thought-out yet visceral expression of the beauty of science, and I was delighted to be able to place them in the Science Museum in London.
What do you personally collect?
In the interest of dedicating both shelf space and resources to Type & Forme's development, I am restricting my personal collection deliberately, but I have a small collection on dance and movement (including dance notation) to which I add as the occasion arises.
What do you like to do outside of work?
Cooking is a longstanding interest – it is nice to improvise at least once a day, and whenever there is the time (or a bunch of fresh produce from the market) I will cook from a book. Reading cookbooks outside of mealtimes is, actually, a great pleasure, and naturally leads me into the historical literature.
When out and about I also enjoy listening to audiobooks – ironically it is hard to find the time to read for pleasure in this life full of books – and podcasts. It is fascinating to see the developments of this relatively new medium. Curiously, my first experience of podcasts was as a contributor rather than a consumer, writing segments for 'Distillations', the Chemical Heritage Foundation's podcasts, from 2008 onwards. I then single-handedly wrote and produced the podcast accompanying the exhibition on Bess of Hardwick's correspondence, 'Unsealed', in 2011, and became a compulsive podcast listener during that time – anything from Ottolenghi and Jay Rayner on food to true crime (e.g. 'Last Seen', the story of the art thefts at the Isabella Stewart Gardner museum) and music (especially 'Coverville' – I particularly recommend the episode on Prince!).
Thoughts on the present state and/or future of the rare book trade?
It is constantly changing, but is currently seeing some exciting new developments: antiquarian books are arguably even better appreciated in recent years than they were when I first became aware of the world of rare books. Social media, especially Instagram, has brought forth a new generation of bibliophiles who want to see the real thing after discovering the intricacies of, say, medieval manuscript illumination in an Instagram post. And there is a growing understanding that collecting need not be expensive, does not need to follow a prescriptive programme or timeline, and will evolve through conversations in all parts of the book world, whether with librarians, book dealers, or other collectors. The growth of book collecting prizes during recent years has shown an exciting resurgence in young collectors, and the energy, intelligence, and discrimination that the bring to their collections is remarkable.
Given this general enthusiasm I do wish that it was less difficult for antiquarian booksellers to maintain traditional shops on the high street. I remember hours and hours spent as a student at Antiquariat Hatry in Heidelberg, and Mark spent his teenage holidays working in a second hand bookshop, where he started collecting first editions, taking payment in kind from the shop's stock. These experiences were, in retrospect, an important education, and it is regrettable that future generations may not have the same opportunities to learn from knowledgeable booksellers that we did.
Any upcoming fairs or catalogues?
We are currently preparing for the London Rare Book Fair, Firsts, and busy finalising our fair catalogue. In addition to that we have joined forces with Charlotte Du Rietz, a Swedish dealer specialising in travel books, to produce a printed catalogue on Travel & Exploration. The books will be exhibited on our stands (N08 and N09), and feature books, manuscripts, and photographs relating to Africa, the Middle East, China, India, Europe, and the Americas, by explorers, pilgrims, women travellers, and plant hunters. Type & Forme will also exhibit English and international literature, early printed books, science and medicine, private press books, and fine printing.
Finally, I should mention that I am the ABA Library Liaison – Tim Pye of The National Trust is my counterpart on the CILIP side. For Firsts London we have arranged a friendly get-together for librarians on 7 June: the fair will be opened at noon by Stephen Fry, and there will be time to see the guest exhibitions by The Globe and the International Society of Bible Collectors as well as browsing the fair at large before coffee and cake will be served at the onsite café from 4-5pm. I hope to see many familiar faces there, and look forward to making the acquaintance of those international librarians whose paths have not crossed mine yet.