Blue Plaque for The Daughter of Time Writer Josephine Tey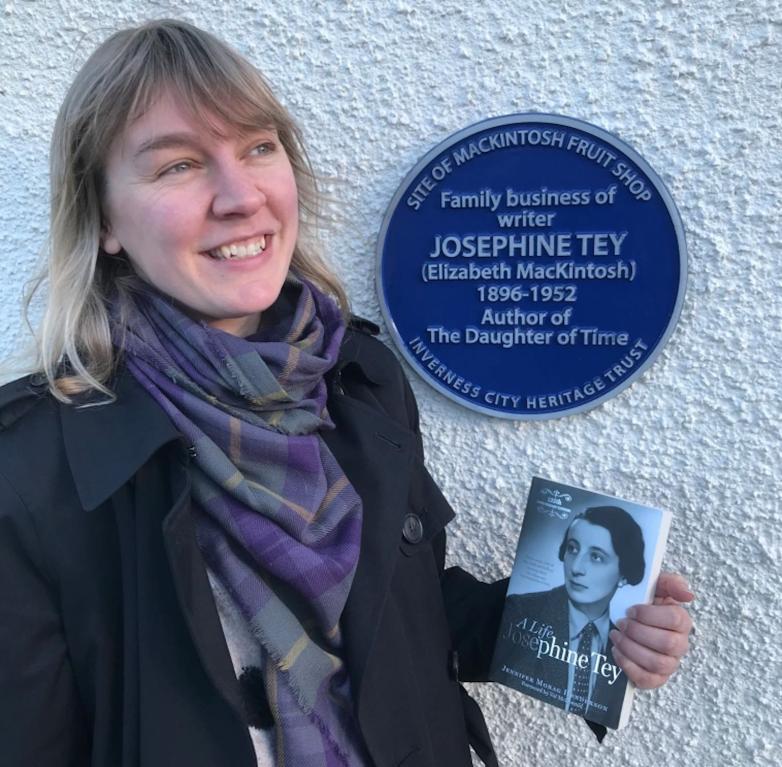 Jennifer Morag Henderson
A campaign to recognise the life and work of Scottish crime writer Josephine Tey has been successful with the installation of a blue plaque on the building where her family business operated.
There have been various blue plaque schemes in the UK dating back to the mid-19th century. They usually mark the link between key locations and famous people such as Tey - real name Elizabeth MacKintosh - who grew up in Inverness. This plaque is managed by the Inverness City Heritage Trust.
Although she wrote several plays, worked for Hollywood through Universal Pictures, and numerous novels, she is best known for her detective mystery The Daughter of Time which examined what part Richard III played in the death/murder of the Princes in the Tower, heirs to the throne of England, in the 1480s. "Josephine Tey was one of the most gifted exponents of detective fiction of her era," said Martin Edwards, crime writer and President of the Detection Club, " a writer whose elegant blend of character, setting, and storyline made for enjoyable mysteries which have entertained readers across the world for more than ninety years."
The campaign for the plaque in Castle Street on the site of the family's fruiterer's shop (a building eventually owned by Tey herself whose former home is actually down a private lane) has been led by writer Jennifer Morag Henderson, who has written a biography of Josephine Tey (1896 -1952).
"I've always believed that she deserved wider recognition for her achievements as a writer, particularly in her home town," she said, "and I'm so pleased that she is now being marked in this way. I have received support from Josephine Tey fans from Scotland, Europe and as far away as Australia. It's clear, as I argued in my biography, that her books have had a wide and lasting impact on both readers and other writers."
Jennifer's biography Josephine Tey: A Life was first published in 2015 and was republished in a new edition in 2021. The publishers Sandstone Press are currently running a special offer of 20% off the price if it is bought direct from their site (offer ends on November 20, 2022)