Audubon Engravings & Literary Firsts Excel at Hindman Auctions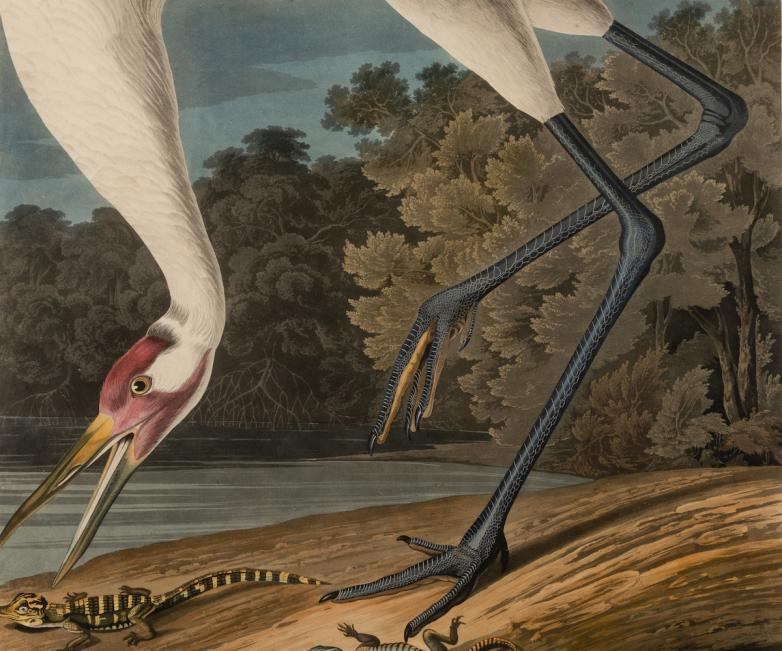 Courtesy of Hindman Auctions
Chicago – On May 3 and 4, Hindman Auctions' Fine Books & Manuscripts sales realized more than $1.4 million. The Library of Jack Charles Davis, sold to support charitable institutions, was presented on May 3, and was followed by the Fine Books & Manuscripts, Including Americana auction on May 4.
May 3 | The Library of Jack Charles Davis
The Library of Jack Charles Davis sale doubled its expected estimate to achieve $718,750 across 424 lots, with works by Mark Twain and John Steinbeck emerging as the top lots. Attorney and philanthropist Jack Charles Davis was dedicated to promoting the economic and community development of his hometown, Lansing, Michigan. A collector at heart, Davis had deep interests in theater, existential philosophy, literature, architecture, art, history, and politics, each of which are reflected in his fine collection of books and manuscripts.
Bidders clearly saw the value in the collection, with the sale achieving an outstanding 98 percent sell-through rate. First editions of 19th and 20th century literature were among top performers, led by a first American edition, first printing of Mark Twain's seminal The Adventures of Tom Sawyer from 1876 (lot 79), which sold for $18,750. Additional highlights included a first edition, first printing of John Steinbeck's Cup of Gold (lot 288) which realized $18,750, against a presale estimate of $5,000-7,000; a first edition of T.S. Eliot's The Waste Land (lot 114), which soared past its estimate of $2,000-3,000 to achieve $17,500; and a first American edition of Ernest Hemingway's In Our Time (Lot 178), which was Hemingway's agent Curtis Brown's copy, and sold for $17,500 compared to an estimate of $10,000-15,000.
May 4 | Fine Books & Manuscripts, Including Americana
The Fine Books & Manuscripts, Including Americana auction realized $687,663 across 313 lots, with especially strong results achieved for printed Americana.
Leading the Fine Printed Books & Manuscripts session of the May 4th auction was the first edition of the first printed work on architecture, Leon Battista Alberti's 1485 De re aedificatoria (lot 91), which realized $100,000. Alberti, architect of several important Renaissance buildings, began work on his treatise in the middle of the 15th century, and this incunable edition of his work was published by his brother after his death.
The Americana session saw competitive bidding throughout, continuing to be a strong category for the department, and achieving notable results for a fine selection of John James Audubon engravings, nearly all of which were consigned by a Palm Beach collector and accounted for seven of the 15 highest prices of the auction. The Hooping Crane (lot 329) was the highlight of the collection, selling for $56,250, more than five times its presale estimate. A group of early maps of Virginia also brought strong results, with a copy of Captain John Smith's important map of Virginia, published circa 1625 (lot 377) bringing $25,000, well above its estimate.
Competitive bidding in both auctions led to robust results in terms of both prices realized and sell-through rates and are evidence of a very strong market," shared Gretchen Hause, Hindman's Vice President and Senior Specialist of Book and Manuscripts. "In particular, we are incredibly proud to have had the opportunity to work on the sale of the Jack Charles Davis collection, the proceeds of which will fund community-based charitable giving, long a passion of Davis and his wife, Susan."
Overall, the two auctions had a combined 95 percent sell-through. Bidding for the auctions was available in-person, via telephone, online via Hindman's Digital Bid Room and additional online bidding platforms. All auction results for the May 3rd auction can be viewed here and for the May 4th auction here.
Future Books & Manuscripts Auctions
The Books & Manuscripts Department is looking forward to two American Historical Ephemera & Photography auctions this June in Cincinnati. On June 22, the department will offer American Historical Ephemera & Photography, featuring the Civil War and American Militaria Collection of Bruce B. Hermann. An online-only sale of American Historical Ephemera & Photography will be offered from June 17 to 28. The next Fine Printed Books & Manuscripts, Including Americana auction will be held on November 8 and 9 in Chicago.